Ancan Lil Miss Dangerous
"Danger"
---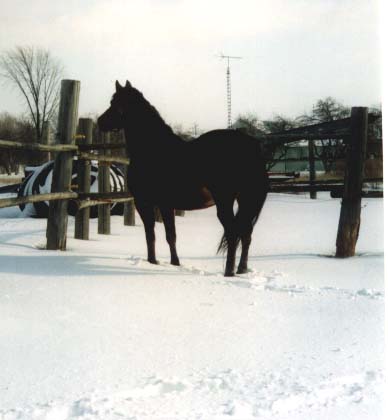 REST IN PEACE MY DEAR FRIEND
(1992 - 2002)

They will not go quietly
these horses who have shared our lives.
In subtle ways they let us know
their spirit still survives.
Old habits can make us think
we hear them in the barn.
Our feet still go to where the
feed dish used to be.
And sometimes, coming home at night,
we miss them terribly.
And although time may bring new friends
and a new feed dish to fill
and stall to clean...
That place in our hearts belongs to them
and always will...


---
This 1992, bay mare by a World Champion son of Equinox Benn Adam, is beautiful to behold. From her wonderful bloodlines, with four crosses to Waseeka's Nocturne, she gained her beautiful head and large eyes, her straight legs, level topline, laid-back shoulder, and upright neck.
Danger is a typy mare, a very easy keeper. She is a real sweetheart, and loves humans, especially the children. However, she has the spark and energy Morgan lovers are thrilled by and is gorgeous to watch strut and prance. Shown as a young mare, she has never placed lower than 3rd in her In Hand halter classes. She throws her beauty and correct conformation to her offspring, as well as her wonderful disposition. Danger has produced two outstanding foals for Ancan Morgans. Please see the link below to view them. She is due to foal in March, 2002 x Immortal Command.


Here is "Danger" again.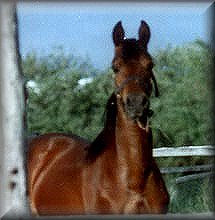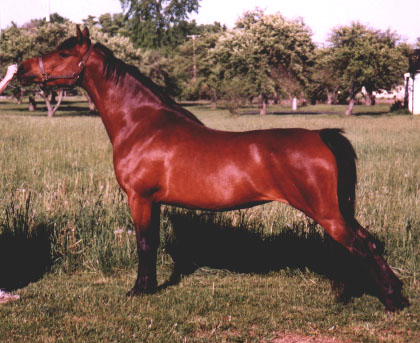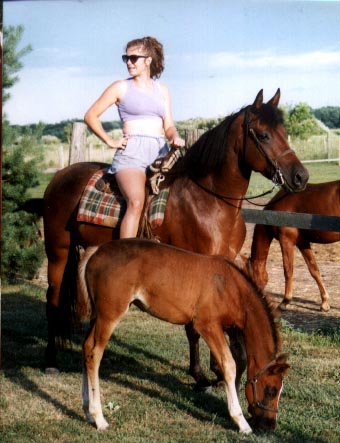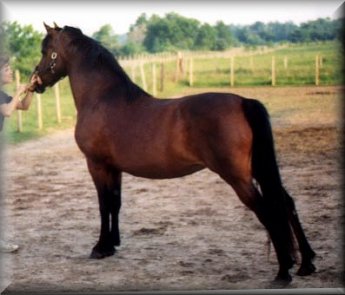 Danger's sire,

Dar-Vale Wildside (Equinox Benn Adam x Equinox Bell Song)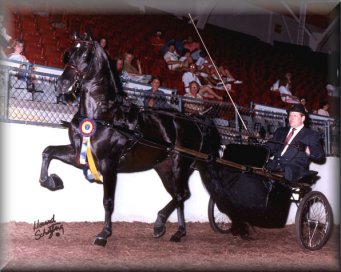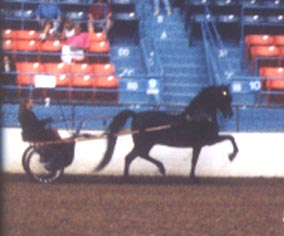 He is a multi-titled Pleasure Driving horse, and a World Champion Pleasure Driving horse, as well.
Danger's paternal grand sire, Equinox Benn Adam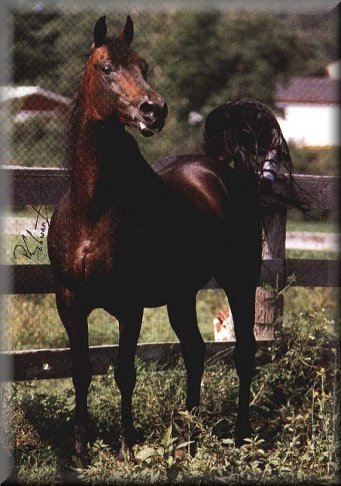 One of my all time favorite Morgans!

Click here to view Danger's Dam, Wil O Creek Darling
Pedigree for
Danger

Sire
Dar-Vale Wildside
Sire
Equinox Benn Adam
Sire
Bennfield's Ace
Sire
Goldfield
Dam
Cathy Serenity
Dam
Waseeka's Charm
Sire
Waseeka's Nocturne
Dam
Windcrest's Delight
Dam
Equinox Bell Song
Sire
Bald MT Ebony Knight
Sire
Easter Twlight
Dam
Tinkerbell
Dam
Waseeka's Theme Song
Sire
Waseeka's Nocturne
Dam
Mannequin
Dam
Wil O Creek Darling
Sire
Wynne Commotion
Sire
Waseeka's In Command
Sire
Waseeka's Nocturne
Dam
Miller's Adelq
Dam
Deb's Little Bess
Sire
Green Mead's Adonis
Dam
Kane's Debonette
Dam
Shaker's Rita
Sire
Troutbrook Playboy
Sire
Waseeka's Nocturne
Dam
Mistress Merridawn
Dam
Oakmoor Cadence
Sire
Orcland Don Darling
Dam
Lippitt Spearmint

This pedigree page was built for free at the SitStay GoOut Store
---
Copyrighted 1999 by Ancan Wyland ~ Web site designed by Jenny Morgan ~ Created in IE Frontpage, graphics created in LViewPro.