CBMF High Society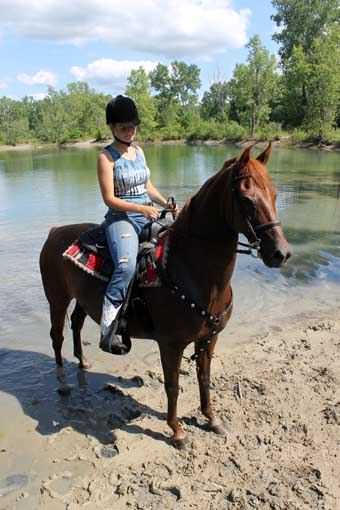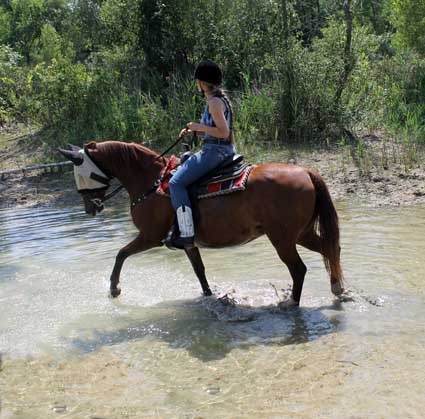 Shasta is the sweetest mare with a sunny disposition and never a backed ear. She loves people and attention; is often found standing at the gate, begging for attention; an easy horse to catch. She is willing, and tries hard to please. She is lovely and correctly conformed. If you are looking for a calm/easy trail horse, she is definitely worthy of your consideration.
She has been outdoor arena ridden and trail rode since February, 2012 on a regular basis (at least once a week). She refuses nothing on our rides and will go through any depth of water from mud puddles to lakes and rivers. Eager to please, she will also go off the one or two track trails and "blaze" a new one through woods or fields. We have briefly ridden across or along side busy, paved roads without any spooking or unruly behavior. She will go over downed trees in our path either by slowly stepping over, or jumping - whatever is asked of her. She is content to follow, but will also lead or walk alongside another horse. She doesn't jig or prance and will walk on a loose rein. She loads and hauls safely, so if you need to haul to trails - she'll still be fine. She has safely carried 10, 14, 15 year old girls and young adults ---all with varying levels of experience and confidence. Regardless of their experience or "energy" (calmness) they all enjoyed riding her and found her to be fun.
If you are looking for a quality horse to show, yet your budget greatly restricts you; this is definitely a horse to consider. With 30-60 days "show-training" polish, she would make a great show horse! I love her ability to bend over at the poll and she can really bridle up. She is very athletic and can really step underneath herself with that great set of hocks our breed has been known for - but of late seems to be missing in the majority of our show horses.
We have put all three seats of saddles on her; hunt, western, saddleseat. She even goes bareback just as safely and comfortably as any of the saddles. She has a soft mouth and is obedient in a simply O-ring or D-ring english snaffle - and I think she actually prefers a bosal.
Sired by the beautiful Tedwin Topic son, Savage Arms, and out of a maternal sister to World Champions SpiceOLife Present Tense and SpiceOLife Right Answer, this lovely 1998 mare is bred to be an outstanding producer or show horse. She is beautiful moving at liberty - head high, tail flagging; strutting and blowing. High Society was nick-named "Shasta" by her breeder. She got that name for the soda pop, because she has "fizz" and a bubbly personality.
I bought her as a broodmare - as I loved the tip at the poll, length of neck, solid/deep hip, and great use of her hocks. She produced two lovely colts for me - both sold easily; one as a weanlings the other, a yearling. She passed her length of neck, tip at the poll, and good hocks on to both colts. She settled with only one cover for both foals, carried without problem, foaled on time and without need of assistance. She is a good mom, but not overly protective which gave her sons the freedom to explore and become confident, curious individuals. If the foal-market was stronger, I wouldn't ever part with this mare. But I have more than a dozen top producing mares, and I'm just not using Shasta that way anymore - nor do I plan to. This is the only reason she is available.
Shasta is a non-alpha horse. As such, she depends upon her pasture-mates to tell her what to do. She also depends upon her rider to do the same; she counts on her rider to direct her. While most any level of experience in a rider could ride her safely, she is not best suited to a nervous or timid rider - or someone just looking to sit up there, doing nothing, just riding on auto-pilot.
She has been arena ridden alone, worked away from other horses and the stable in the open field surrounding the farm - but we've never taken her trail riding alone. I can't speak to how she would be alone because whenever someone here wants to trail ride, there are always others who want to go, too. If her rider is calm and confident, the sort she could trust, she would quickly accept riding alone. If her rider is nervous, scared, or always worrying about something --- you will scare the mare and she will take on your nervous energy.
Sells with annual vaccines, deworming, and farrier up to date; and she has always been this was since birth. She doesn't eat my wood fences or stalls. She isn't aggressive towards horses/people/dogs in the pasture. She stands quietly to be clipped, fly-sprayed, hose-bathed, groomed/saddled. She is safe for the veterinarian and farrier.
There is nothing wrong with this beautiful mare; no skeletons in her closet. We will continue to trail ride her (she's one I offer to those who have no horse of their own to ride - yet still want to go out riding with us) until she sells.
~~ SOLD! ~~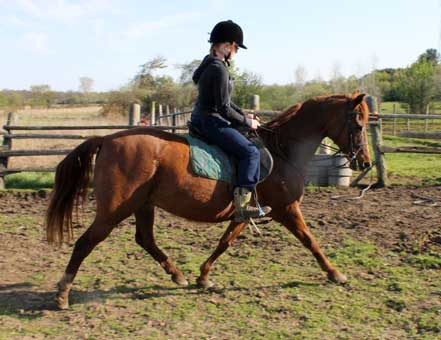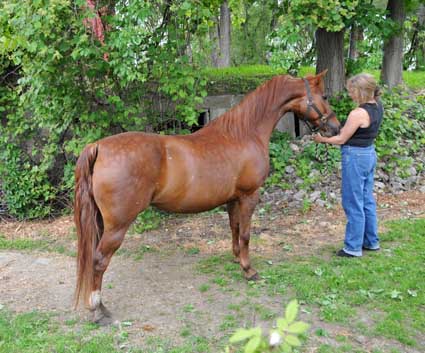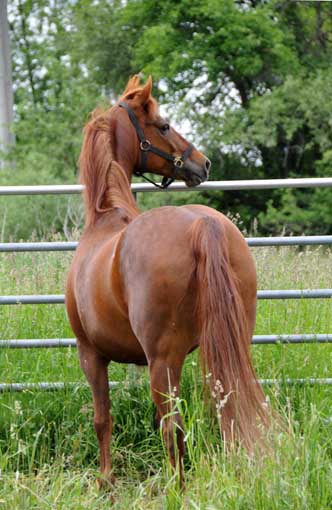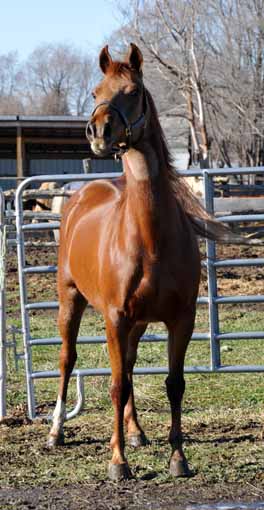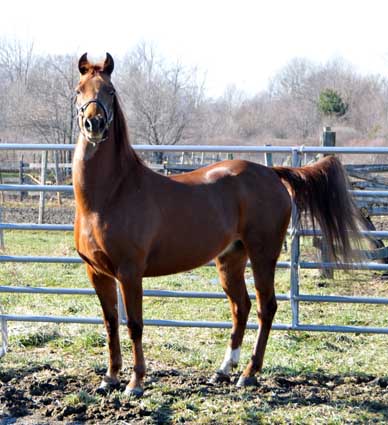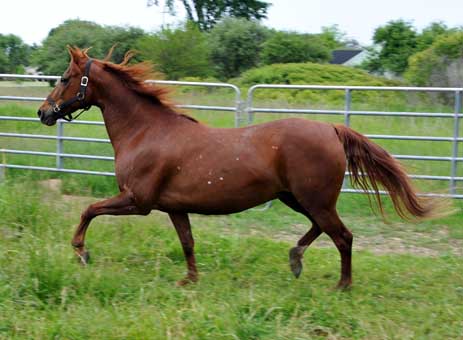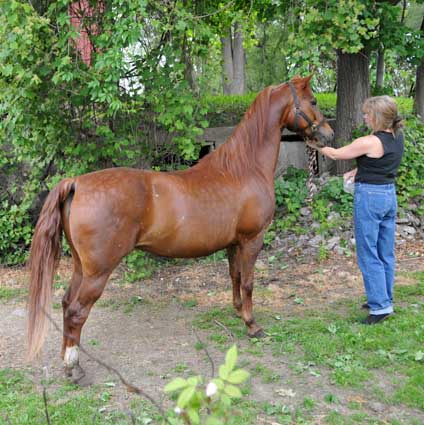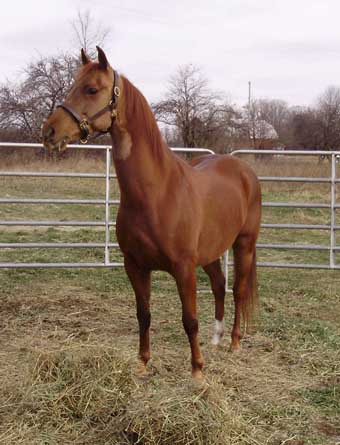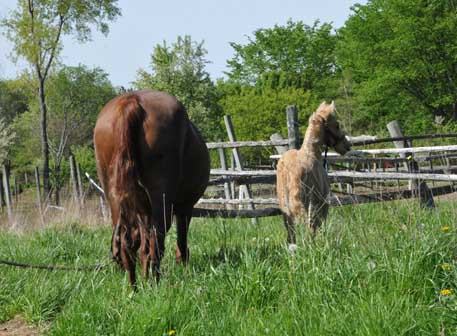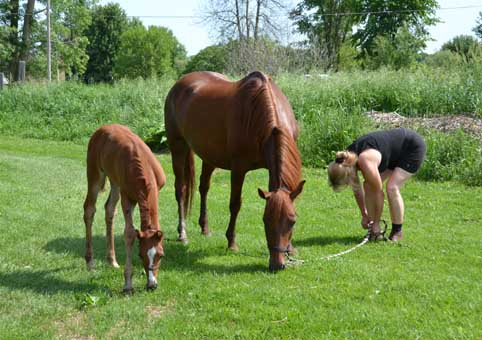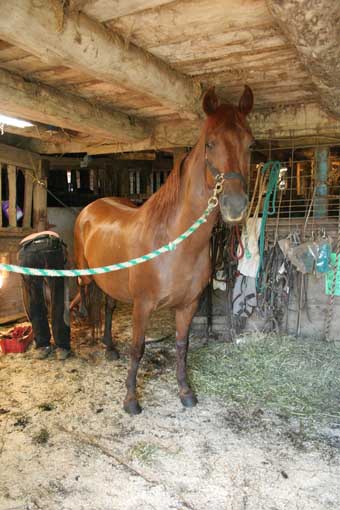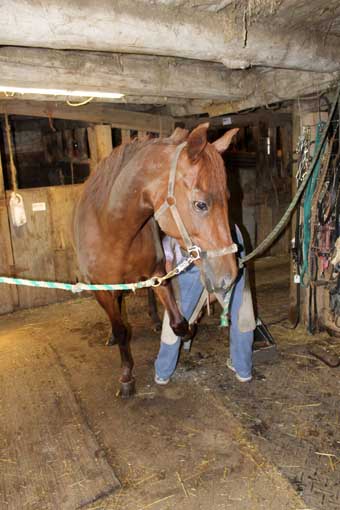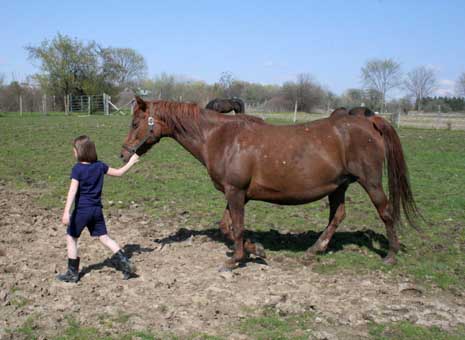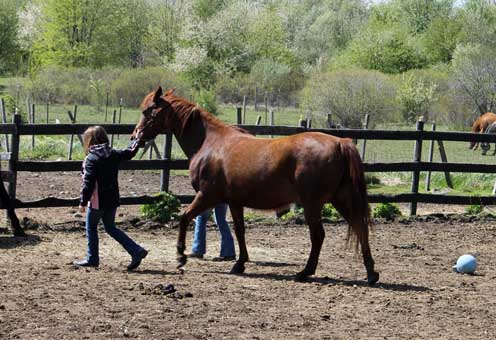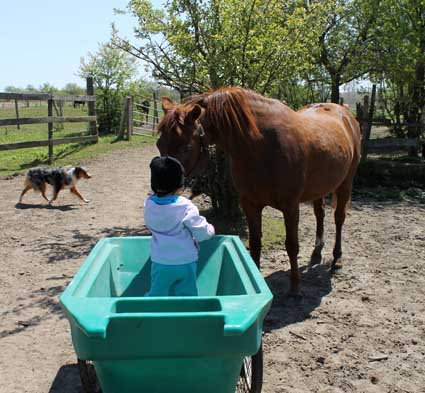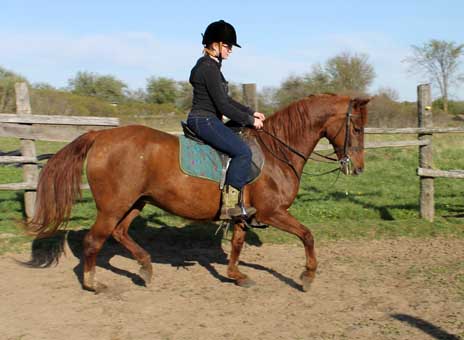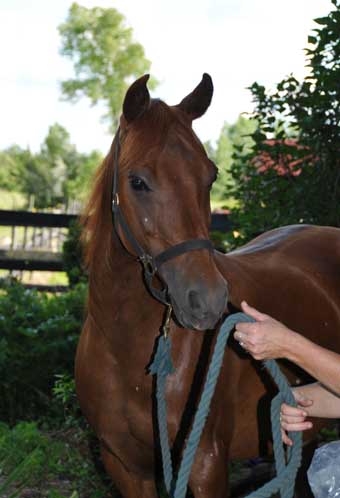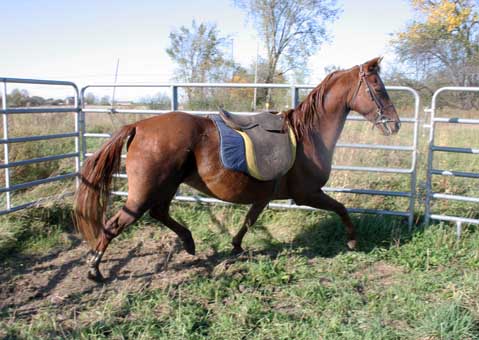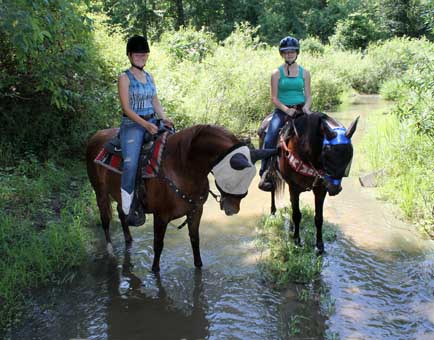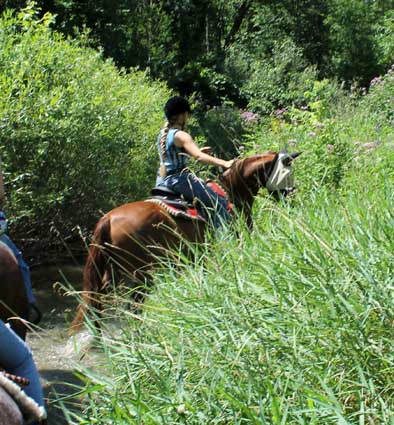 \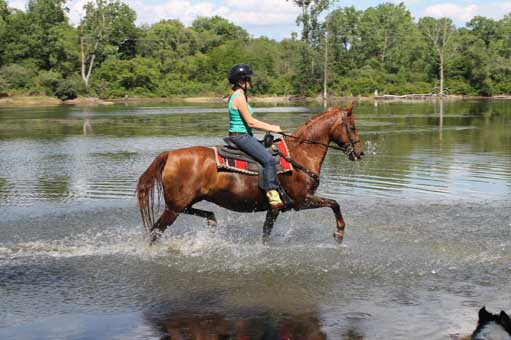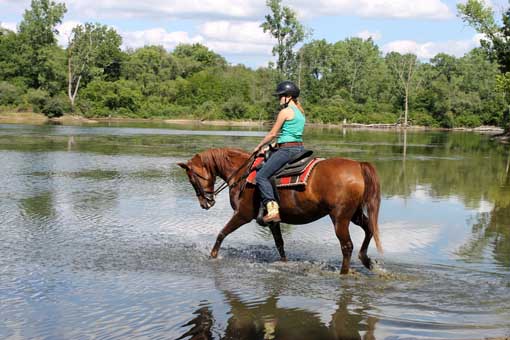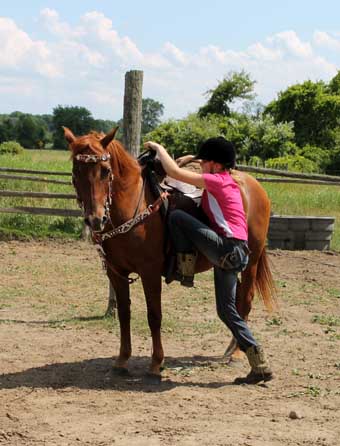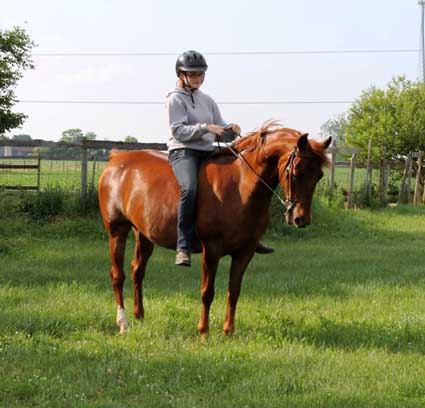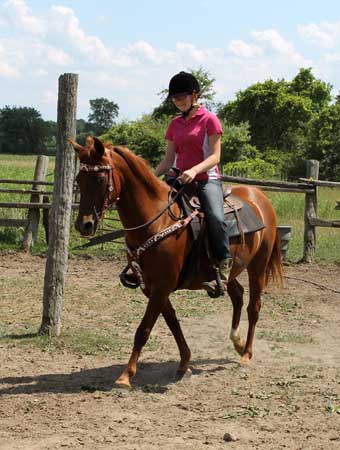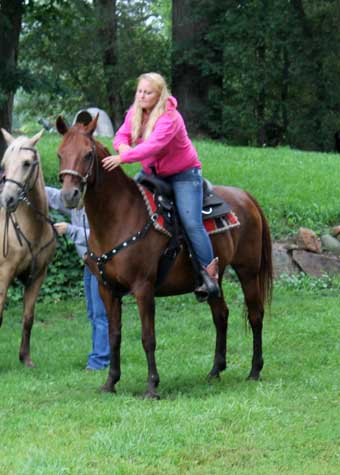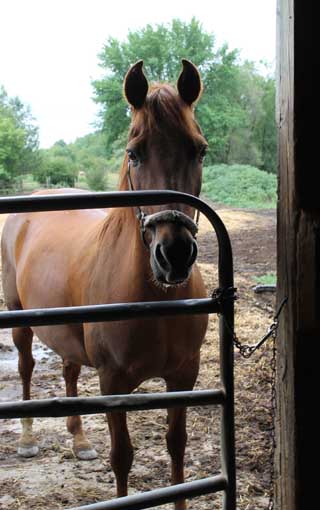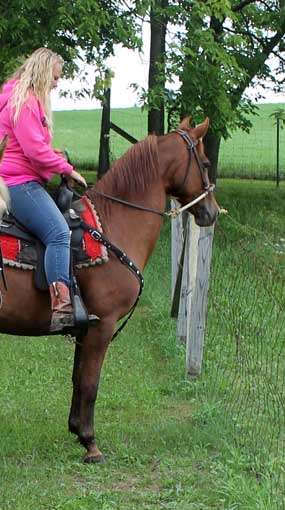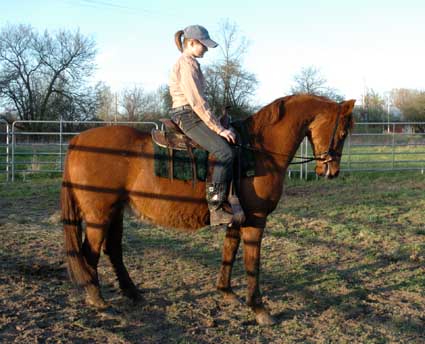 _____________________________________________
Sire
Savage Arms

Sire
Tedwin Topic

Sire
Fiddler's Contender

Sire
Red Pepper
Dam
Dona Mae Pepper
Dam
Waseeka's Cajun Queen
Sire
Waseeka's Nocturne
Dam
Corrine
Dam
Scarlet O'Linsley
Sire
Whippoorwill Ricardo
Sire
Whippoorwill Duke
Dam
Broadwall Mae Field
Dam
Regina Linsley
Sire
Beau Sealect
Dam
Linet
Dam
SpiceOLife Apropos
Sire
HRH Legend Command
Sire
Waseeka's In Command
Sire
Waseeka's Nocturne
Dam
Miller's Adel
Dam
Citations Glenda
Sire
Fairfiled Fortune
Dam
Kendalwood Hope
Dam
SpiceOLife Alura B
Sire
Shaker's Alimon
Sire
Troutbrook Playboy
Dam
Bro Rock Vigilmaud
Dam
Serendipity Glory B
Sire
Applevale Cadence
Dam
Porvenir B Bonnet
This pedigree page was built for free at the SitStay GoOut Store
---
Sire,

Savage Arms

Her Dam's Sire:

HRH Legend Command
Shasta's 7/8th World Champion Brother,

CBMF Danger Zone
---

Copyrighted 1999 by Anne Wyland ~ Web page designed by Anne Wyland