Destiny's 2012 Foal

Ancan Destiny's Child
Foaled May 20, 2012 at 1PM
One of the nicest things about "Jellybean" is her brain and mindset. She is smart, confident, sane, and willing to please. For a youngster, she is nearly unflappable. As a trained adult, she will be bomb-proof and kid-safe; the kind of horse that helps her rider build confidence because they will feel safe on her.

She takes everything in stride and doesn't fret. I love handling and training her; she is easy-peasy! She picks up all her feet, stands in either a straight or cross tie, and leads easily. She is simple to catch, tolerates the buzzing clippers, fly-spray, & hose-baths. She stands quietly for grooming, saddling, veterinary & farrier work.
Jellybean has correct conformation, straight legs, and sound, normal hooves. She has a lovely cadence at the trot and properly engages her hocks. She will look beautiful draped in a silver headstall and western saddle, or just as fashionable as a hunter pleasure horse, and she would be stunning as a steady carriage driving horse. She has the disposition to be safe for junior exhibitors and that same quality would make her a safe, sane trail horse for anyone, too. My 4 year old granddaughter likes to sit on her and Jellybean has never minded this. She is not a spooky or "hot" horse.
Her gold-dappled summer coat is beautiful. Combined that with her white mane and tail, socks and blaze, and she is a knockout. She will turn heads whether it's in a show arena or a country trail.
Having sold her beautiful dam, I am sorely tempted to retain her. Every stable needs a solid thinking individual; safe for anyone to handle or ride. I'm still offering her for sale, but I may pull her at any time. I am proud to offer such a wonderful mare for your consideration.

Photos below are in chronological order. Most current photos (taken 10/14) are towards the bottom.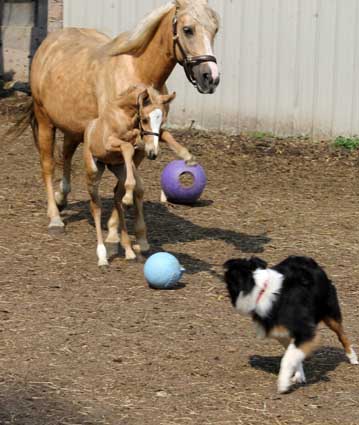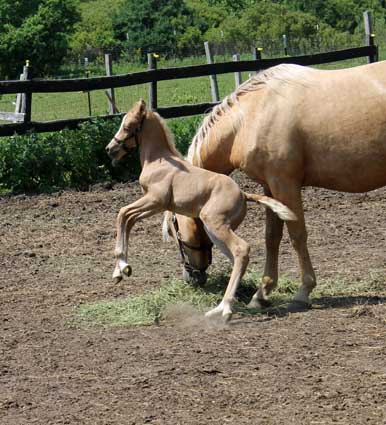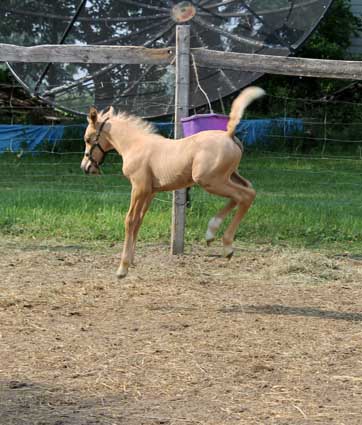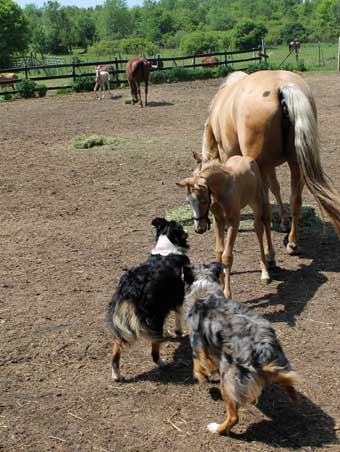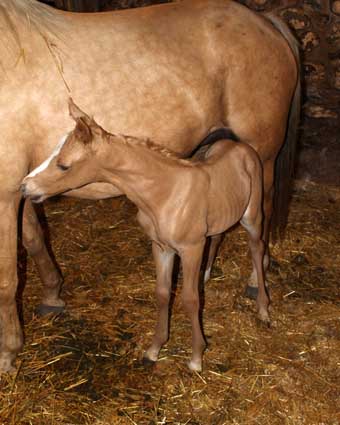 Learning to stand and model.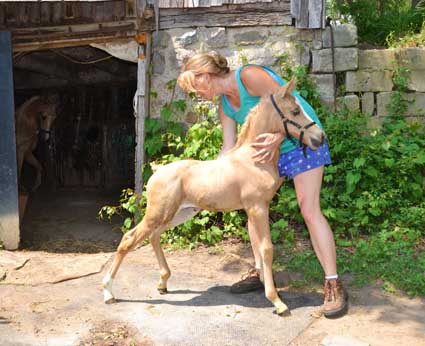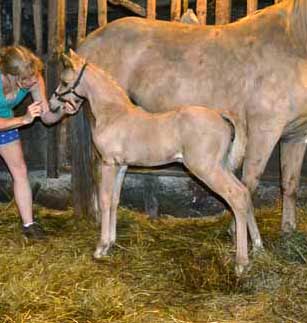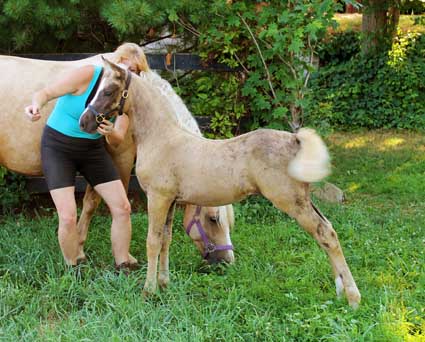 From day one, Jellybean has been calm, sane, and confident. She is very people oriented and has always sought out the affections of visitors to the stable.

She is inquisitive and brave enough to check out scary tarps.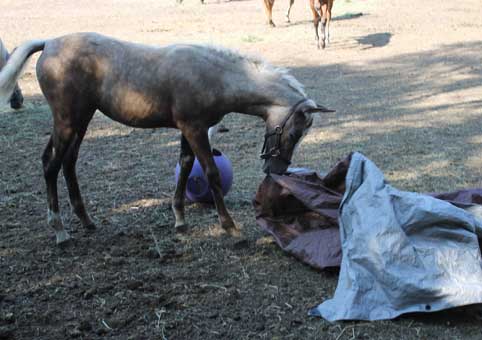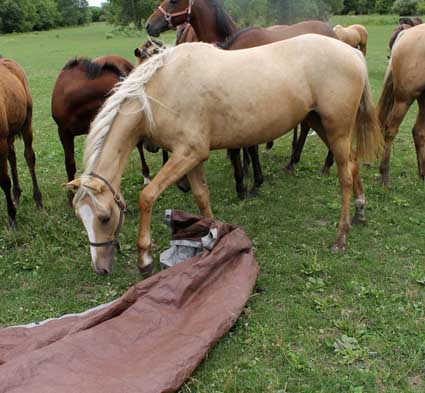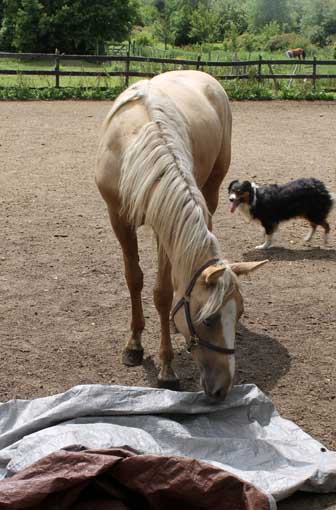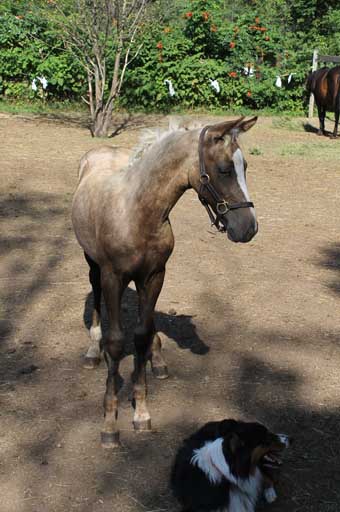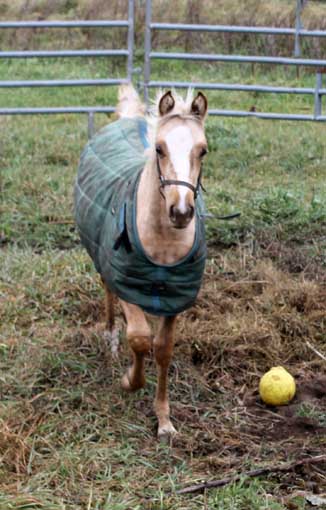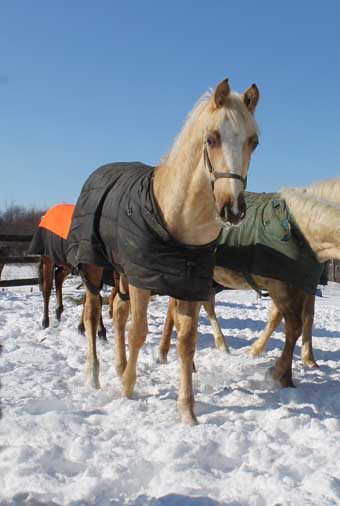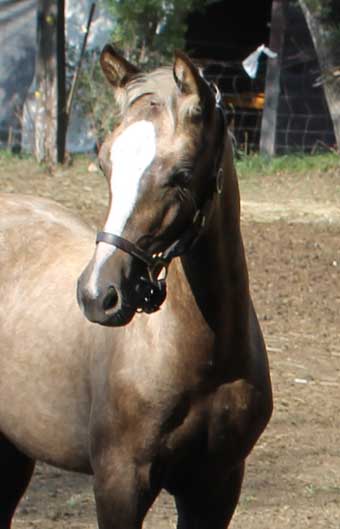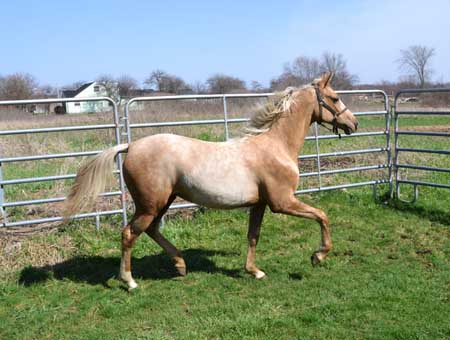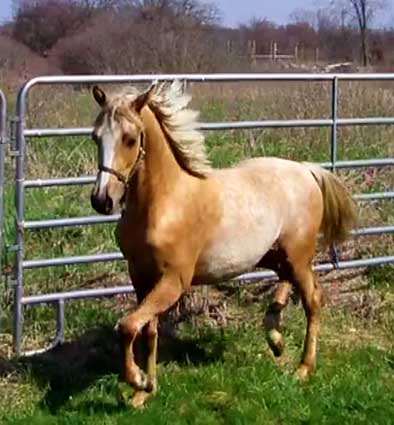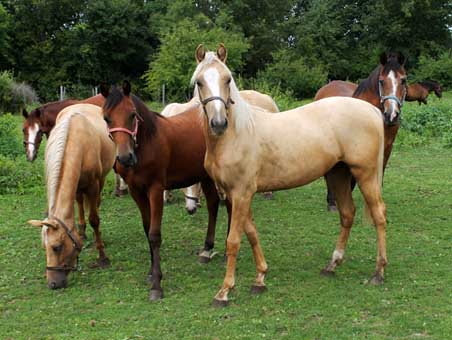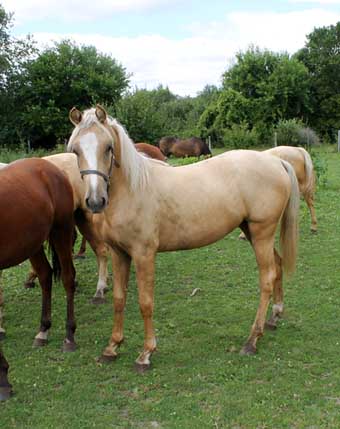 She has excellent manners while cross-tied and gently lifts her feet for cleaning or trimming.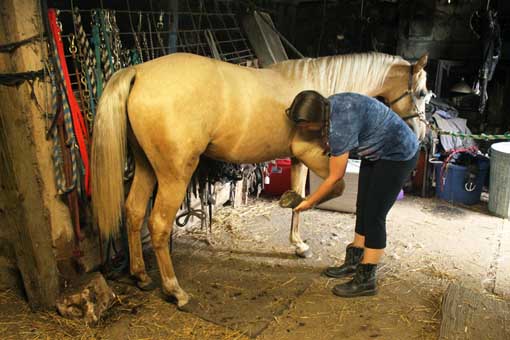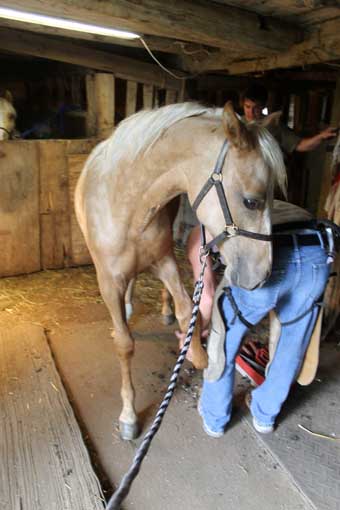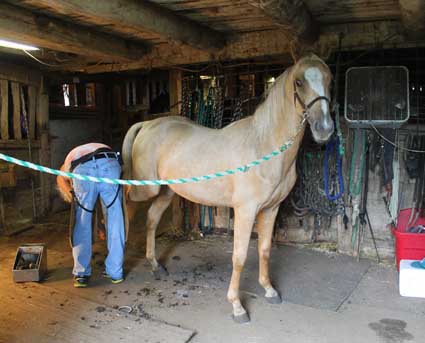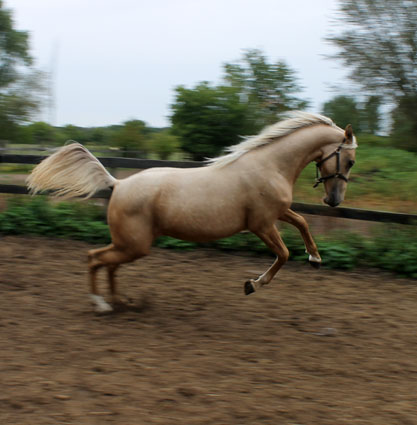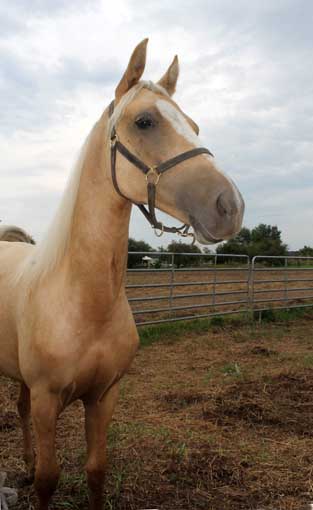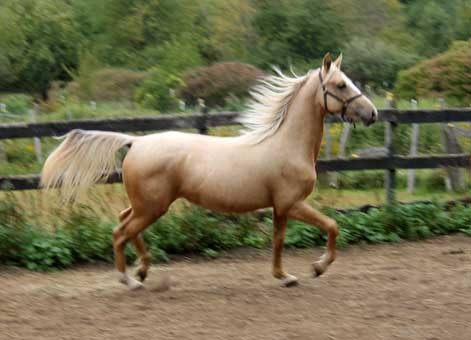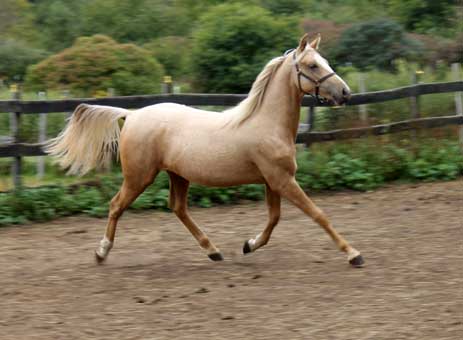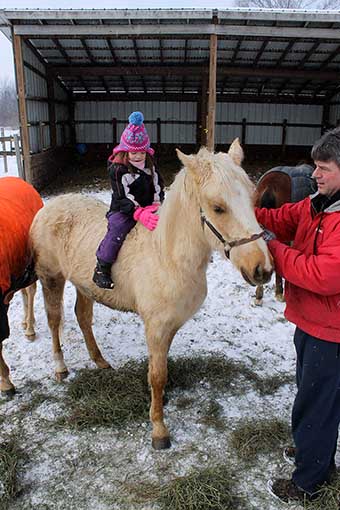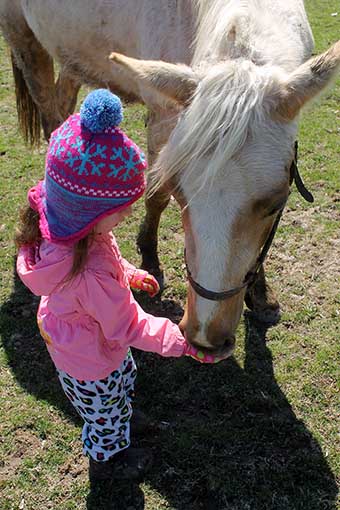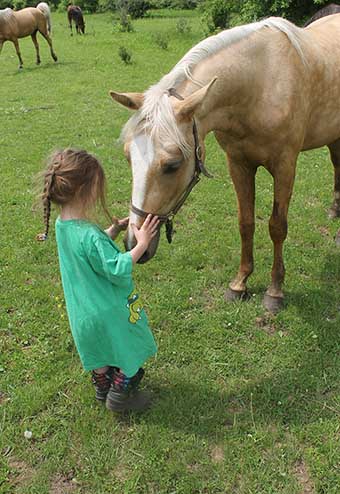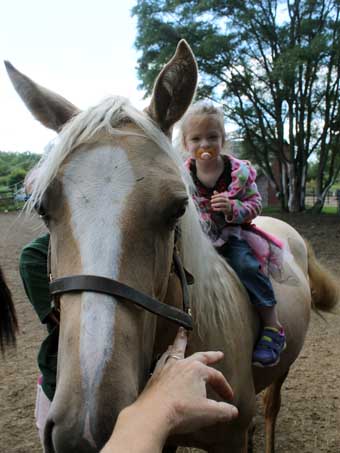 Her ground work is well-started. She free-lunges wearing a saddle, bitting-rig, or nothing. Shown below at the walk, and jog.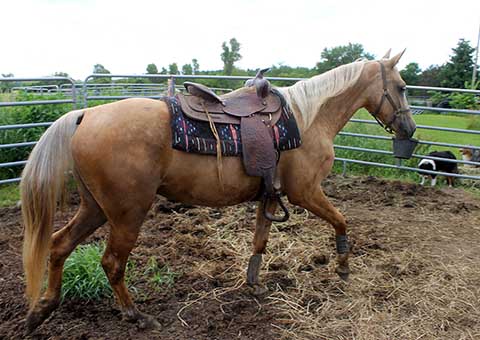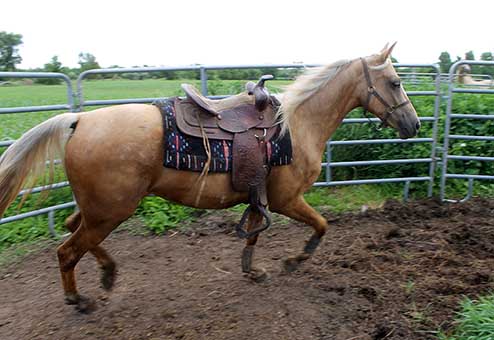 She is smart, bold, confident and "thinks". She accepts things that scare other horses. She trusts her handler.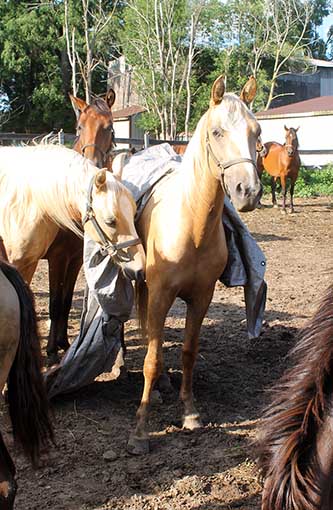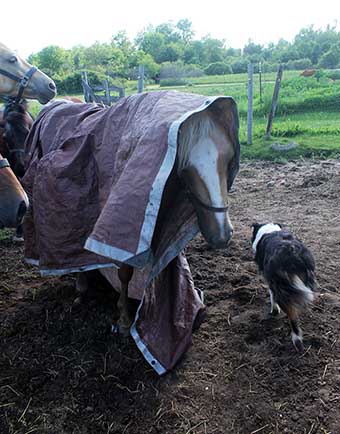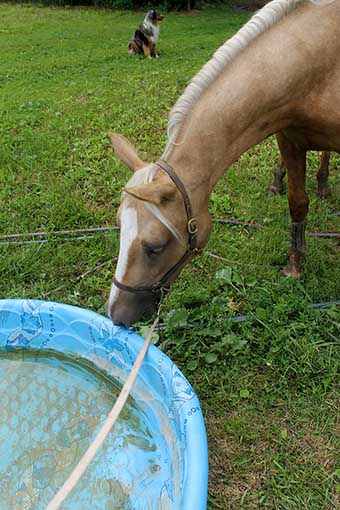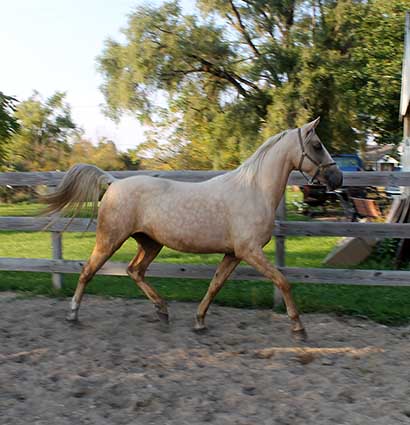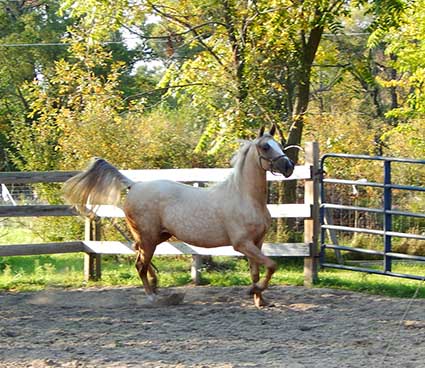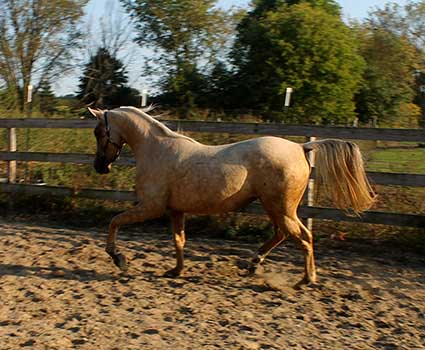 Ancan Destiny's Child is about as "kid safe" as any two year old horse could be.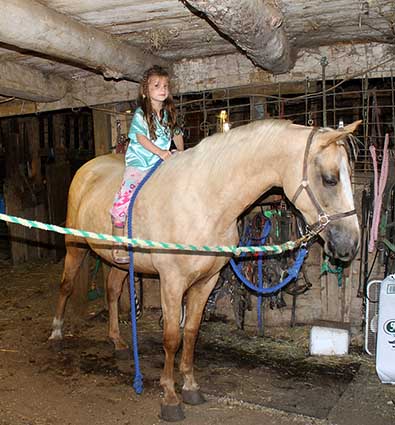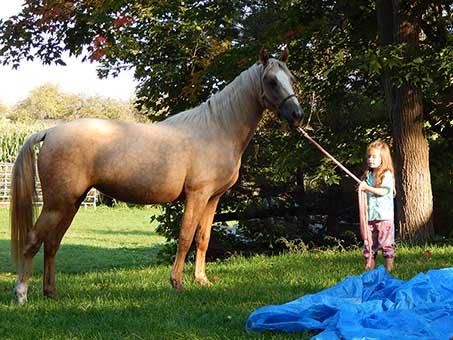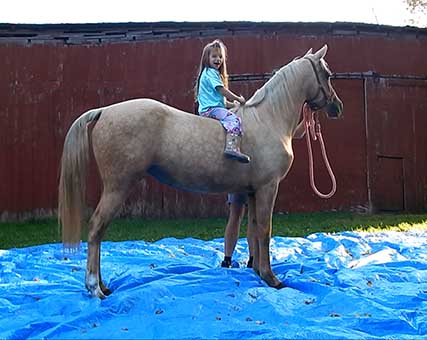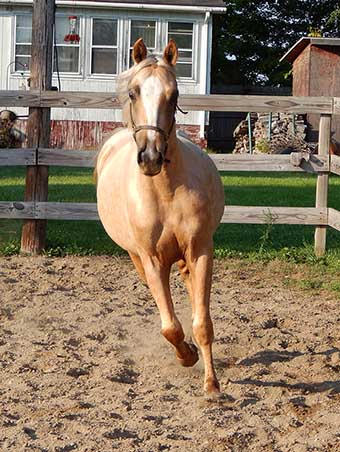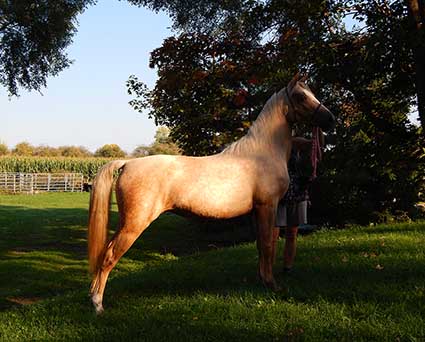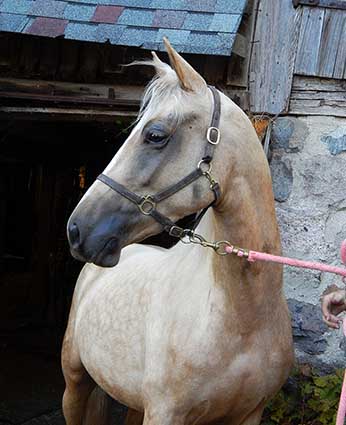 ---
Pedigree for Ancan Destiny's Child:
Sire
DSD Esperance 

Sire
Stonecroft Masquerade

Sire
Cedar Creek Harlequin
Sire
Waseeka's In Command
Dam
Serenity Anna Rose
Dam
Carillon Command
Sire
Wham Bam Command
Dam
Townshend Donachime

Dam
Amollia

Sire
Tedwin Topic
Sire
Fiddler's Contender
Dam
Waseeka's Cajun Queen
Dam
Nemours Velvet Lady
Sire
Waseeka's In Command
Dam
UVM Velvet

Dam
Ancan Destined To Bee

Sire
Fiddler's Blackriver

Sire
Waseeka's Vivo
Sire
Waseeka's HereTiz
Dam
Waseeka's Theme Song
Dam
Fiddler's Dolly
Sire
Kingston
Dam
Orcland Youlenda

Dam
Aquila's Miss Bee Haven

Sire
Futurity Command
Sire
Waseeka's In Command
Dam
Wynakee Alvina
Dam
Aquila's Queen Bee
Sire
Paramount Nominee
Dam
Foxy's Cotton Queen

This pedigree page was built for free at the SitStay GoOut Store
---
Sire: DSD Esperance
Dam: Ancan Destined To Bee

---

Copyrighted 1999 by Anne Wyland ~ Web page designed by Anne Wyland