Ancan Destined To Bee
~ Foaled May 27, 2006 ~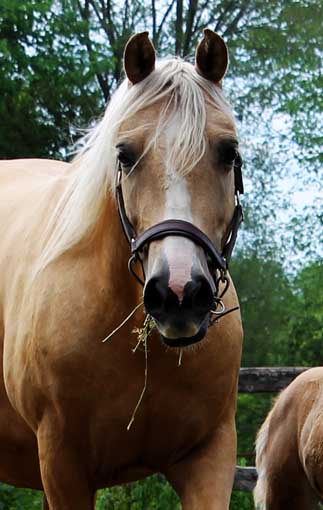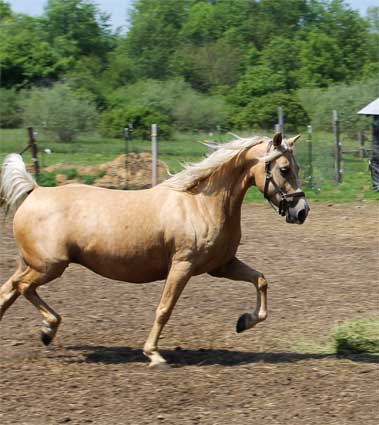 What a roller coaster of emotion this stunning mare unwittingly took me on when she was born. She is number eight of my most famous and successful breeding crosses. I really didn't believe that number eight would happen. In 2005, her dear sire, Fiddler's Blackriver, was a very weak and frail 31 years old. While I still believed he was fertile, mounting and breeding the mare was a task too daunting for the old man; he just didn't have the strength. Bee was the only mare we brought to him that year because I so wanted one last foal from this outstanding nick. Bee has a great track record of conceiving on the first (and only) cover during her heat. In 2005, we bred Bee to Fid one cover each in three different heats before throwing our hands up in defeat. Bee kept coming back in heat. When she came in heat the fourth time, I decided to breed her to another stallion, and we did. My vet checked Bee to be safely in foal about 20 days later and I was thrilled! I advertised and planned for that foal's arrival for 11 months.
However, that stallion is homozygous for black points. That means, quite simply, that he could not have sired Destiny because she does not have any black points. What all these facts add up to is: my wonderful Fiddler's Blackriver did indeed leave me one final incredible gift; a surprise for me to discover six months after he passed on. He gave me one last beautiful, fancy, palomino filly to treasure in his absence.
Destiny is a gorgeous mare! She has spark and pizzazz and a zest for life. She has that great rear-end and hocks that Fid always passes on, and a fearless, "ready to take on the world" personality. She has been easy to work with and quick to learn. She had a darling palomino filly 5/12, and if this is the quality she'll produce, what a future she has as a broodmare!
Destiny is a treasure to me, a gift from beyond, and she was definitely destined to be.
---
Newborn Destiny, May 27, 2006

---

Photos Directly Above 1 Day Old

3 Weeks Old

Above, 2.5 Months Old

Above, Yearling Summer

Below, 2 Years Old

Below, 3 Years Old

Below, Winter; 3-4 Years Old

Below, 4 years old

Below, Winter/Spring 5 years old

Standing quietly for the farrier as a five year old~

\

b

---

Pedigree For
Ancan Destined To Bee

Sire
Fiddler's Blackriver

Sire
Waseeka's Vivo

Sire
Waseeka's Nocturne

Dam
Waseeka's Thisizit

Sire
Waseeka's Nocturne

Dam
Mannequin

Dam
Fiddler's Dolly

Sire
Kingston

Sire
Upwey Ben Don

Dam
Junefield

Sire
Ulendon

Dam
Paleface

Dam
Aquila's  Miss Bee Haven

Sire
Futurity Command

Sire
Waseeka's In Command

Sire
Waseeka's Nocturne

Dam
Miller's Adel

Sire
Windcrest Glory

Dam
UVM Elloise

Sire
Paramount Emperor

Dam
Sensational Belle

Sire
Foxfire

Dam
Cotton Candy
This pedigree page was built for free at the SitStay GoOut Store
---
Sire, Fiddler's Blackriver

Dam, Aquila's Miss Bee Haven "Bee"
View more of Aquila's Miss Bee Haven "Bee"
---

Copyrighted 1999 by Anne Wyland ~