Ancan Destined To Bee
~ Foaled May 27, 2006 ~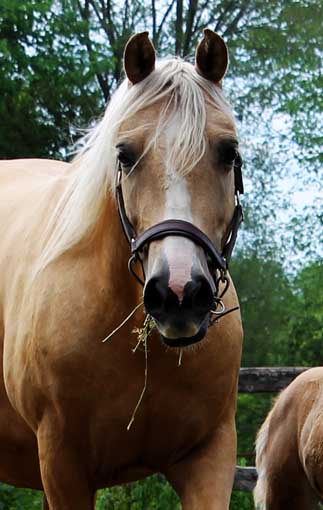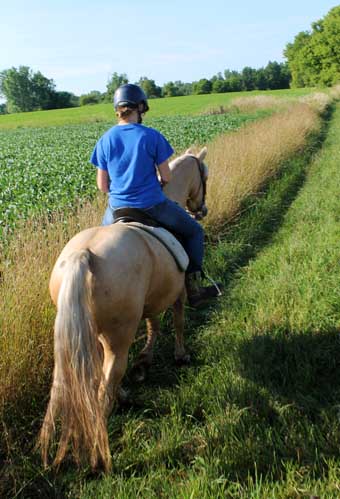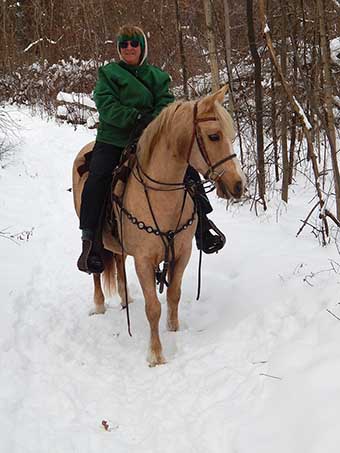 Here is a beautiful mare full of kindness and a desire to please. We started her saddle training in 2013 and sold her with the potential to become a child-safe riding horse.

She sold and was gone for 2 years. During those two years she sustained a rather serious injury to her chest, gorging out a chunk in a freak barn accident. No scars visible today. She was sent out to be trained to drive, but the shafts scared her and she was sent back to her owner being told she'll never drive. She was sent out to have her riding lessons finished and she bucked when loped in circles. She returned to Ancan 9/2015.

We have began her re-schooling and she is happy, content, and easy to work with. She is child-safe at the walk-trot and we are working on her arena-lope. We will continue to work with her through the fall and winter and trail ride her, too. She's been wonderful on the trails; walk/trot/canter, no problem! She is an ears-up, happy to go forward trail mare.

A good home is mandatory as I don't ever want to have to bring her back home to ensure her well-being again. I will require references from your veterinarian, farrier, and others who can vouch for your ability to love and care for a horse.

A full sister to our wonderful Ancan True Colors and one of 9 outstanding siblings, she is bred to produce incredible offspring. She produced a stunning filly for us in 2012. She settled with one insemination of semen that tested to have 16% mobility. Textbook pregnancy, foaling, and rearing of her foal.
~ SOLD ~
---
Newborn Destiny, May 27, 2006

---

Photos Directly Above 1 Day Old

3 Weeks Old

Above, 2.5 Months Old

Above, Yearling Summer

Below, 2 Years Old

Below, Winter/Spring 5 years old

Standing quietly for the farrier as a five year old~

\

b

Below: October, 2015

Below: December, 2015

---

Pedigree For
Ancan Destined To Bee

Sire
Fiddler's Blackriver

Sire
Waseeka's Vivo

Sire
Waseeka's Nocturne

Dam
Waseeka's Thisizit

Sire
Waseeka's Nocturne

Dam
Mannequin

Dam
Fiddler's Dolly

Sire
Kingston

Sire
Upwey Ben Don

Dam
Junefield

Sire
Ulendon

Dam
Paleface

Dam
Aquila's  Miss Bee Haven

Sire
Futurity Command

Sire
Waseeka's In Command

Sire
Waseeka's Nocturne

Dam
Miller's Adel

Sire
Windcrest Glory

Dam
UVM Elloise

Sire
Paramount Emperor

Dam
Sensational Belle

Sire
Foxfire

Dam
Cotton Candy
This pedigree page was built for free at the SitStay GoOut Store
---
Sire, Fiddler's Blackriver

Dam, Aquila's Miss Bee Haven "Bee"
View more of Aquila's Miss Bee Haven "Bee"
---

Copyrighted 1999 by Anne Wyland ~