Rhiannon's 2019 Foal

Ancan Incredible Dash
Foaled 3 pm, 5-30-19
What a nice colt this is!

Not only does Dash offer excellent conformation, but a gorgeous head, large eyes and small ears, too! And look at that day old colt trot! He's going to be a star!



He offers an outstanding disposition, too! He is so engaged and curious about every thing and every one. He has been easy to work with and train, and he enjoys the time we take to work with him. He has a bold, fearless personality.

He is Michigan Breeder's Sweepstakes eligible for 2019. You could easily win back your purchase price!

~ SOLD ~

____________________________________________________________

Mr. Personality

Already the farm favorite with everyone!

Look at his agility!

Look at how beautiful he is!

Look at his conformation!
---
Sire
Ultras Special Agent

Sire
Tug Hill Commando

Sire
Waseeka's In Command
Sire
Waseeka's Nocturne
Dam
Miller's Adel
Dam
Fiddler's Majesta
Sire
Kadenvale Don
Dam
Fiddler's Cameo

Dam
Up Hyre Serene Topic

Sire
Tedwin Topic
Sire
Fiddler's Contender
Dam
Waseeka's Cajun Queen
Dam
Winsome Rebecca
Sire
Serenity Flight Time
Dam
Ironbrook Dana

Dam
Ancan Rhiannon

Sire
Ancan True Colors

Sire
Fiddler's Blackriver
Sire
Waseeka's Vivo
Dam
Fiddler's Dolly
Dam
Aquila's Miss Bee Haven
Sire
Futurity Command
Dam
Aquila's Queen Bee

Dam
Sinful Command

Sire
Century On Command
Sire
Waseeka's In Command
Dam
Adventures Nicole
Dam
Foxtrot's Sparkler
Sire
Val's Gay March
Dam
Hip Heath Cinfield

This pedigree page was built for free at the SitStay GoOut Store
---
Sire: Ultras Special Agent

(Tug Hill Commando x Up Hyre Serene Topic, by Tedwin Topic)

Agent has a resume that is hard to beat!
He has been called the "in-hand sire". His get have won the richest Weanling Competitions across the US. He had 6 in the top 10 at the 2018 MMHBF Breeders Sweepstakes! His get have repeatedly won the MMHBF Weanling Gala.

When it comes to performance classes, they have really excelled! 2018 Saddle Horse Report put Ultra's Special Agent in 5th place as an overall MORGAN Sire of show horses. That is out of 362 listed.

The offspring representing him in 2018 secured these titles for him: he was the number one sire of Ladies Park Saddle and Amateur Park Saddle Morgan Horses. He was 1st in Jr Exhibitor Hunter Pleasure and 2nd in Overall Hunter Pleasure, which is our largest discipline for Morgans. He was tied 1st in Road Hack, and was 2nd in Ladies English Pleasure, Open Park Harness, and Open Hunter Pleasure.

Every year the past decade (and longer) he has received similar sire rankings.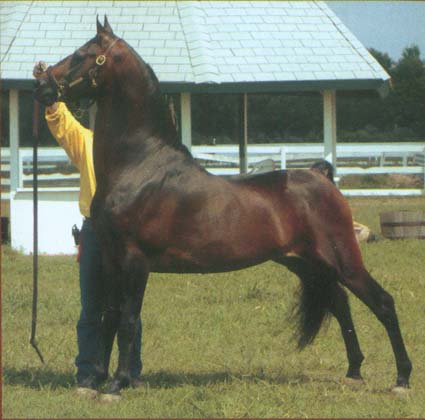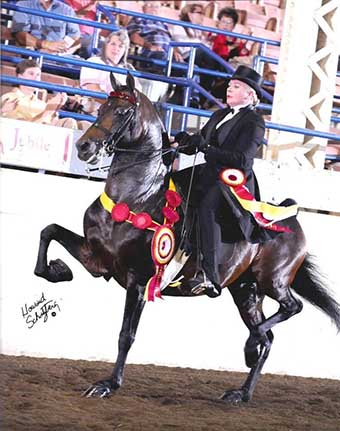 Dam: Ancan Rhiannon

---

Copyrighted 1999 by Anne Wyland ~ Web page designed by Anne Wyland