Ancan Heart Of Gold
"Heart"
June 18 - October 10, 2000
---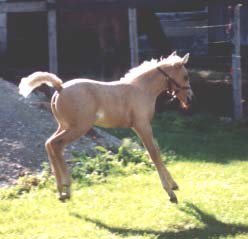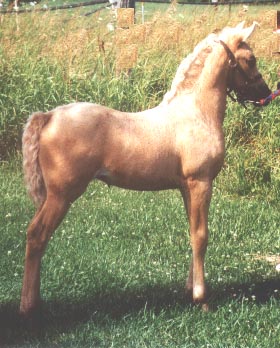 Heart...
She touched our hearts and lived only briefly before leaving this world to accomplish her mission somewhere else where she was needed more.
She was a dream come true! I'll never forget my first glimpse of her. Her dam foaled early surprising me and Heart arrived in the pasture with the rest of the herd. I walked past the open doorway to the outdoors and immediately did a double take! Not only did Bee have a foal - my gosh - it was BLONDE!
I quickly got the mare and foal inside and when I raised that baby's little white tail and found TWO openings - I was out of my mind in joy and disbelief! I remember racing inside to phone my girlfriend. When she answered I screamed that Bee had had her foal, and it was a palomino filly and we both screamed like love-struck teenagers invited to the Prom by our dream guy. I was SOOO happy!!
Also making this special - Heart was foaled on Father's Day as a wonderful tribute to her senior father, Fiddler's Blackriver.
We sadly lost Heart when she was only four months old, still nursing from her dam. She had a small blockage in her colon and we rushed her off to the state Vet hospital for emergency treatment. They kept her overnight, opting for surgery the next day. They phoned to say they wanted to operate - and I told them to do what ever it took to save my little ball of fire. Once she was open they discovered that the small blockage in her colon had perforated another section of her colon which was much too close to her stomach and other vital organs to operate. The perforation was already gangrenous and there was nothing to do but humanly euthanize her.
The joy she brought in only a few months, will live with us for an eternity. The good lord sure has a wonderful collection of horses up there in heaven...
Rest In Peace, Heart Of Gold...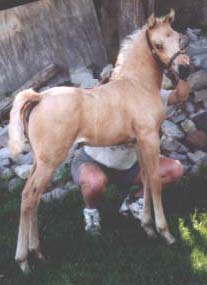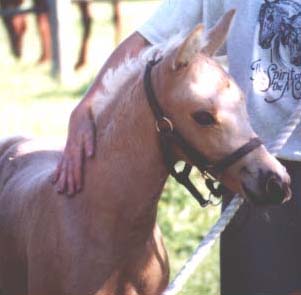 Heart's Sire, Fiddler's Blackriver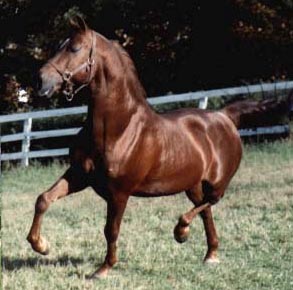 Heart's Dam, Aquila's Miss Bee Haven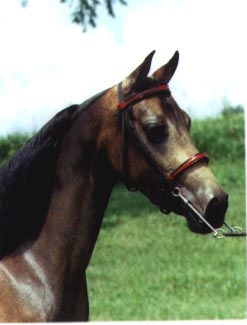 Pedigree for
Ancan Heart Of Gold

Sire
Fiddler's Blackriver
Sire
Waseeka's Vivo
Sire
Waseeka's Here Tiz
Sire
Waseeka's Nocturne
Dam
Waseeka's Thisizit
Dam
Waseeka's Theme Song
Sire
Waseeka's Nocturne
Dam
Mannequin
Dam
Fiddler's Dolly
Sire
Kingston
Sire
Upwey Ben Don
Dam
Junefield
Dam
Orcland Youlenda
Sire
Ulendon
Dam
Paleface
Dam
Aquila's Miss Bee Haven
Sire
Futurity Command
Sire
Waseeka's In Command
Sire
Waseeka's Nocturne
Dam
Miller's Adel
Dam
Wynakee Alvina
Sire
Windcrest Glory
Dam
UVM Elloise
Dam
Aquila's Queen Bee
Sire
Paramount Nominee
Sire
Paramount Emperor
Dam
Sensational Belle
Dam
Foxy's Cotton Queen
Sire
Foxfire
Dam
Cotton Candy

This pedigree page was built for free at the SitStay GoOut Store
---
Copyrighted 1999 by Anne Wyland ~ Web page designed by Jenny Morgan ~ Created in IE Frontpage and web graphic created in LviewPro