Ancan Butch Cassidy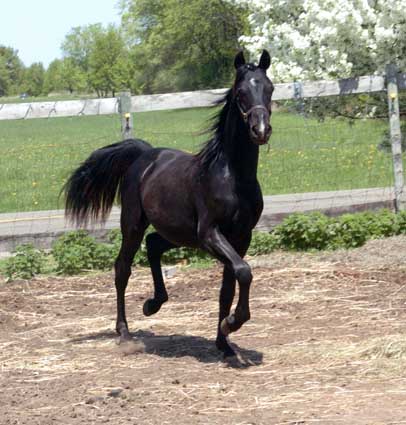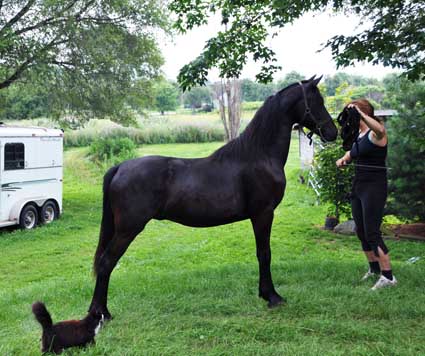 Butch is a kind, laid-back, mannerly, and willing to please coming 3 year old stallion. He has a pretty head, elegant neck, correct conformation, and size. He is very well mannered and not aggressive about anything in his life. Gelded, and finished in his training, he should be safe enough for a small child.
Butch offers correct form to function. He moves with fluid motion and exhibits athleticism off all four legs. He is animated and tail-flagging at liberty when a plastic bag is shook at him, but while ground-working he is calm and easy; tries extremely hard to please. He is not a "hot" horse. He will excel as a hunt or western pleasure horse and he will be stunning in silver. He is well-trained in lines and a bitting rig, ready to introduce a cart. I don't drive, so I can't hook him. He has been ridden a dozen or so times but is not finished. With the rain and cold weather we've had this fall, I've not been able to ride as much as I would like. He is not yet a safe-to-ride saddle horse and needs a knowledgeable person to finish what I've started.
Immortal Command's get are proven not only as top breeding stock, but as World Champions in all divisions. They are treasured by their owners and rarely will you find them offered for sale. With Immortal Command now in his senior years, his breeding book limited, having this young black son to carry on for him is possibly your last chance to have one of your very own.
If you've ever wanted a lovely, gentle, intelligent, big, black son of the great Immortal Command – opportunity is knocking.
Butch has been DNA-color tested and is a true black.
~ Congratulations to Barbara Bergman on the purchase of this cool horse! ~
This conformational video update was taken 10/5/2009, YouTube link:
http://www.youtube.com/watch?v=G3ZhtycPjQs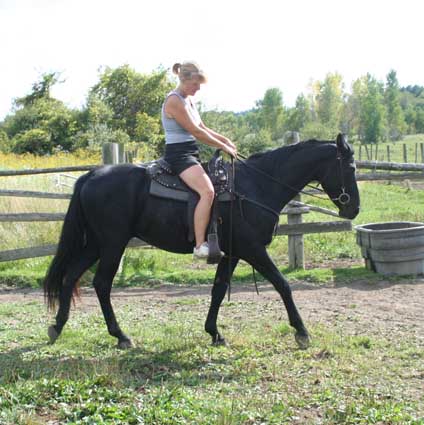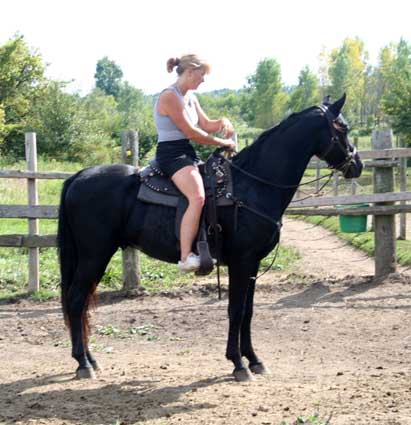 Foaled May 5th, 2007, at 2:10 am
All above photos taken 1-2 days old

Shown off-roading & playing hide and seek at 9 days old

Maturing through the summer months...

And into the fall...

And into the winter...

Spring of his yearling year...

Summer of his yearling year...

End of summer; his two year old year...

Shown below "free lunging" (no lines) in his bitting rig

Shown below: carrying my husband; an inexperienced horseman who has been helping me saddle train Butch.
---
Pedigree For
Ancan Butch Cassidy

Sire
Immortal Command
Sire
Waseeka's In Command
Sire
Waseeka's Nocturne
Sire
Starfire

Dam
Upwey Benn Quietude

Dam
Miller's Adel
Sire
Upwey Ben Don
Dam
Gertie G
Dam
UVM Vision
Sire
UVM Flash
Sire
Upwey Ben Don
Dam
Norma
Dam
UVM Lauri
Sire
UVM Canter
Dam
Symphonee

Dam
Aquila's  Miss Bee Haven

Sire
Futurity Command

Sire
Waseeka's In Command

Sire
Waseeka's Nocturne
Dam
Miller's Adel
Dam
Wynakee Alvina
Sire
Windcrest Glory
Dam
UVM Elloise

Dam
Aquila's Queen Bee

Sire
Paramount Nominee
Sire
Paramount Emperor
Dam
Sensational Belle
Dam
Foxy's Cotton Queen
Sire
Foxfire
Dam
Cotton Candy
This pedigree page was built for free at the SitStay GoOut Store
---
Sire, Immortal Command "Butch"

Dam, Aquila's Miss Bee Haven "Bee"

---

Copyrighted 1999 by Anne Wyland ~