Brooke's 2016 Foal
Ancan Halo
Foaled May 2, 2016, 2:30 am
Momma Brooke greets her last foal with interest.
And then due to a probable internal rupture, she prolapsed her uterus and passed away. Leaving us to raise her orphaned filly.

Mourn not for this fireball filly! She has never been a shrinking violet. Almost as if she knows her momma made sure she arrived safely, she knows she is something special; something spectacular.

Halo is fearless, almost to the degree of being sassy. She is not for the faint of heart! She is a live-wire. Definitely sane, but also "hot"; lots of spark, ego, and attitude in this future english pleasure or pleasure driving contender.

She is extremely well put-together and should also do very well in any conformation competition.

I love her bloodlines, both top and bottom. Her momma put the nicest Morgans on the ground, and I bet this beauty will do the same.

I did price her - and I'm serious about downsizing and retiring from breeding Morgans --- but I absolutely adore Halo, and I'm truly not sure I could part with her. We'll see what the future brings.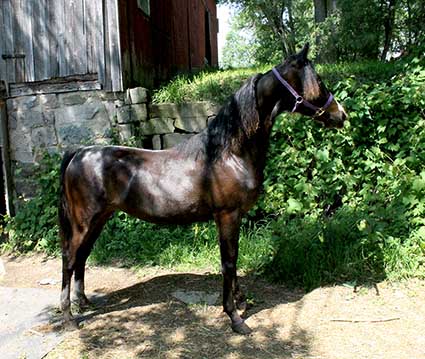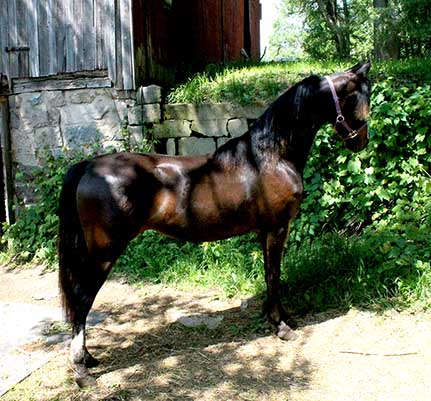 Above: Halo, as a yearling.
~More Snapshots...
Temporary surrogate, Ancan Timeless (with a paternal brother to Halo at her side), allows Halo to nurse for the several days. Halo wasn't sure if Time was her momma, the dogs, or humans.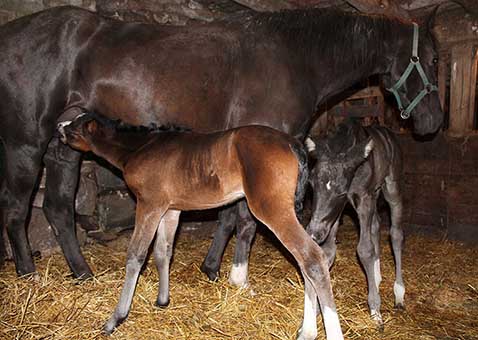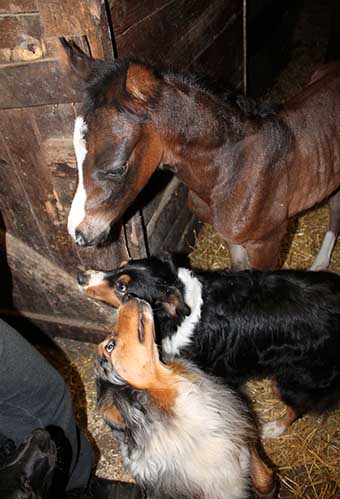 This is what my stove looked like for 3 months. A formula brewing station.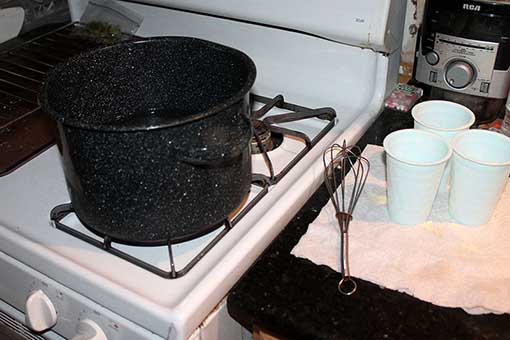 It takes a village to raise an orphaned foal. For the first 2 weeks, she was bottle fed every 2 hours. It gave me new meaning to the term "foal-watch". I've never been so tired in my life! I am so very grateful to all the friends who rallied to help me out from time to time so I could sleep. Thank you!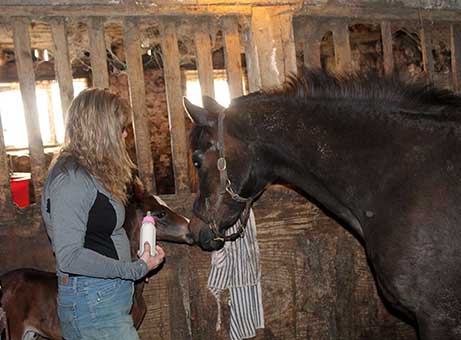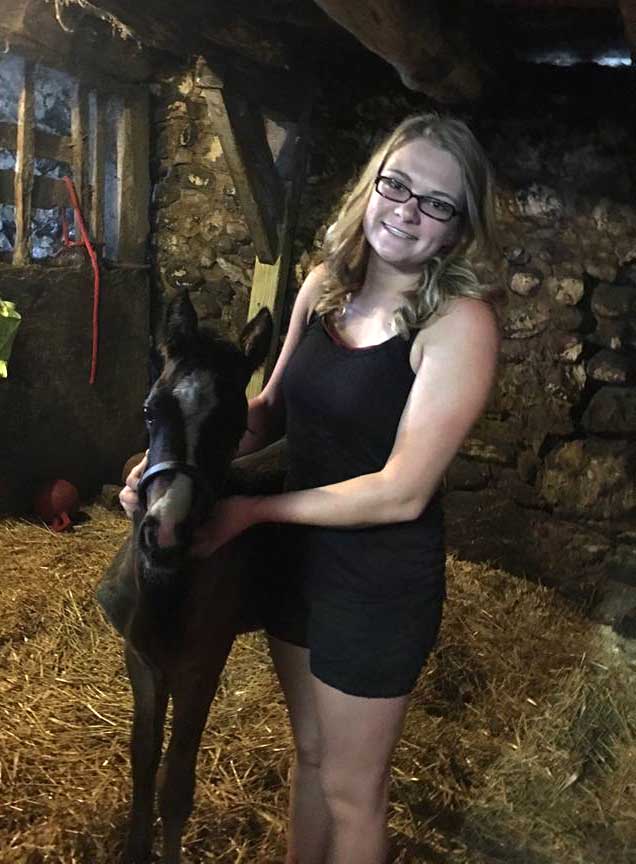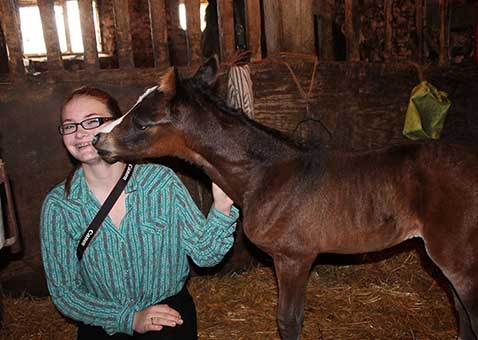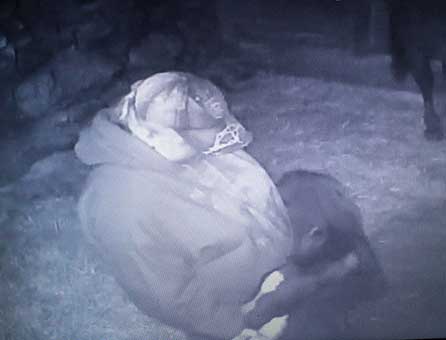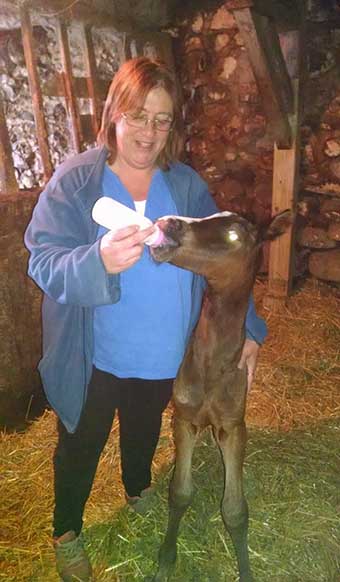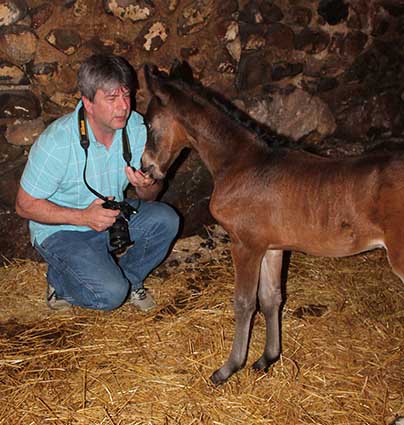 And while the formula filled her tummy with all the nutrients she needed, there was something else, something very important, missing. Halo needed a maternal figure. A "horse" to raise her to be a "horse". Someone to protect her in the herd, to teach her about pecking orders, reciprocating scratching, and how to graze.
Enter Morgan mare, "Lady" (Tionas Sabetha Kathleen). Lady has always wanted a foal - she has spoke plain "English" about that desire since she arrived at my farm. She was overjoyed to step into Brooke's hoofprints and raise her darling filly for her.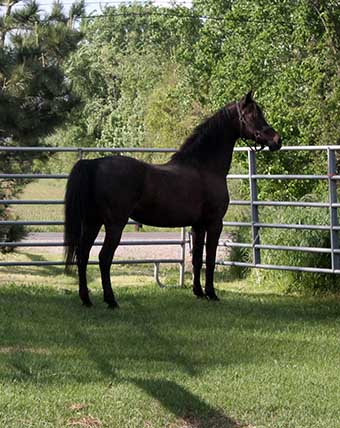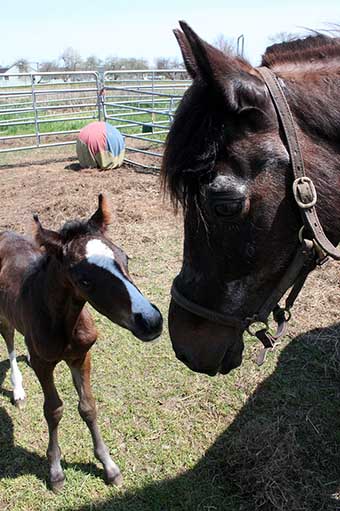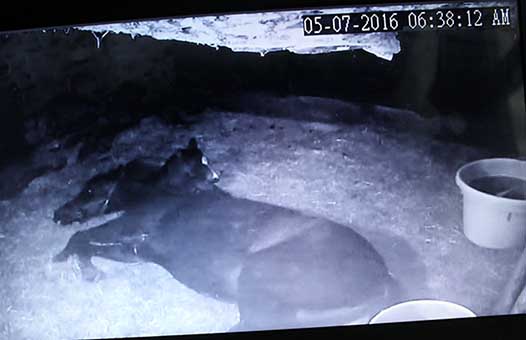 I tried (in vain) for over 2 weeks to get her to drink out of a bucket and not a bottle... It finally worked! CELEBRATE!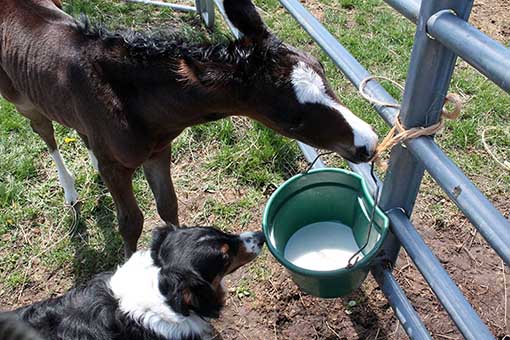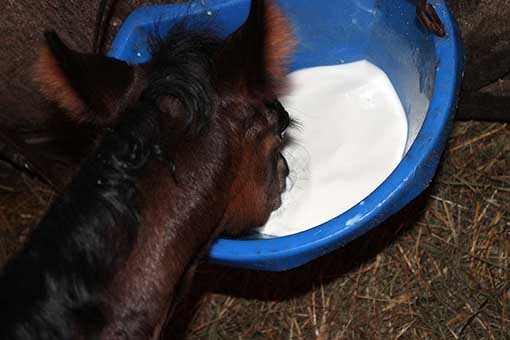 With her belly full of nutrient-rich formula, and foster-mom Lady never far, Halo thrived. She loved life and didn't hesitate to dance through it.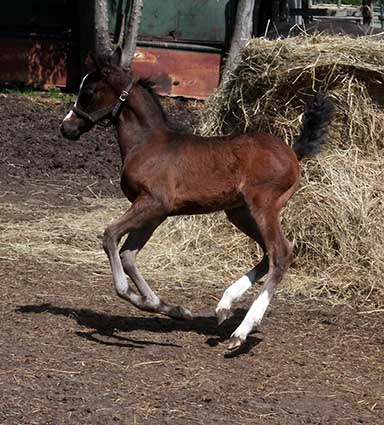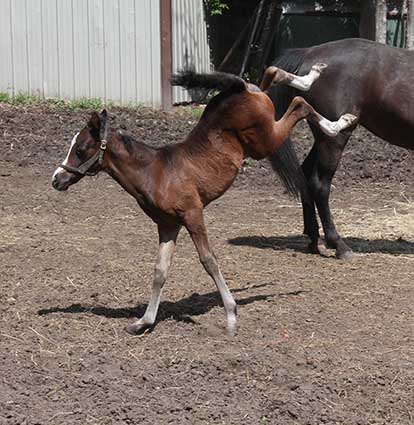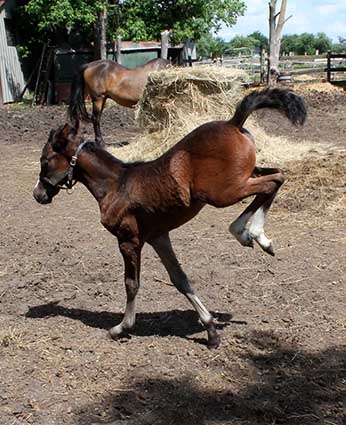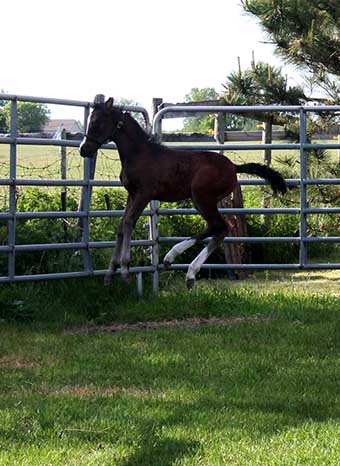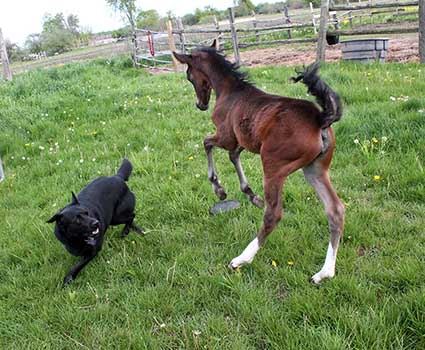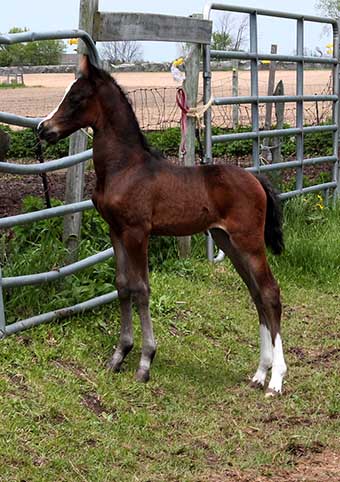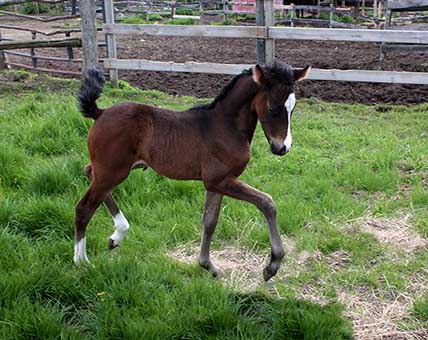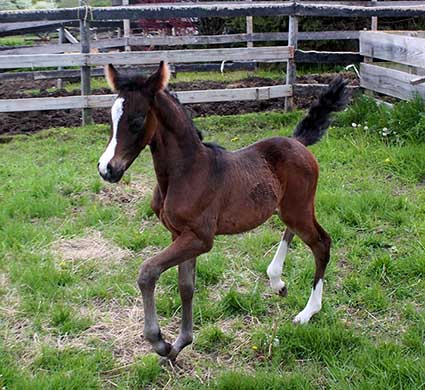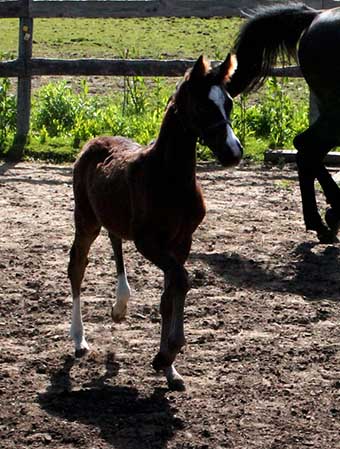 Shown below - now 2 months old. She is eating grain and hay - but still gets her bucket of formula, too.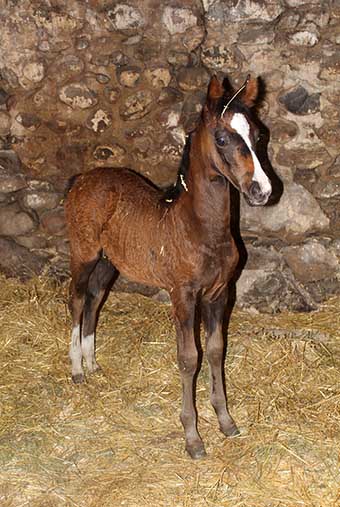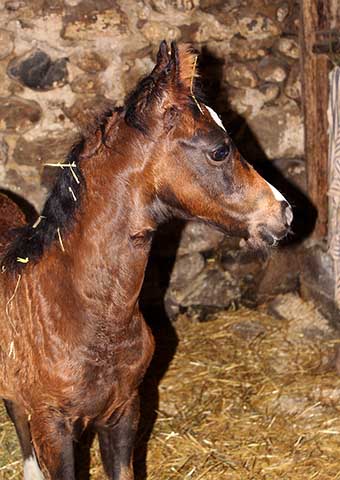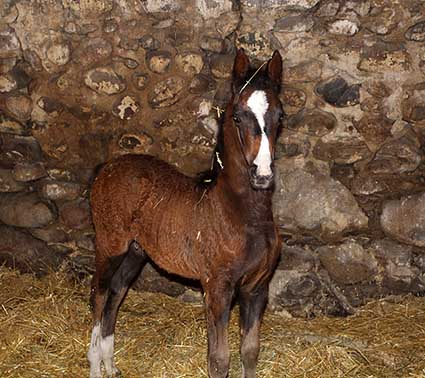 She loved visits from my 6 year old granddaughter, Sophia.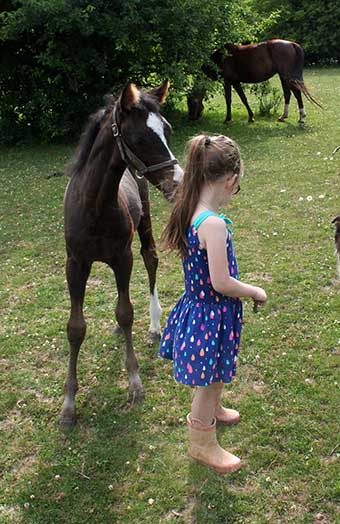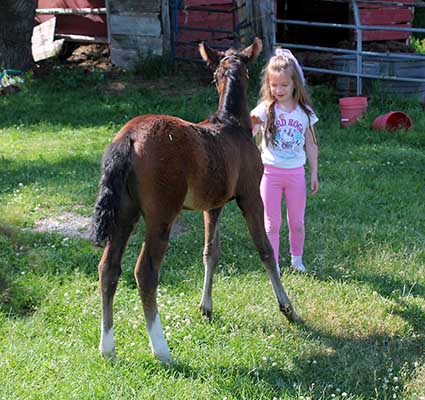 Halo fell asleep while the children groomed her.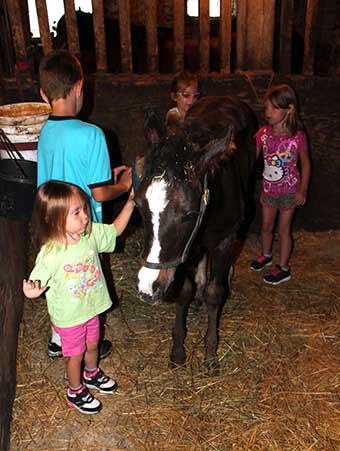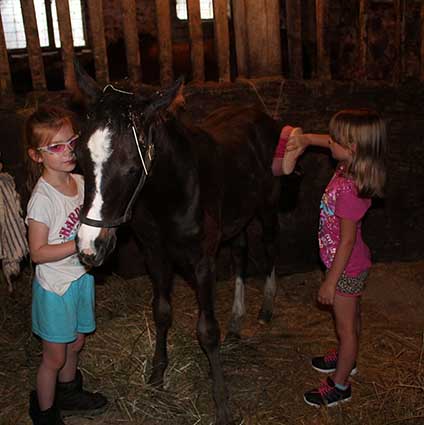 With her loving "mother" always by her side, Halo felt safe and loved. She was a normal, healthy foal after all.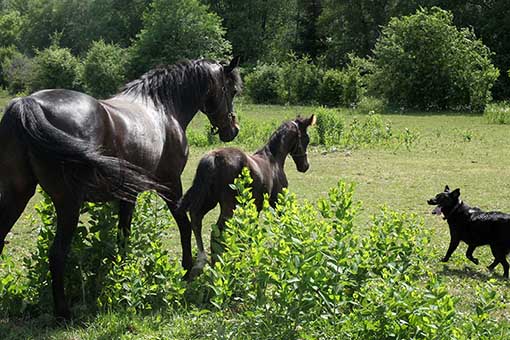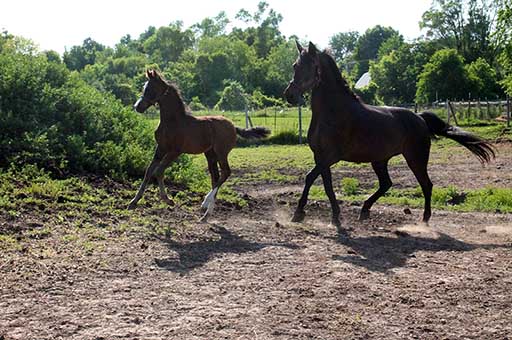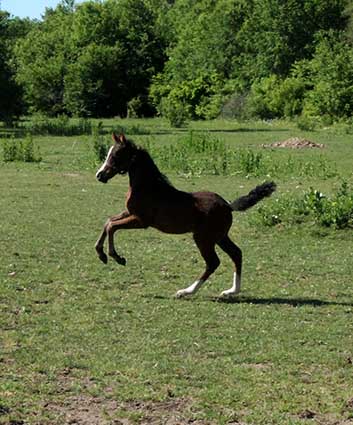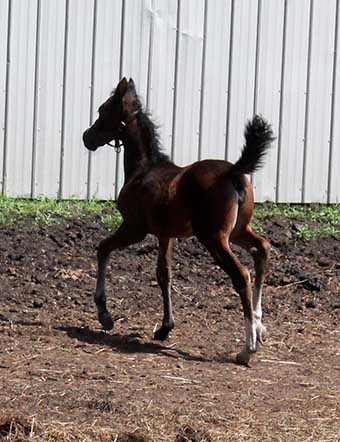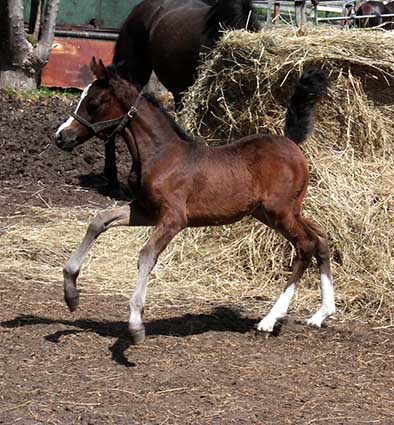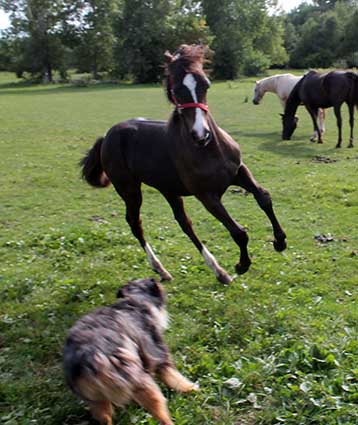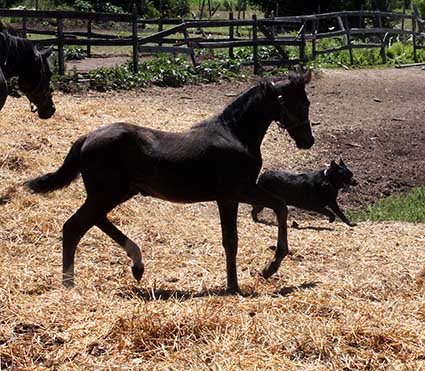 She wasn't thrilled about learning to pose -but she learned and looked stunning when she put her ears up.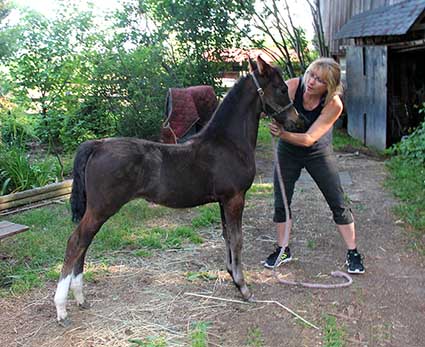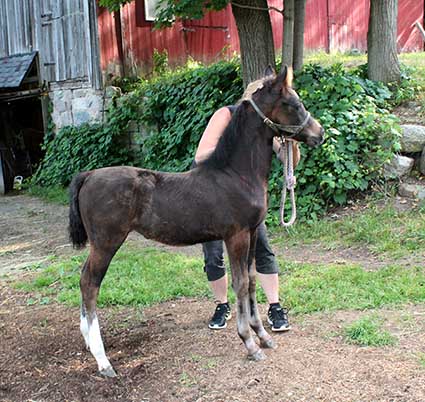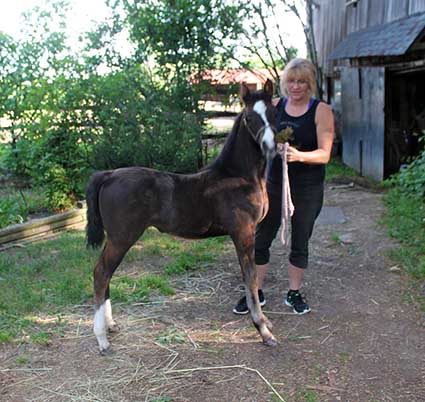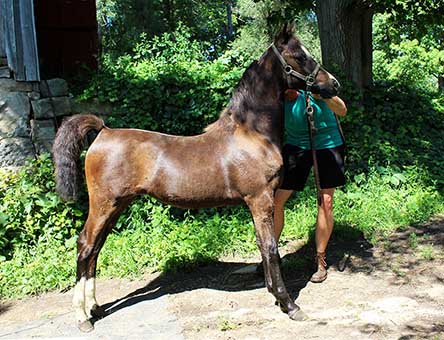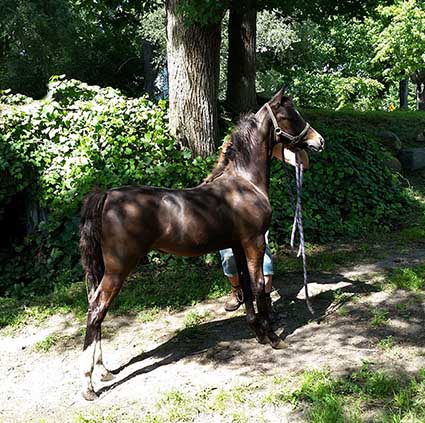 October, 2016 - Halo (on the right) and her paternal brother Ancan Remingron.
Michigan Morgan Horse Breeder's Futurity show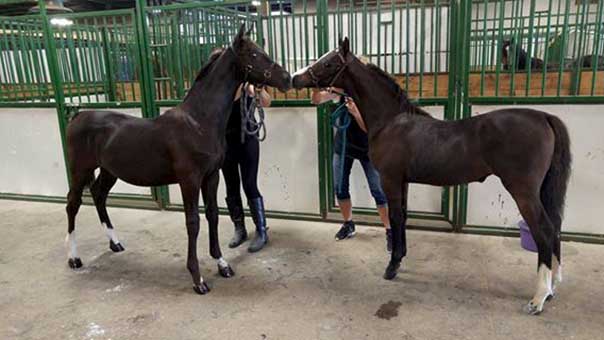 Spring, 2017
Beautiful, feisty Halo, is now a whole year old.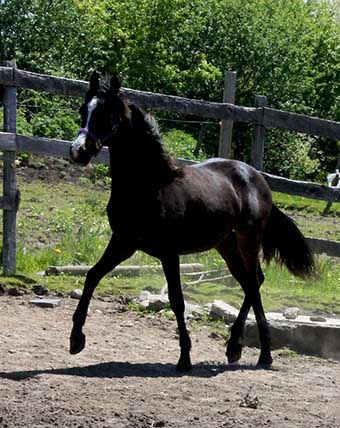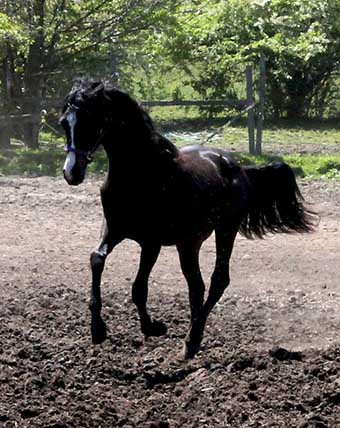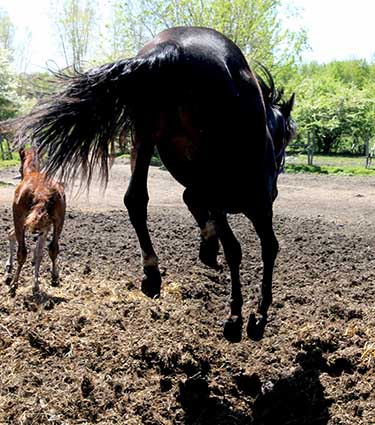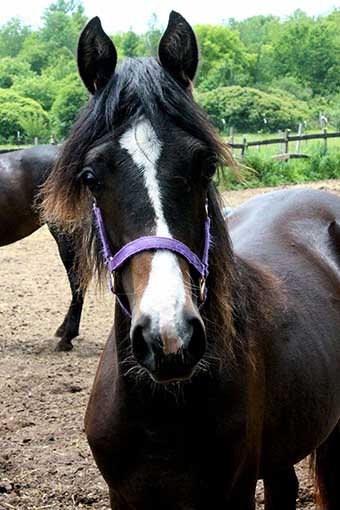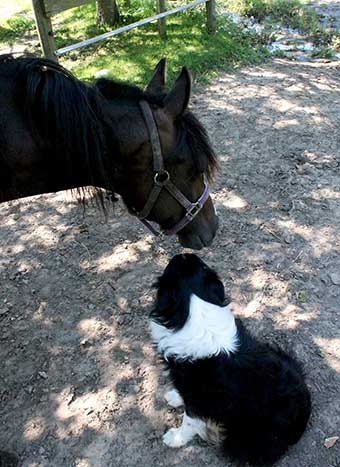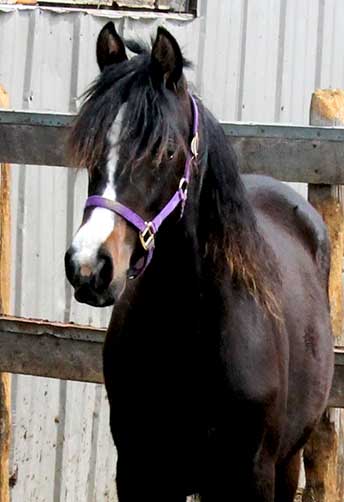 Summer, 2017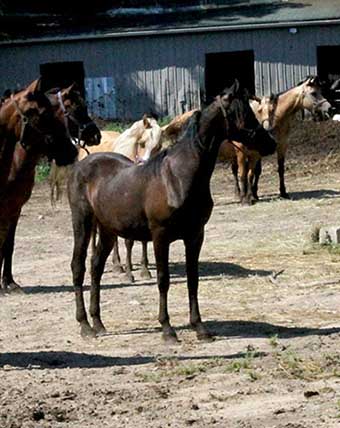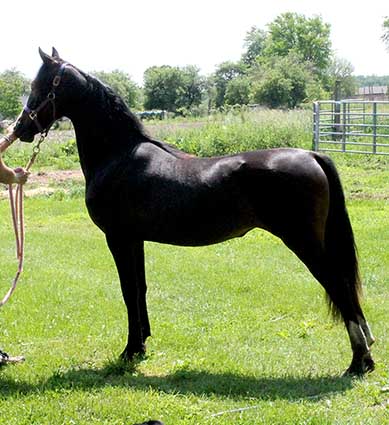 ---
Pedigree for
Ancan Halo

Sire
TB Midnite Summers Dream

Sire
 Stonecroft Byzantine

Sire
Stonecroft Masquerade
Sire
Cedar Creek Harlequin
Dam
Carillion Command
Dam
Century Enjolie
Sire
Tedwin Topic
Dam
Appleton Baroness
Dam
The Heavens French Starlet
Sire
Futurity French Command
Sire
Caryle Command
Dam
Nobelle
Dam
Brentwood Alicia
Sire
Waseeka's Skylark
Dam
Overlook Jessica
Dam
Devonwood Decadence

Sire
Chandel Absolut

Sire
Shaker's Alimon
Sire
Troutbrook Playboy
Dam
Miller's Adel
Dam
Chandel Harmony
Sire
Fairfield Fortune
Dam
Kendalwood Hope
Dam
Sinful Command
Sire
Century On Command
Sire
Waseeka's In Command
Dam
Adventures Nicole
Dam
Foxtrots Sparkler
Sire
Val's Gay March
Dam
Hip Heath Cinfield

This pedigree page was built for free at the SitStay GoOut Store
---
Sire:
TB Midnite Summers Dream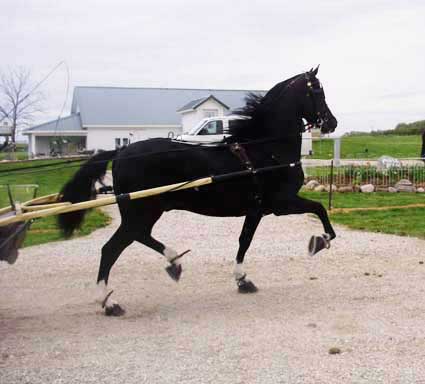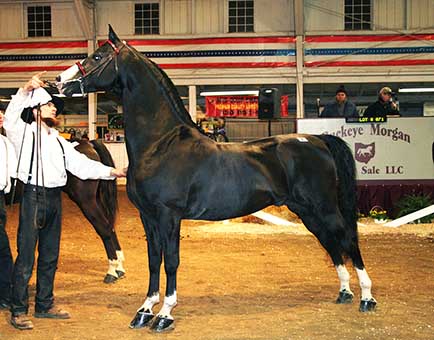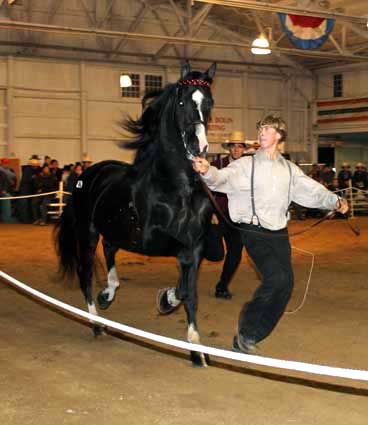 ---
Dam:

Devonwood Decadence
---

Copyrighted 1999 by Anne Wyland ~ Web page designed by Anne Wyland ~ Created in IE Frontpage