Ancan Black Ice
Delilah's 2008 Foal
~ DNA-Tested Smoky-Black filly, foaled July 4, 2008 ~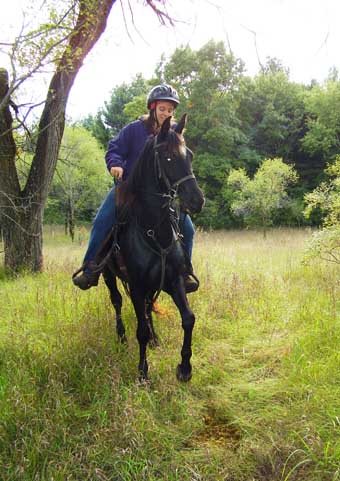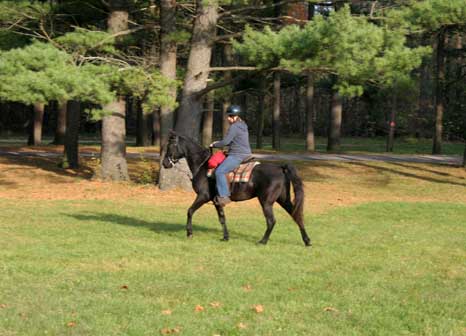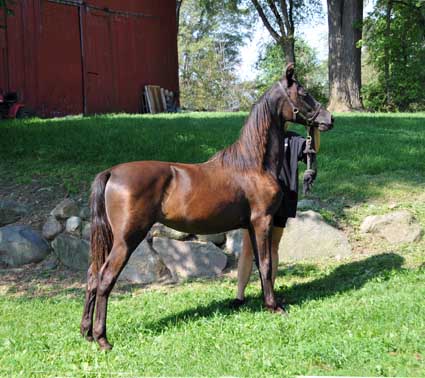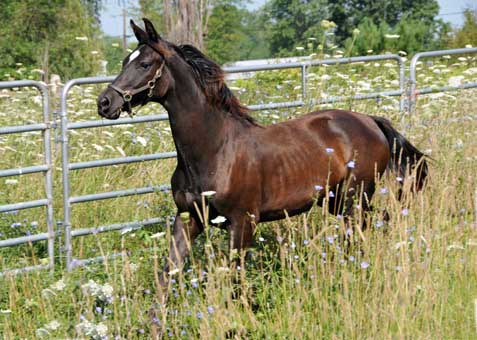 What a beautiful young mare Black Ice is! Foaled July 4th, 2008, she is refined and elegant; a real lady with a beautiful head and eye. She floats effortlessly in her movement and when she flags and struts at liberty, you can't help but be captivated. She has an upright neck carriage and excellent impulsion from the hocks; she would make a stunning Classic Pleasure Driving show horse.
I'm no longer interested in competitive showing, so Icee has been saddle trained to trail ride. She is a BLAST on the trails!! She is a happy, "go forward" sort that doesn't need to constantly be bumped and encouraged to keep up with the others in your trail riding group. She is content to lead or follow, and even though she's not as tall as some of the horses she rides with, she as a nice length of stride and has often out-walked much taller horses. While not a "hot" horse, she is spirited; Icee is not a dead-head. Her jog/trot is smooth and comfortable to ride. Her lope/canter is collected and smooth as well.
I have not spent a lot of time training her under saddle in an arena-atmosphere. She doesn't neck rein, doesn't know two distinctive speeds to the jog/trot, and doesn't know cues to pick up specific leads at the lope/canter. We simply pull her out of the pasture, saddle her, and head for the trails. We don't even lunge her first.
She is great on the trail, very solid in her thinking. She doesn't refuse obstacles found while trail riding; she'll go over downed trees (will jump them smoothly if asked), through mud, will cross busy highways, and will cross any size and depth body of water, too. She doesn't spook, bolt, buck, rear, prance, etc. You can let her hand-gallop and she'll come right back to do a walk on a loose rein. She would probably be an awesome competitive trail horse for a small adult or a child.
I will say that she is very smart, and as such is probably not best suited for a timid or nervous rider. She needs a confident rider who she will know is the boss. Now, that isn't to say a beginner couldn't ride her. 7 year old children have ridden her bareback with only a halter and a lead rope safely. They weren't "experienced" but they were confident and fearless. Icee never took a wrong step with them.
Icee is very people oriented (she'd come in and lay at your feet like a dog, if she could) and eager to please. She LOVES the attention and this new job or trail riding! While any green horse is capable of spooking and bucking, Icee has never offered to do so when carrying a rider. There is a great work ethic on this one; you'll love her! She is fun, fun, fun!
View short videos of her on YouTube: http://www.youtube.com/watch?v=bVJx3u6Y-oQ
View a short video of Icee at 10 months old and growing at:
http://www.youtube.com/watch?v=RzEjRkbcDxk
~ SOLD ~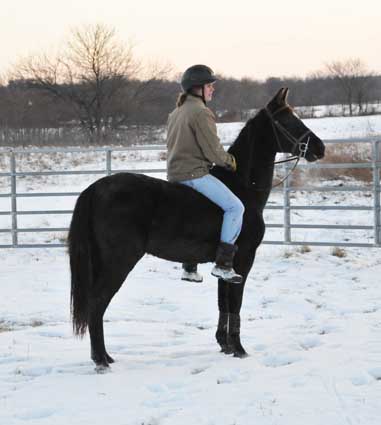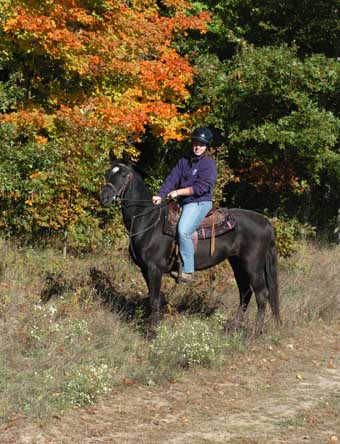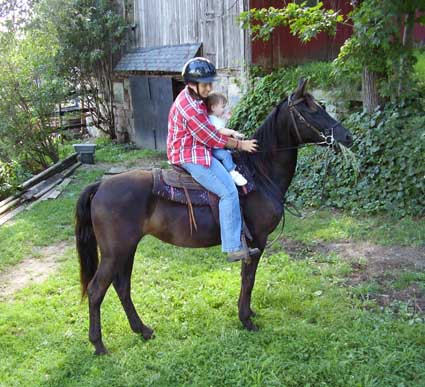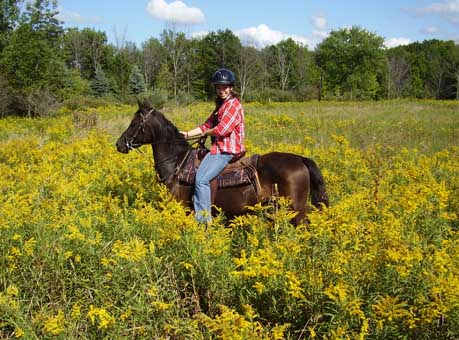 ~ ~ Photos of Icee as She Grows Up ~ ~
July , 2008 as a suckling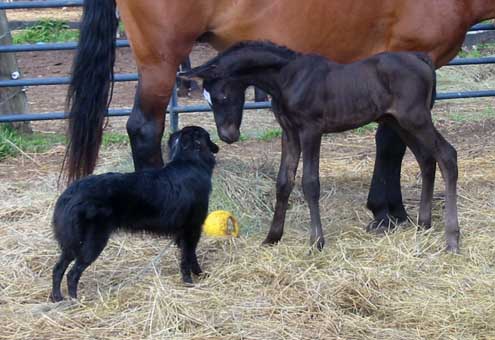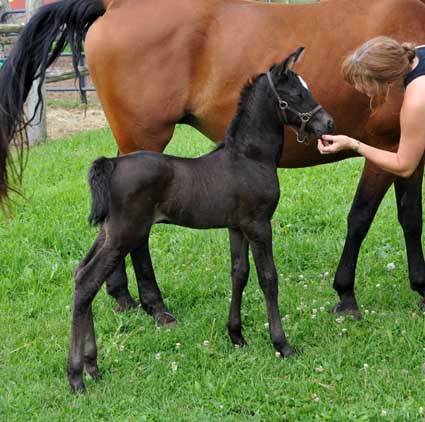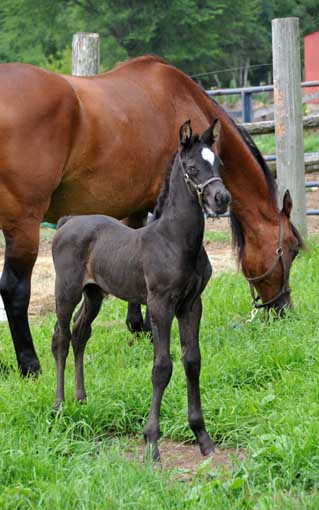 Learning to pick up her feet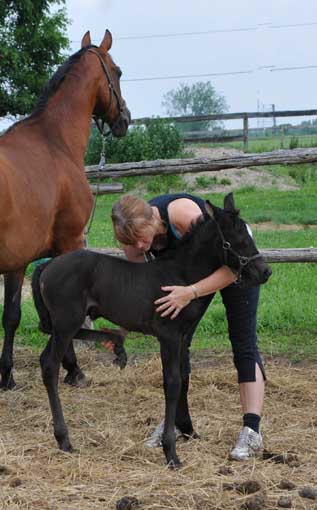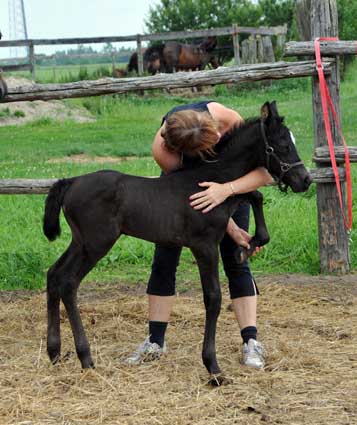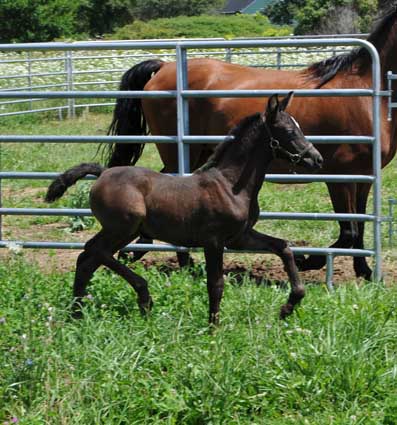 7 weeks old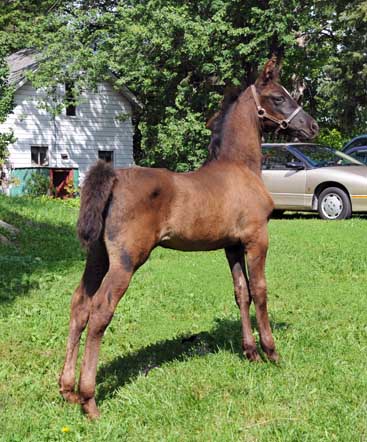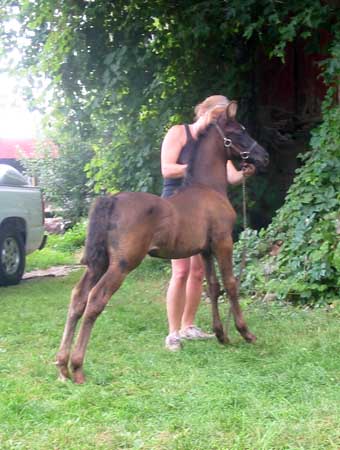 11 weeks old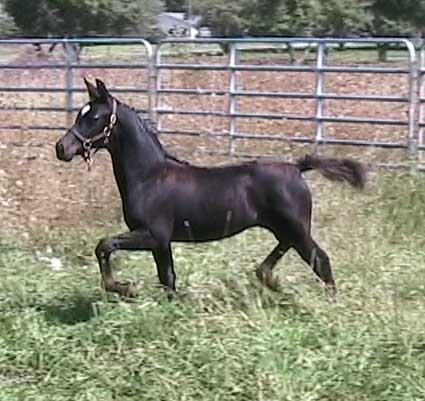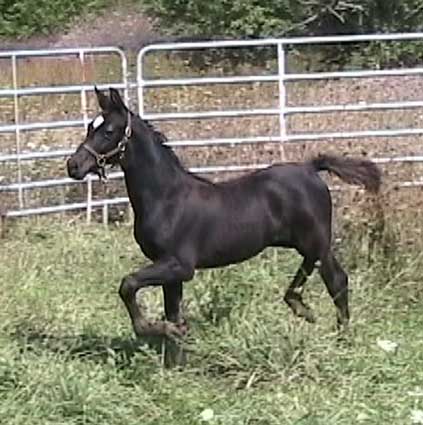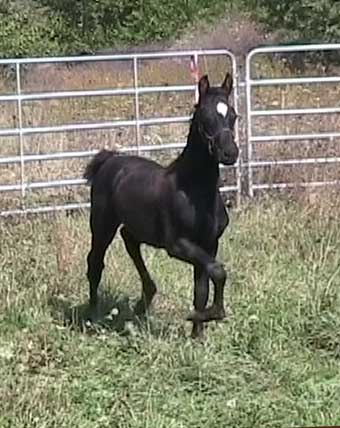 January, 2009 -- 6 months old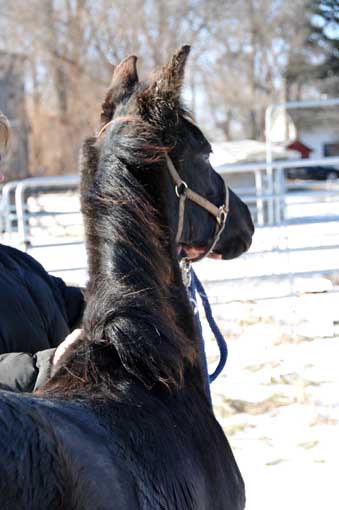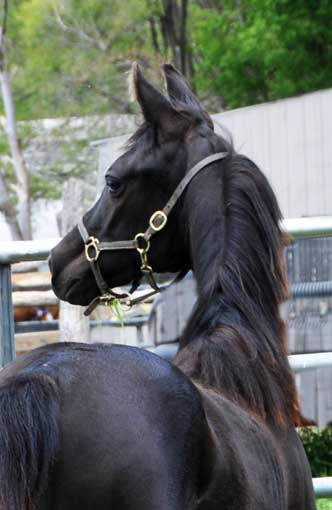 Almost a yearling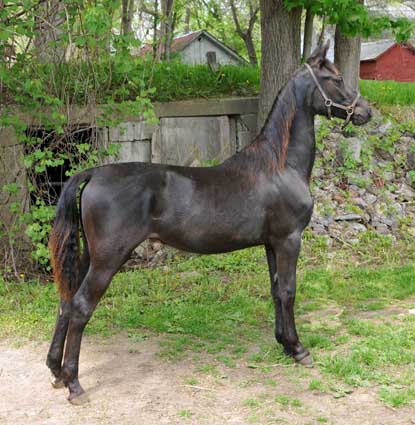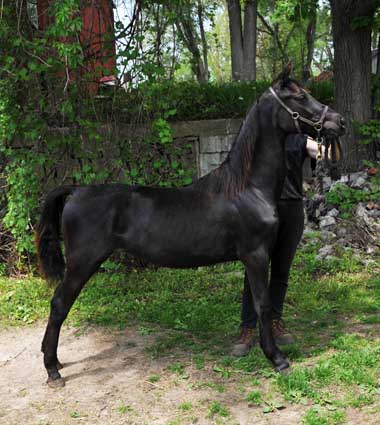 Shown below standing quietly for the farrier.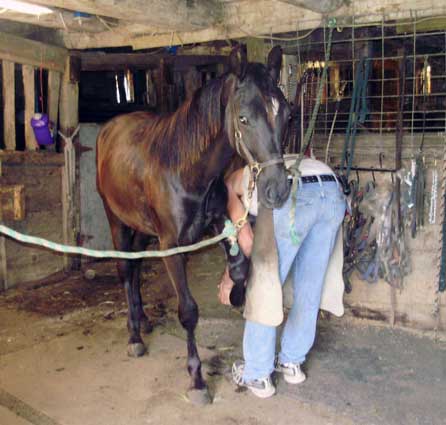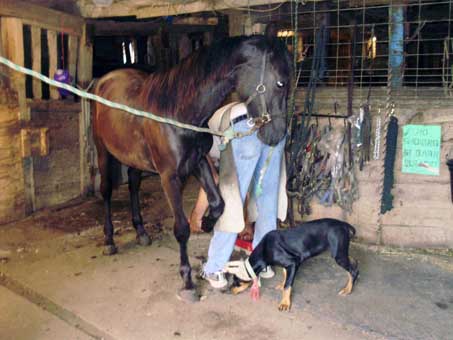 February, 2010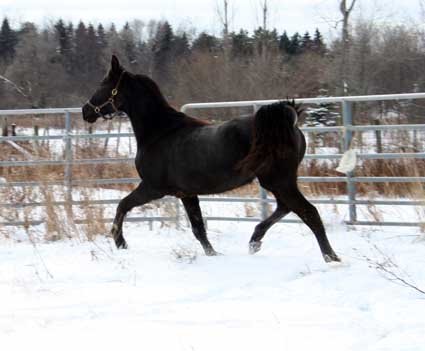 July, 2010, first time carrying a rider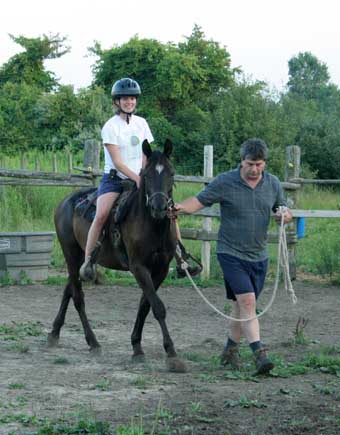 January, 2011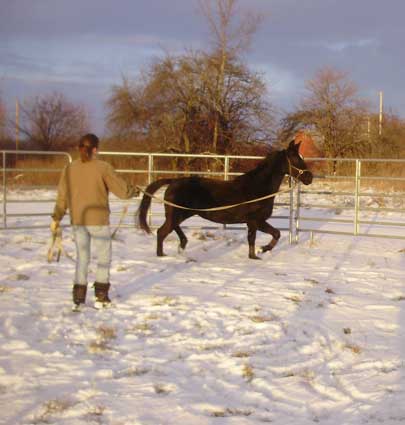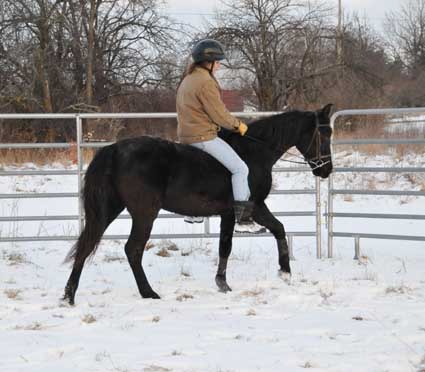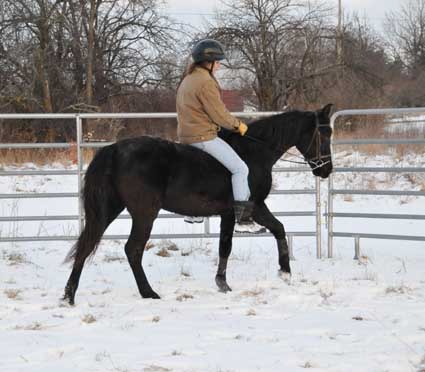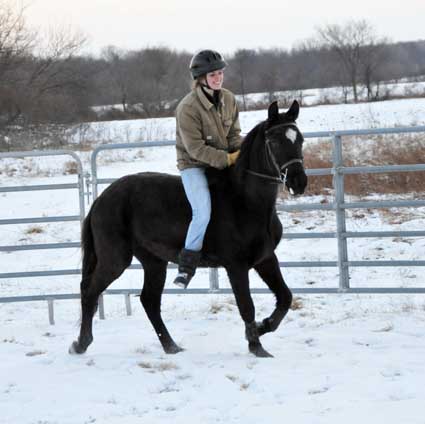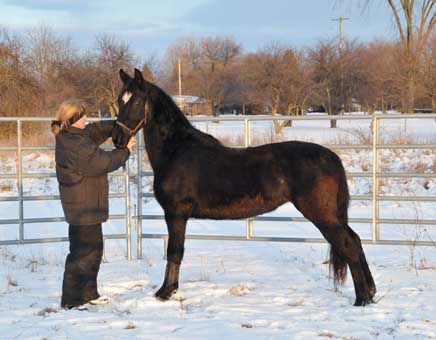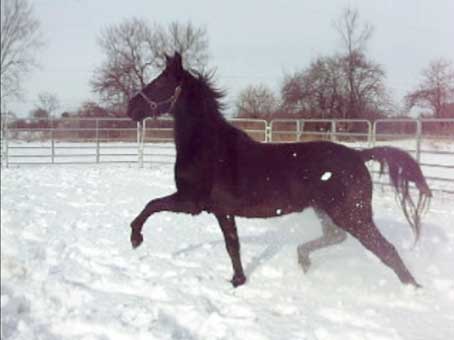 Shown below as a 3 year old, carrying an 8 year old child bareback, with only a halter and lead rope.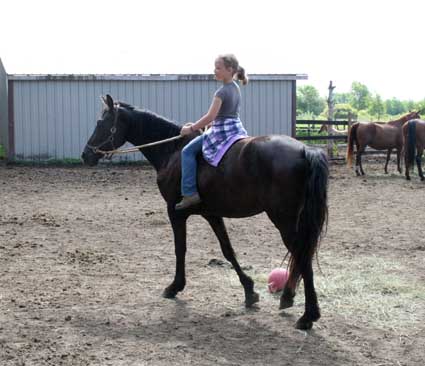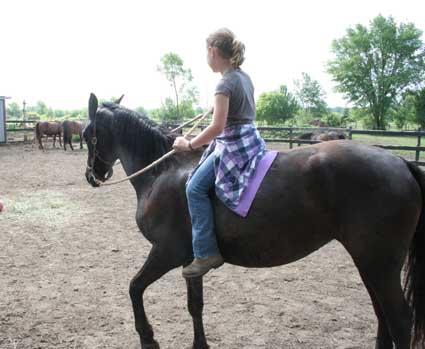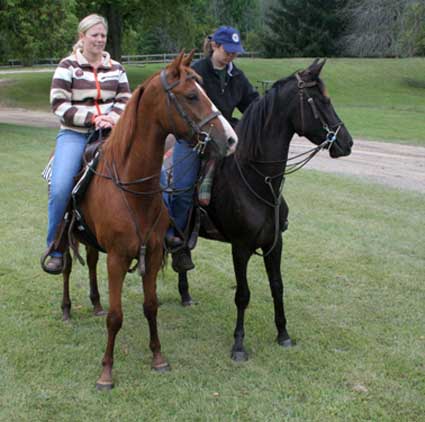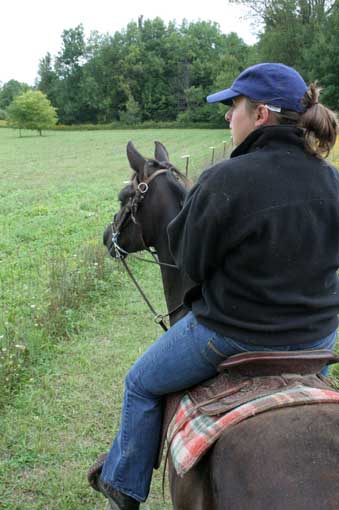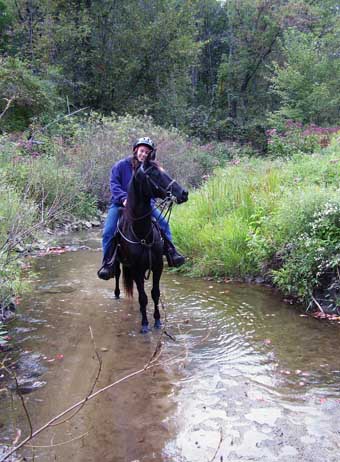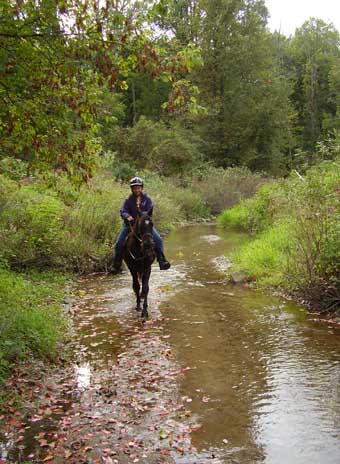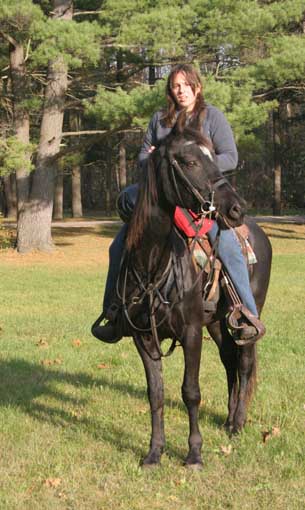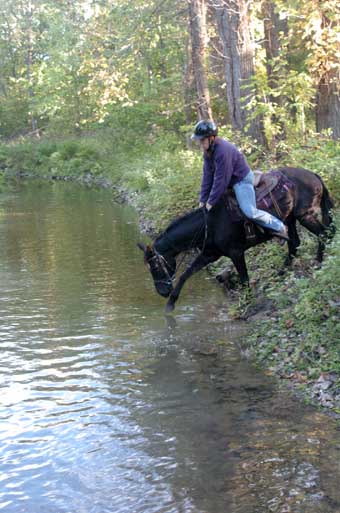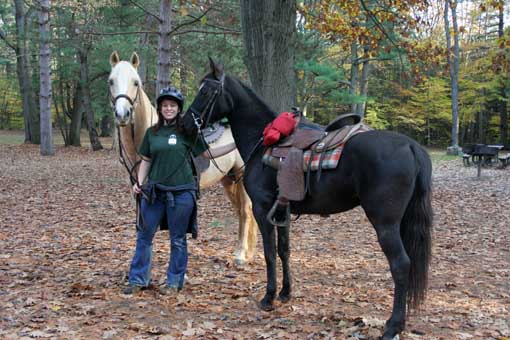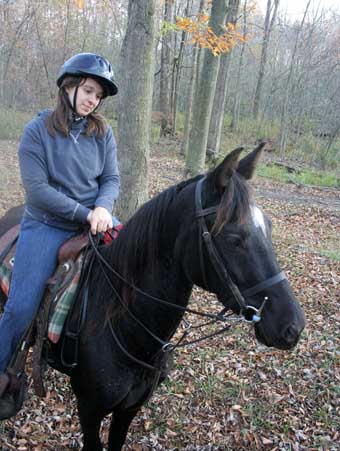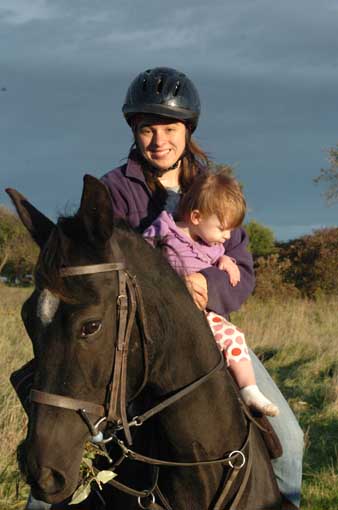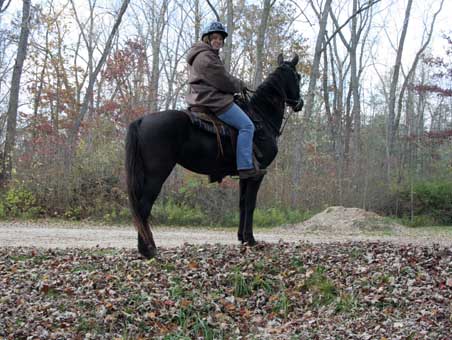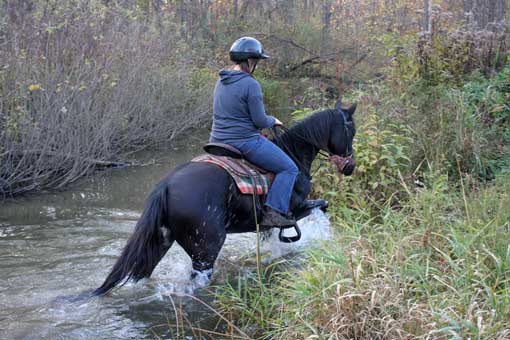 ---
Sire
Ancan True Colors

Sire
Fiddler's Blackriver

Sire
Waseeka's Vivo

Sire
Waseeka's Here Tiz

Dam
Waseeka's Theme Song

Dam
Fiddler's Dolly

Sire
Kingston

Dam
Orcland Youlenda

Dam
Aquila's Miss Beehaven

Sire
Futurity Command

Sire
Waseeka's In Command

Dam
Wynakee Alvina

Dam
Aquila's Queen Bee

Sire
Paramount Nominee

Dam
Foxy's Cotton Queen

Sire
Hollybrook Wham Bam

Sire
Wham Bam Command

Sire
Waseeka's In Command

Dam
Trophy's Corrigan

Dam
Nemour's Sunkissed

Sire
Black River Jupitor

Dam
Nemour's Sunny Beam

Dam
Tedwin Touch O Pepper

Sire
Trijas Mr. Pepperlect

Sire
Applevale Donalect

Dam
Little Miss Pepper

Dam
Waseeka's Cajun Queen

Sire
Waseeka's Nocturne

Dam
Corrine
This pedigree page was built for free at the SitStay GoOut Store
---
Sire, Ancan True Colors
Dam, Hollybrook Delilah
---

Copyrighted 1999 by Anne Wyland ~ Web page designed by Anne Wyland ~ Created in IE Frontpage