Ancan Have Faith
---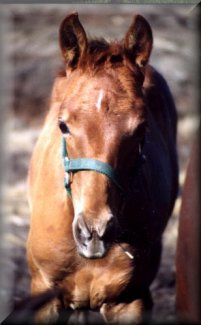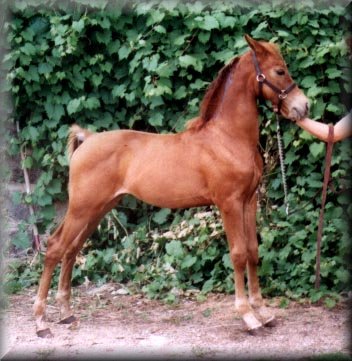 Faith is a beautiful example of her wonderful breeding. Her dam was shown lightly winning In Hand and in Western Pleasure. Her sire has produced champions across the nation in all divisions. Faith is wonderfully correct from her beautiful head, upright neck, laid-back shoulder, short back , & level top-line, to her long straight legs and sound feet. Not accepted by her dam at birth, and bottle fed by her human family, she is crawl in your pocket friendly and sweet. She truly believes that humans are just part of her extended family. She is fearless and very confident, there is a lot of attitude in this package! She can be an In Hand Champion, or possible a western pleasure performance horse. She certainly will produce top-notch horses in the breeding shed. She is handled every day two or three times. She leads and poses, clips and cross-ties. We just love her here, and offer her only due to the farm being so overstocked right now. She's a great one!
~ S O L D ~
Pedigree for Ancan Have Faith


Sire
Fiddler's Blackriver
Sire
Waseeka's Vivo
Sire
Waseeka's Here Tiz
Sire
Waseeka's Nocturne
Dam
Waseeka's Thisizit
Dam
Waseeka's Theme Song
Sire
Waseeka's Nocturne
Dam
Mannequin
Dam
Fiddler's Dolly
Sire
Kingston
Sire
Upwey Ben Don
Dam
Junefield
Dam
Orcland Youlenda
Sire
Ulendon
Dam
Paleface
Dam
RHB Gemini
Sire
Whitaker's Sensation
Sire
Troutbrook Playboy
Sire
Waseeka's Nocturne
Dam
Mistress Merridawn
Dam
Shaker's Gaiety
Sire
TasTee Firefly
Dam
Oakmoor Cadence
Dam
Shaker's Rita
Sire
Troutbrook Playboy
Sire
Waseeka's Nocturne
Dam
Mistress Merridawn
Dam
Oakmoor Cadence
Sire
Orcland Don Darling
Dam
Lippitt Spearmint

This pedigree page was built for free at SitStay.com
---
Copyrighted 1999 by Anne Wyland ~ Web page designed by Jenny Morgan ~ Created in IE frontpage and web graphics created in LviewPro.