Ancan Immortal At Last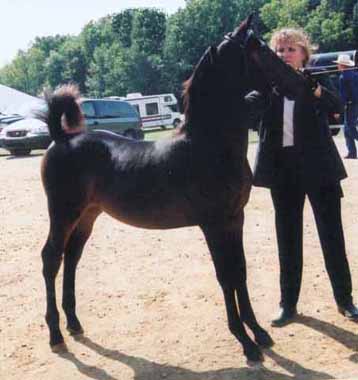 *Foaled April 28, at 1:10 am*
We awaited the arrival of this colt with great expectations and we were not disappointed! This is an outstanding individual! He is very upright with a well-laid-back shoulder, length of hip, lovely neck with a great tip-over at the poll. He has a beautiful dished face with large eyes full of expression, and the littlest tippy ears ever. He has long legs and should mature well over 15 hands. "Gizmo" has the best disposition, is smart, friendly, and willing to please. He is shedding out almost black and looks like he'll be brown, not bay.
His dam is a lovely broodmare, a double Troutbrook Playboy granddaughter. Her foals have her substance and bone; her beauty and good conformation. She has proven herself to be one of our best producing mares as she hasn't failed us yet in the breeding shed.
His sire is the renowned Immortal Command. Of course, Butch's get need no introduction to the Morgan world. They have won World Champion titles in virtually every division making Immortal Command one of the top ten stallions for the past fifteen years and earning him the Silver Stirrups Award (am all breed award given by the USA E for the stallion who has produced the most winning performance get. Butch won this award in 2002.). His sons and daughters are now producing their own nationally titled get.
~ S O L D ~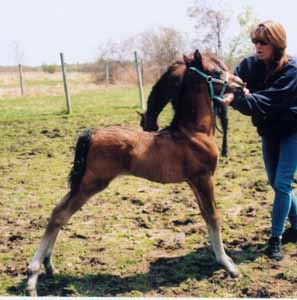 Above photos At 5 days Old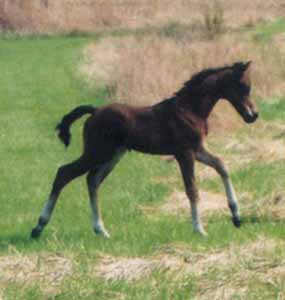 6 Days Old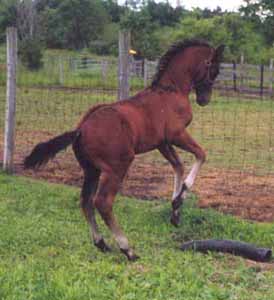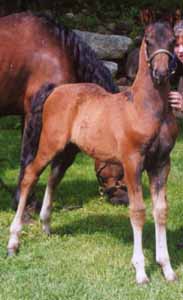 Photos at 1.5 months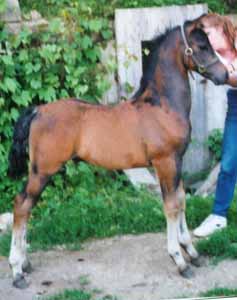 Photos at 2 months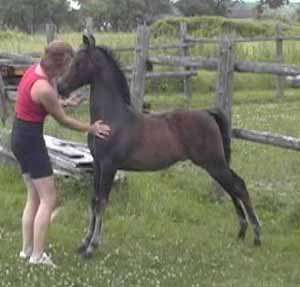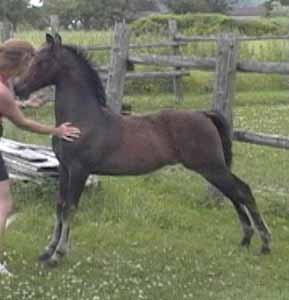 Photo at 9 weeks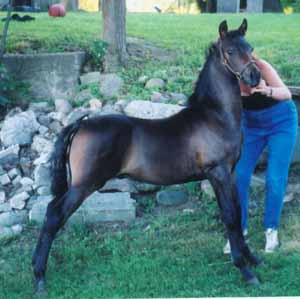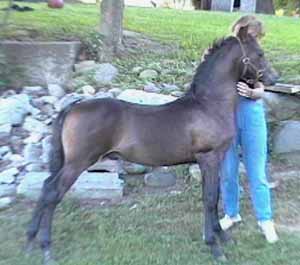 Photo at 11 weeks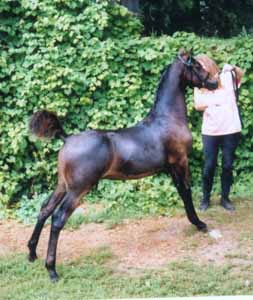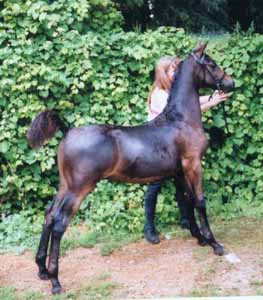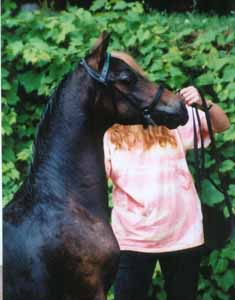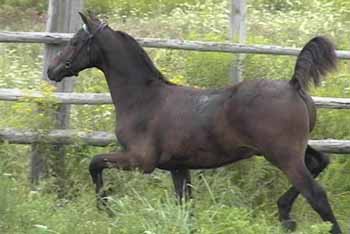 Photo at 17 weeks
Sire
Immortal Command

Sire
Waseeka's In Command

Sire
Waseeka's Nocturne

Sire
Starfire
Dam
Upwey Benn Quietude
Dam
Miller's Adel
Sire
Upwey Ben Don
Dam
Gertie G
Dam
UVM Vision
Sire
UVM Flash
Sire
Upwey Ben Don
Dam
Norma
Dam
UVM Lauri
Sire
UVM Cantor
Dam
Symphonee
Dam
RHB Gemini
Sire
Whitaker's Sensation
Sire
Troutbrook Playboy
Sire
Waseeka's Nocturne
Dam
Mistress Merridawn
Dam
Shaker's Gaiety
Sire
TasTee Firefly
Dam
Oakmoor Cadence
Dam
Shaker's Rita
Sire
Troutbrook Playboy
Sire
Quizkid
Dam
Music Maid
Dam
Oakmoor Cadence
Sire
Orcland Don Darling
Dam
Lippitt Spearmint
This pedigree page was built for free at the SitStay GoOut Store
---
Sire, Immortal Command "Butch"
Dam, RHB Gemini "Jamie"
---

Copyrighted 1999 by Anne Wyland ~ Web page designed by Anne Wyland ~