Ancan Hocus Pocus
"Magic"
---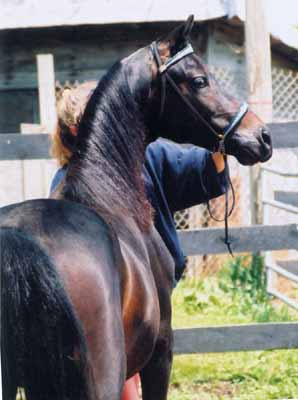 +
Ancan Hocus Pocus
What a gelding! He is calm, sane, gentle, and oh so willing and kind. I truly adore him and if I could begin to find a fiscal "reason" to keep a gelding on a breeding farm, he'd NEVER be for sale! He has been a breeze to train, never offers even a hint of trouble. The pictures below of him being ridden by my son shows him at about 4 hours of total saddle time in his training career. My son has been on horses before - but he is actually quite clueless what to do up there. Magic and he were both green as grass in this shot - yet my son was totally safe up there. Magic took care of him and tried VERY hard to figure out what my son was asking him to do. When loose in the corral at liberty he is flashy and fancy, but with leather on, he is very laid-back and casual; a western pleasure mount.
More photos of Magic...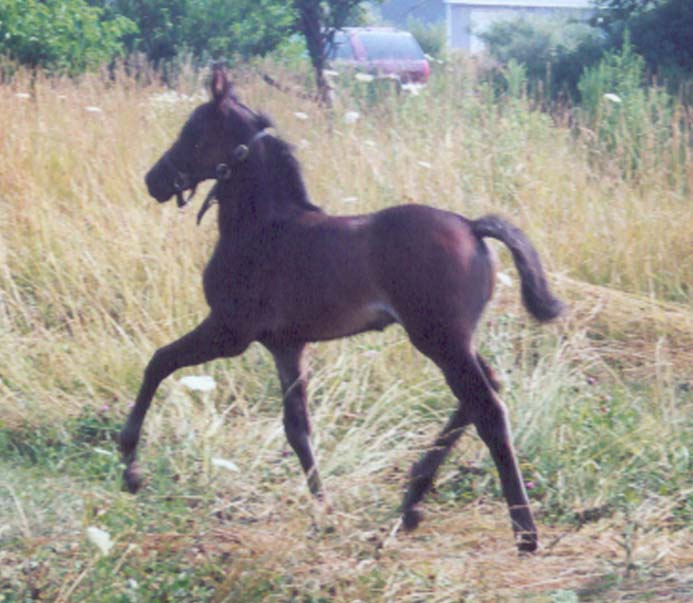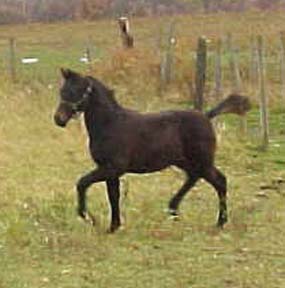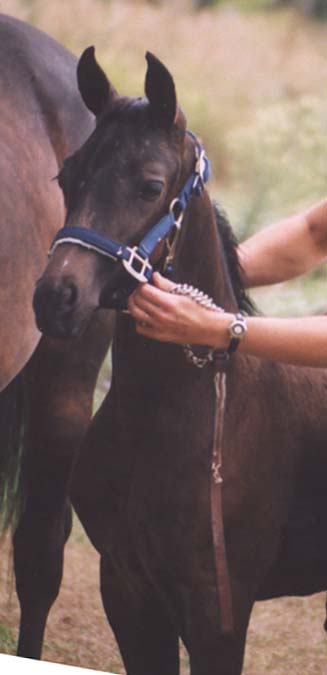 Shown Above 1-5 Months
---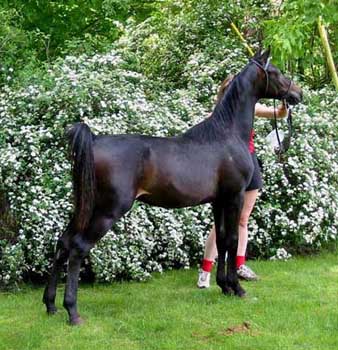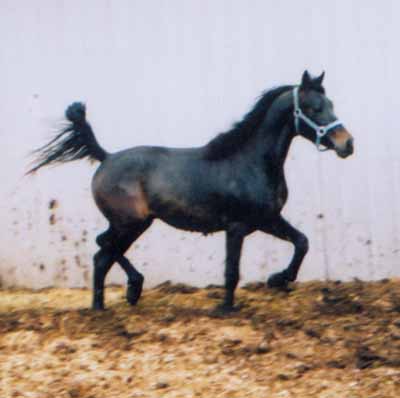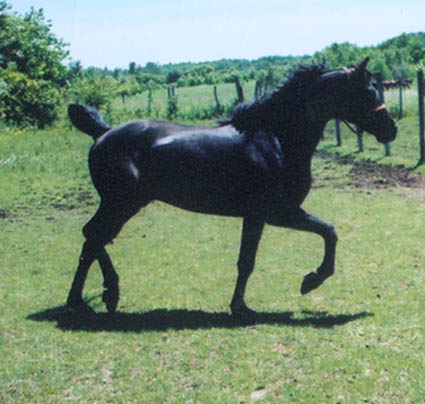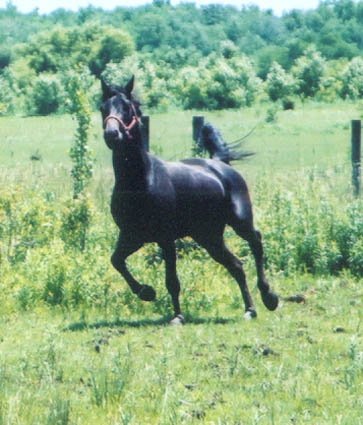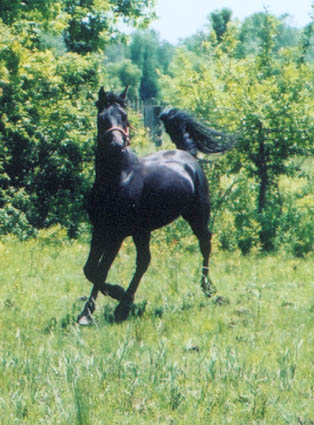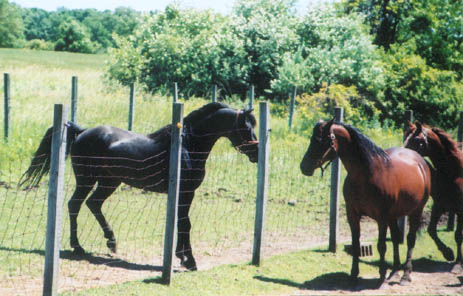 __________________________________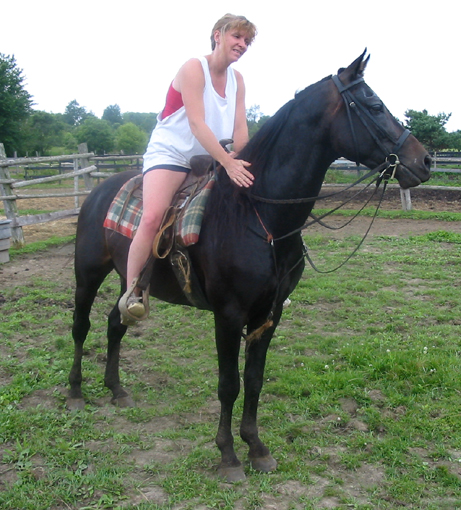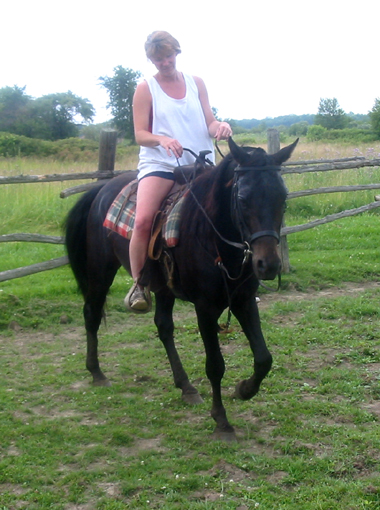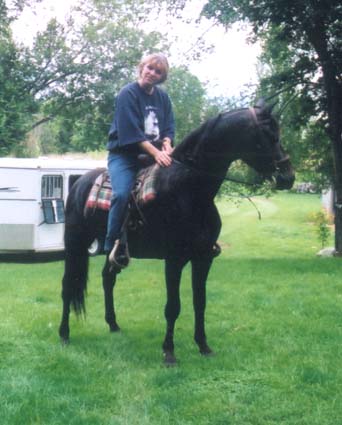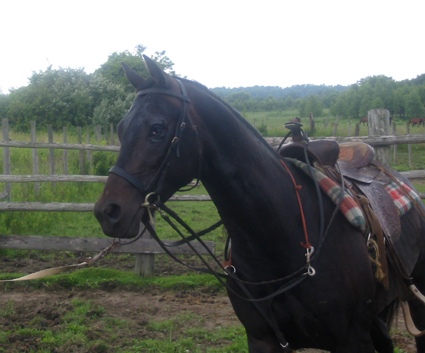 (above) Shows his injured eye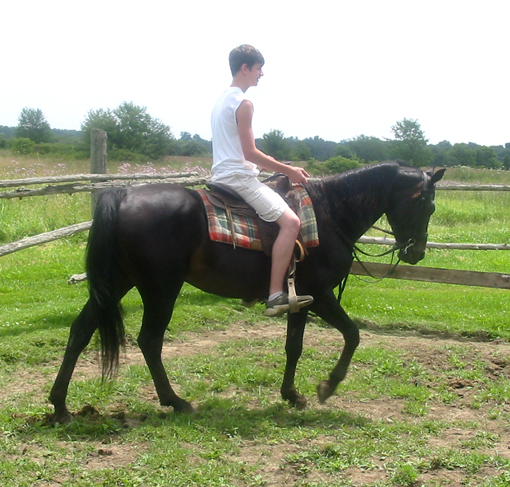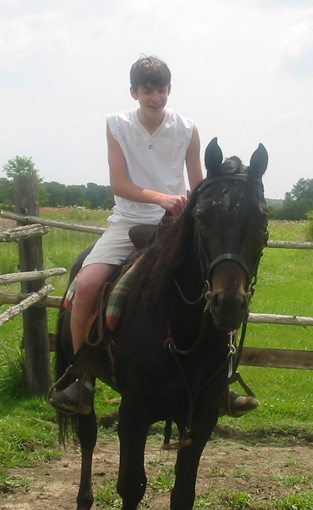 (above) Green under saddle and safely being ridden by an inexperienced child.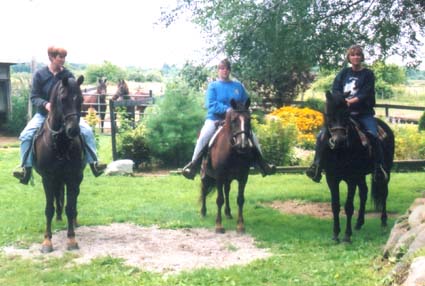 Magic Going Trail Riding In August
~ ~ ~ ~ ~ ~ ~ ~ ~ ~ ~ ~ ~ ~ ~
Magic taking our 15 year old son for a ride in our unfenced yard.. Our son is an inexperienced rider and just hopped up there so we could demonstrate how obedient, kind, and safe Magic is.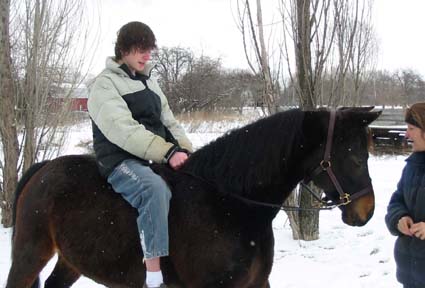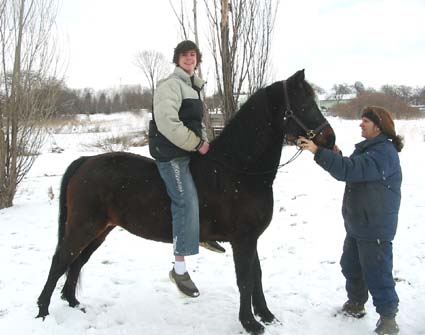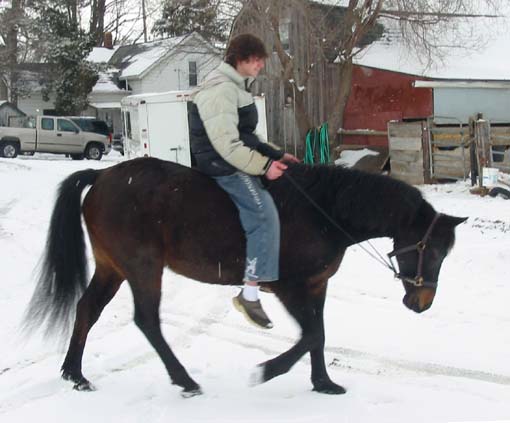 Magic & Anne, saying hello to Rufus the dog, eating a treat out of Anne's hand, and posing, March, 2005.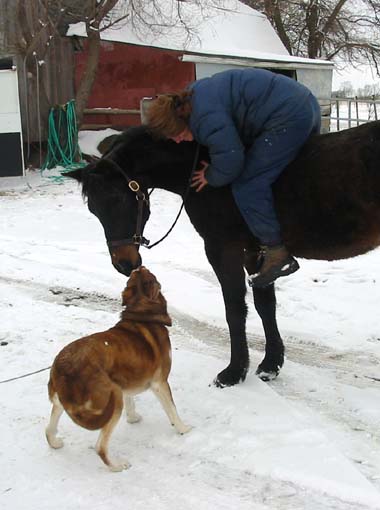 ---
Here Is His Dam,

Second The Motion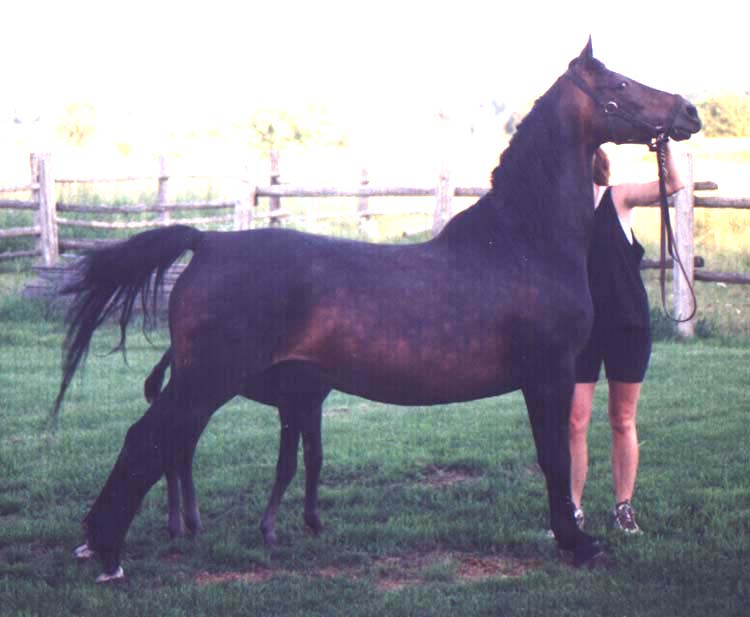 ---
Pedigree For

Ancan Hocus Pocus "Magic"

Sire
Fiddler's Blackriver

Sire
Wasseeka's Vivo

Sire
Waseeka's Here Tiz
Sire
Waseeka's Nocturne
Dam
Waseeka's Thisizit
Dam
Waseeka's Theme Song
Sire
Waseeka's Nocturne
Dam
Mannequin
Dam
Fiddler's Dolly
Sire
Kingston
Sire
Upwey Ben Don
Dam
Junefield
Dam
Orcland Youlenda
Sire
Ulendon
Dam
Lippitt Spearmint
Dam
Second The Motion
Sire
Tedwin Topic
Sire
Fiddler's Contender
Sire
Red Pepper
Dam
Donna Mae Pepper
Dam
Waseeka's Cajun Queen
Sire
Waseeka's Nocturne
Dam
Corrine
Dam
Second Line
Sire
Saralin's Commandant
Sire
Waseeka's In Command
Dam
Blackriver Nely Bly

Dam
Cedar's Custom Maid

Sire
Paramount Ambassador
Dam
Green Mead's Nose Gay
This pedigree page was built for free at the SitStay GoOut Store
---
Copyrighted 1999 by Anne Wyland ~ Web page designed by Jenny Morgan ~ Created in IE Frontpage and web graphic created in LviewPro.