Ancan True Spirit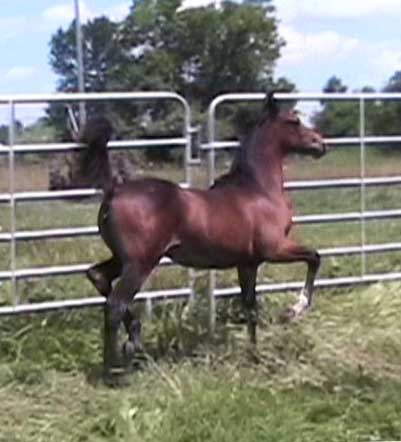 ---
What a lovely filly Spirit is! She is very pretty with her big eyes and stunning black-bay coloring. That striped face really sets her off and she is one of the first you'll notice of the herd.
Spirit is aptly named; she is happy, loves life, and is full of energy. She is fun to watch leaping, hopping, and strutting her stuff in the pasture. She has the best disposition; is kind, willing, and tries very hard to please. She has the best mind! Nothing really rattles her cage. While I really feel she is best suited as a hunter or western horse, she is always flagging her tail and strutting around like a queen. She is going to be a very fancy, eye-catching big mare when she matures.
Spirit has unlimited potential regardless the directions she matures to. Western, trail, hunter, driving, classic, or eventually as a top producing broodmare. I am proud to offer this quality filly for your purchasing consideration.
~ SOLD ~
Congratulations to Dawn Jacobson, Muskegon, Michigan
Click below to view a video clip: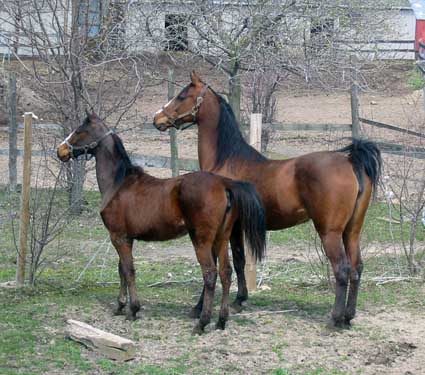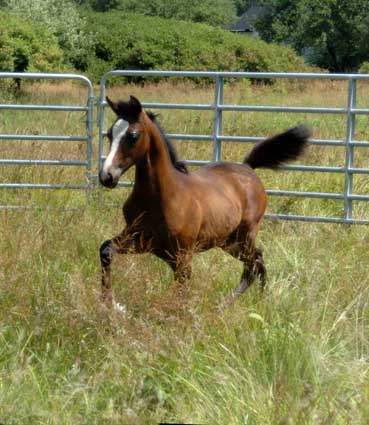 _______________________________________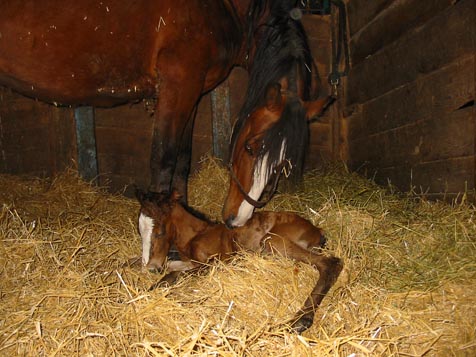 Filly Foaled: April 7, 2007 ~ 1:40 am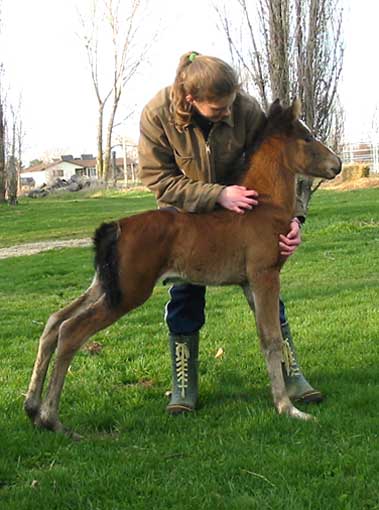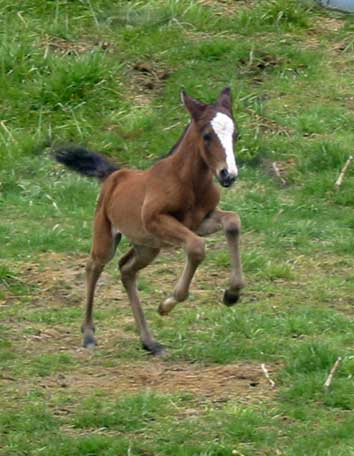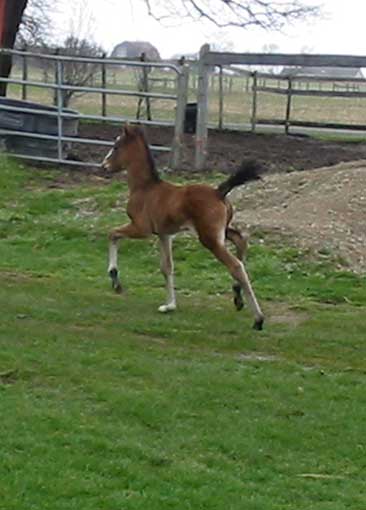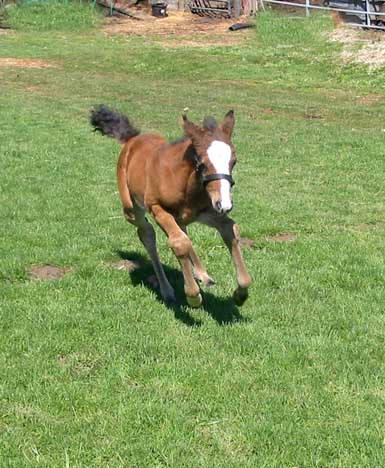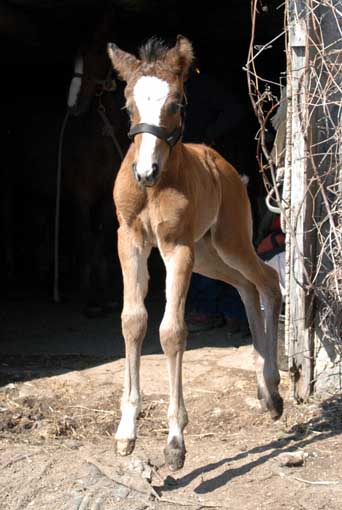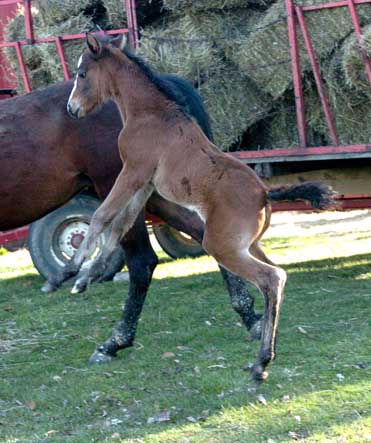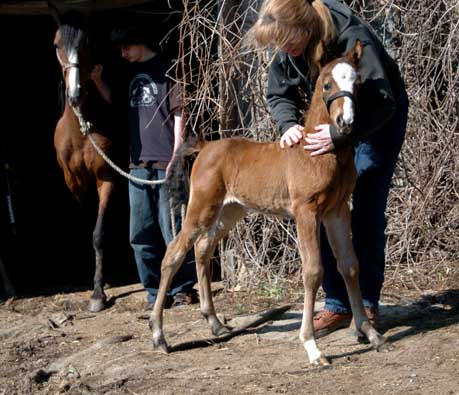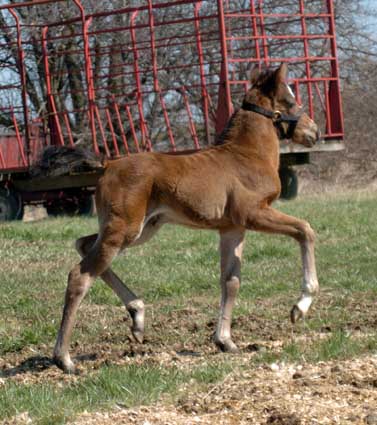 All photos above at less than 8 days old.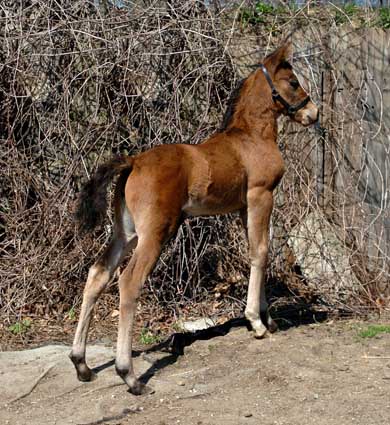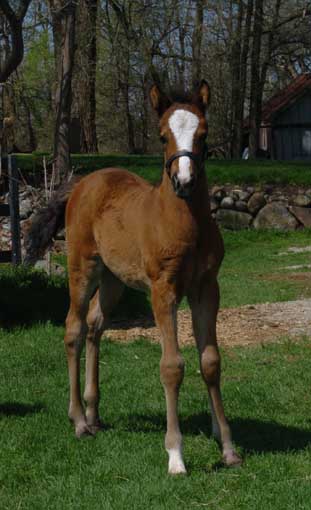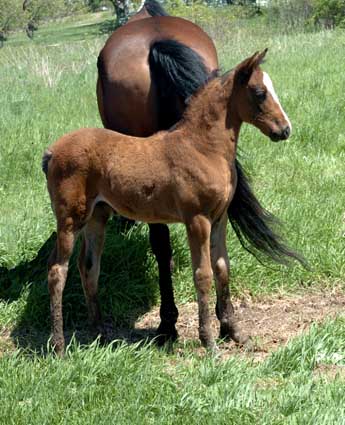 Photos Below; 2.5 Months Old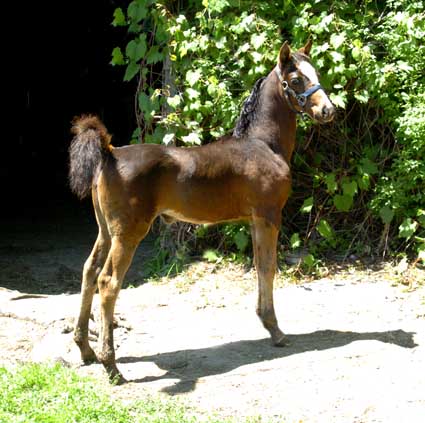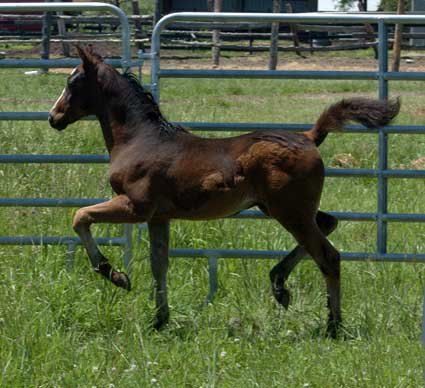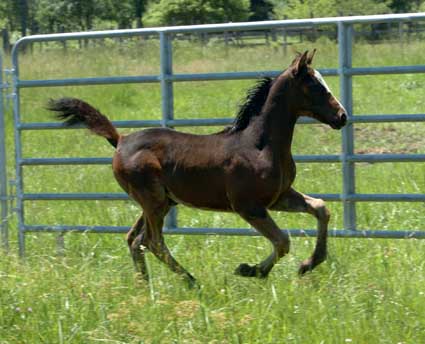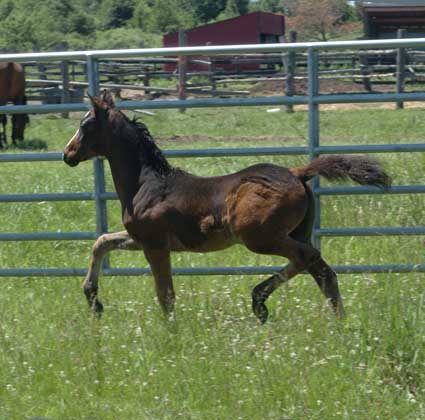 Photos Below; 3 Months Old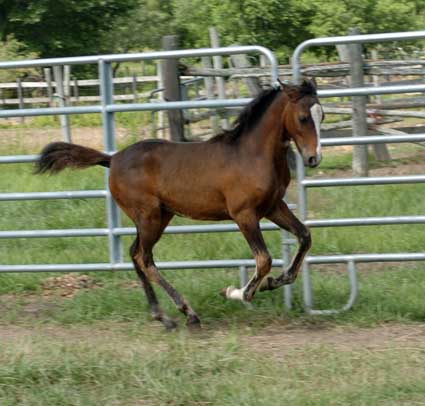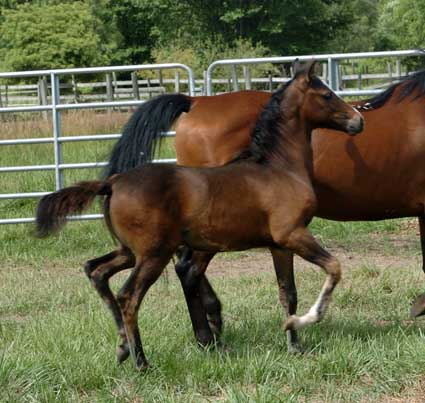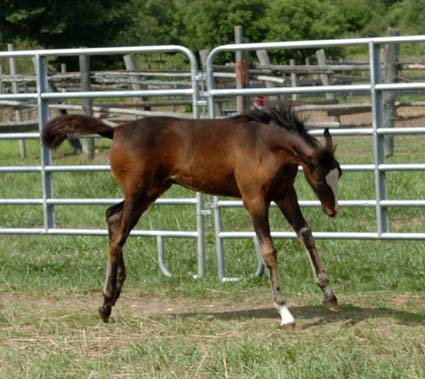 Photos Below; 4 Months Old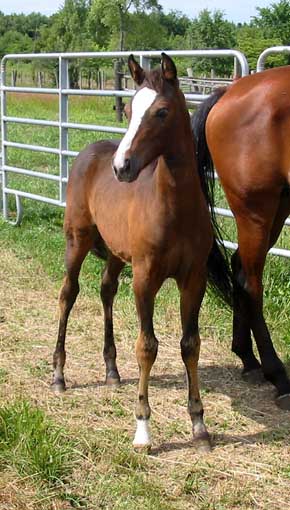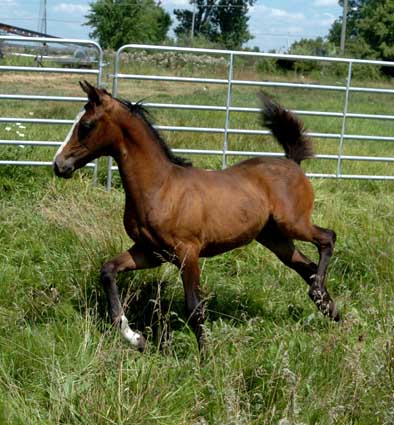 Photos Below; 5 Months Old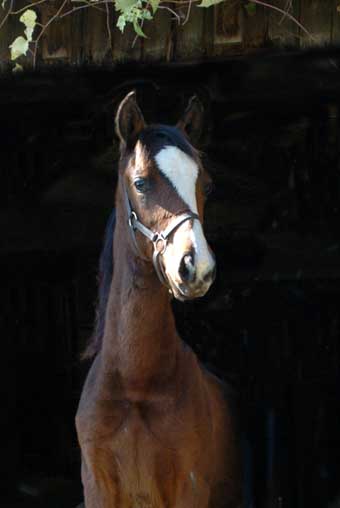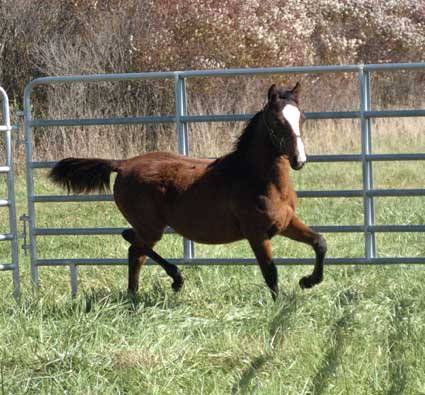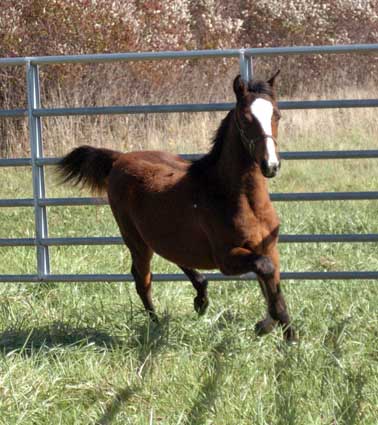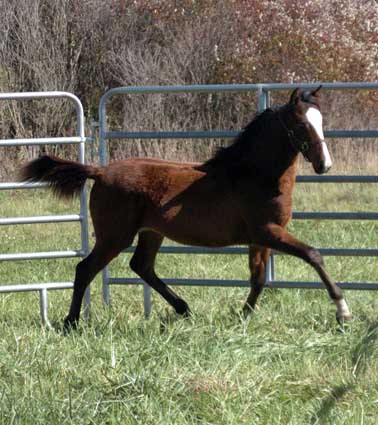 Shown below playing in the snow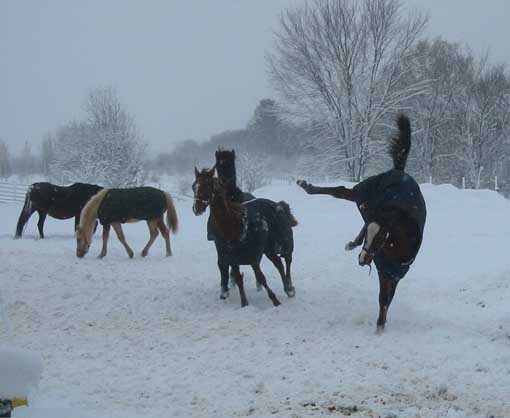 ---
Pedigree for
Ancan True Spirit

Sire
Ancan True Colors

Sire
Fiddler's Blackriver 

Sire
Waseeka's Vivo
Sire
Waseeka's Here Tiz
Dam
Waseeka's Theme Song
Dam
Fiddler's Dolly
Sire
Kingston
Dam
Orcland Youlenda
Dam
Aquila's Miss Bee Haven
Sire
Futurity Command
Sire
Waseeka's In Command
Dam
Wynakee Alvina
Dam
Aquila's Queen Bee
Sire
Paramount Nominee
Dam
Foxy's Cotton Queen
Dam
VHRE Cleopatra's Spirit

Sire
Nemour's Port Royal

Sire
Lord Appleton
Sire
Waseeka's Nocturne
Dam
Vigilmay
Dam
Myblueheaven
Sire
Waseeka's In Command
Dam
Wynakee Alvina
Dam
Northshire Cleopatra
Sire
Equinox Benn Adam
Sire
Bennfield's Ace
Dam
Waseeka's Charm
Dam
Equinox Rene
Sire
Courage Of Equinox
Dam
Equinox Bridget

This pedigree page was built for free at the SitStay GoOut Store
---
Sire: Ancan True Colors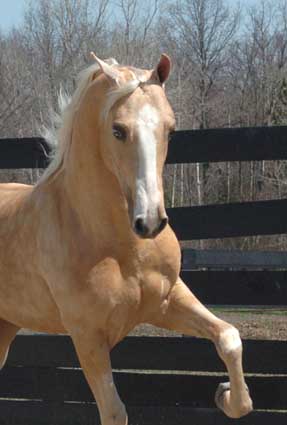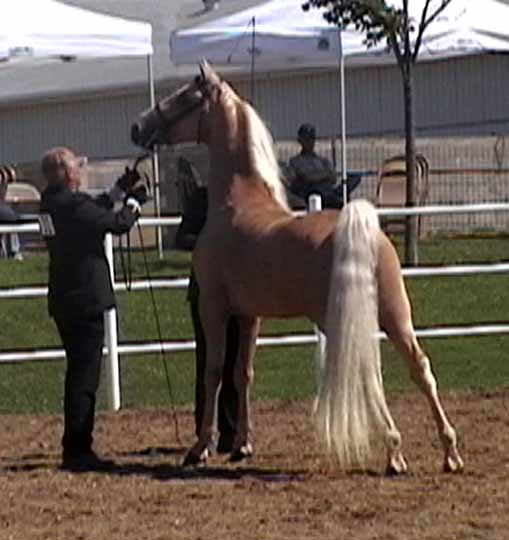 ---
Dam, VHRE Cleopatra's Spirit
---

Copyrighted 1999 by Anne Wyland ~ Web page designed by Anne Wyland ~ Created in IE Frontpage