Ancan Raindance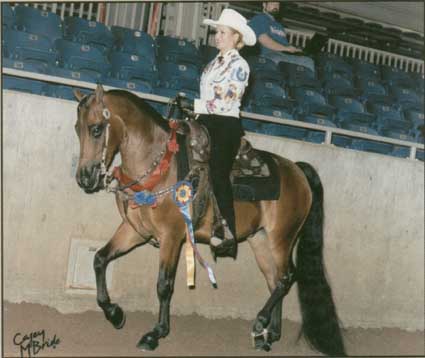 ---
Gorgeous, up-headed, fancy bay colt. This lovely young man knows he is something special and he just exudes his arrogance.
Dancer has wonderful conformation with great hocks and athletic ability. Boy, can he trot when he wants to! There is great depth of bone and body on this youngster who should mature well over 15 hands.
He has a friendly, willing, intelligent disposition and is quick to learn and easy to train. At 3 months, he ties, leads, poses. He stands to be fly sprayed, clipped, & groomed. He is very sane and level headed.
Check out his pedigree! What a future he could have as a spectacular breeding horse, show horse, or even as someone's beloved best friend.
Inquiries Are Welcome
---


Dancer (shown at 2 months) and his paternal brother Calyspo, demonstrate brotherly love.
Photos Of Dancer

Taken At 3 Days Old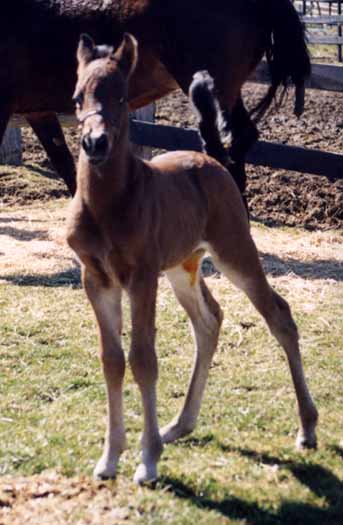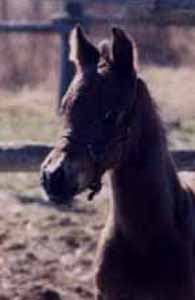 Shown below at ten days old

Photo below left at 5 weeks old Below right at 3.5 months old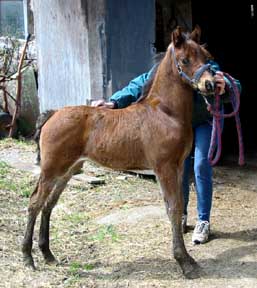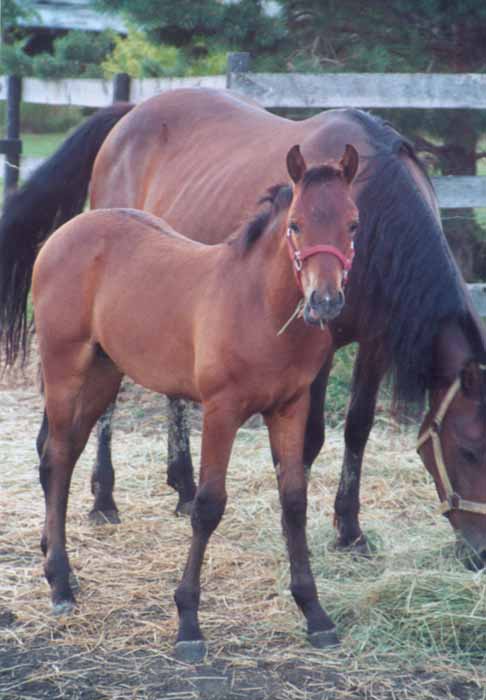 ---
Pedigree For Ancan Raindance

Sire
Fiddler's Blackriver

Sire
Waseeka's Vivo
Sire
Waseeka's HereTiz
Sire
Waseeka's Nocturne
Dam
Waseeka's Thisizit
Dam
Waseeka's Theme Song
Sire
Waseeka's Nocturne
Dam
Mannequin
Dam
Fiddler's Dolly
Sire
Kingston
Sire
Upwey Ben Don
Dam
Junefield
Dam
Orcland Youlenda
Sire
Ulendon
Dam
Paleface

Dam
RHB Gemini

Sire
Whitaker's Sensation

Sire
Troutbrook Playboy
Sire
Waseeka's Nocturne
Dam
Mistress Merridawn
Dam
Shaker's Gaiety
Sire
TasTee Firefly
Dam
Oakmoor Cadence
Dam
Shaker's Rita
Sire
Troutbrook Playboy
Sire
Waseeka's Nocturne
Dam
Mistress Merridawn
Dam
Oakmoor Cadence
Sire
Orcland DonDarling
Dam
Lippitt Spearmint

This pedigree page was built for free at the SitStay GoOut Store
---
Sire, Fiddler's Blackriver "Fid"
---
Dam, RHB Gemini "Jamie"
---
Ancan Have Faith
---

Copyrighted 1999 by Anne Wyland ~ Web page designed by Jenny Morgan ~ Created in IE Frontpage and web graphic created in LviewPro.