Ancan Sand Piper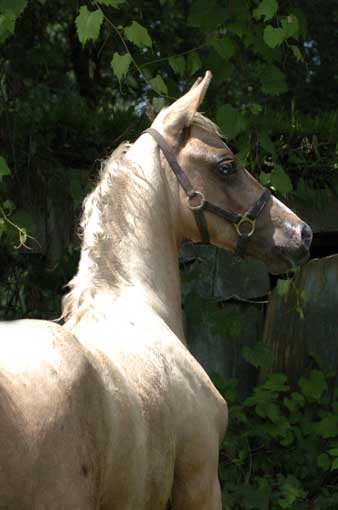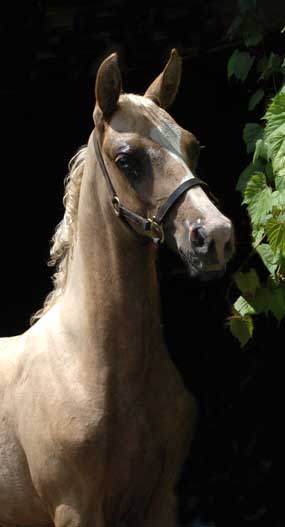 Foaled May 20, 2006 at 1:15 AM
Palomino Filly
I was really excited to see this baby arrive! I purposely brought paternal siblings together in hopes of cementing the positive attributes that Fiddler's Blackriver offered his offspring: phenomenal hocks and rear ends, willing, smart personalities, and absolute beauty. Of course, I also hoped for a palomino filly with momma's "vroom" for life, daddy's outstanding athletic ability, and both parent's kind & willing dispositions. As Piper matures, I know she is *just* what I had ordered!
She will be a light, creamier shade of golden-yellow, with her white mane and tail for a lovely accent. She has such a beautiful head with big eyes, and a gorgeous and unique striped face to help help set her off. She has grown like a weed and will easily mature at 15 hands or more. She has good legs, feet, and an awesome hip full of depth and muscling.
It's too soon to determine a division, but all her dams previous fillies have spark and snort and "GO!" Her sire is producing upright foals with spark, brains, and awesome athletic ability. Piper should be no different. She will make a great performance horse, an in-hand star, and a phenomenal broodmare in her future years. Gee, could you ever tie of this face greeting you every day?
SOLD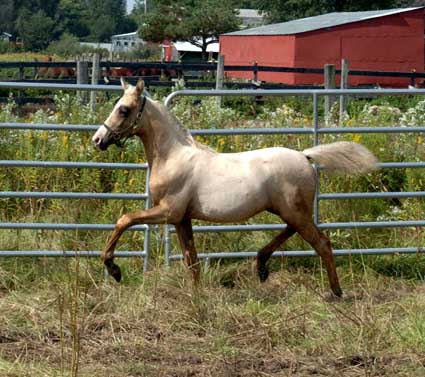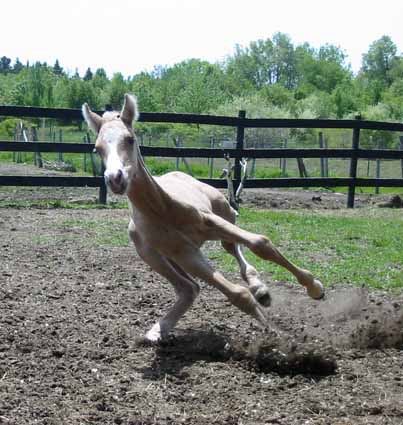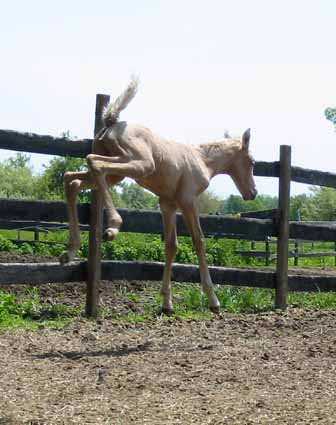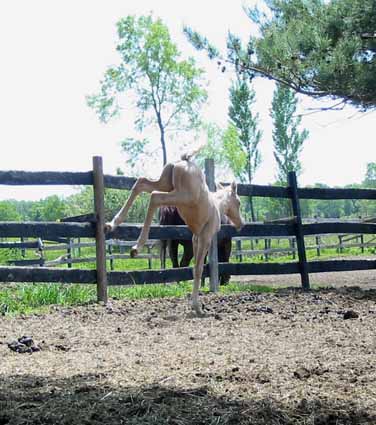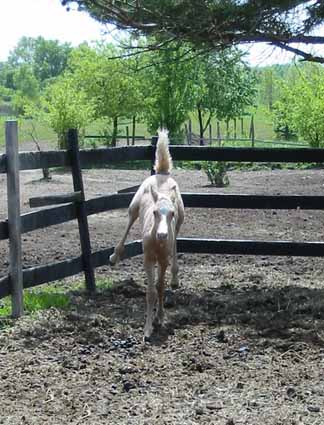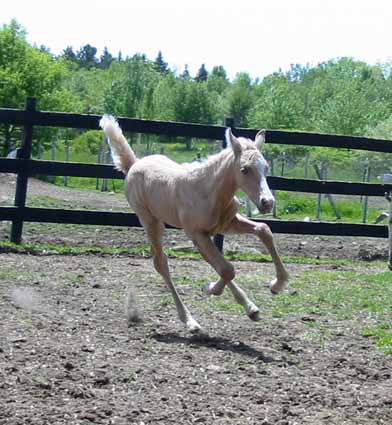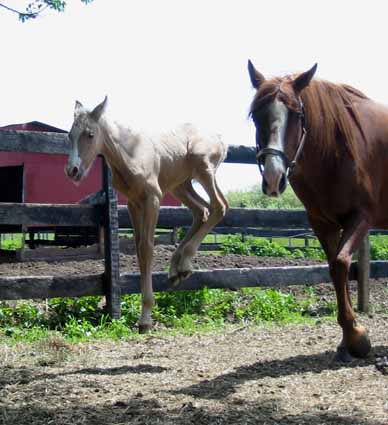 Four Days Old And Already Well Versed In Her Lipizzaner Acrobatic Feats!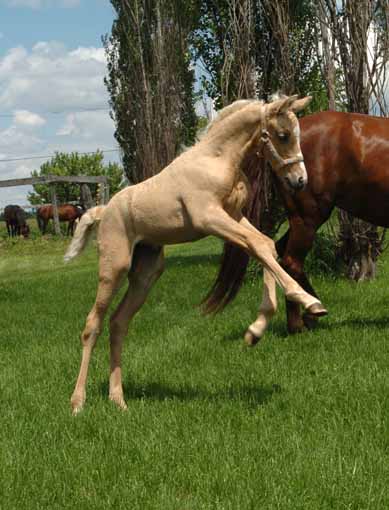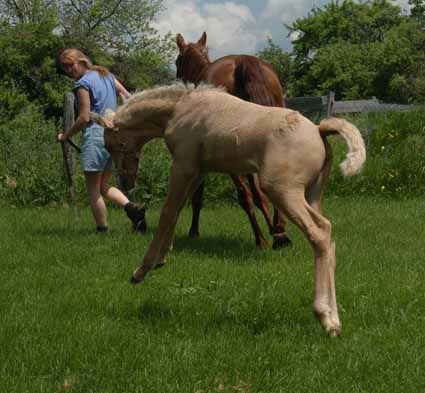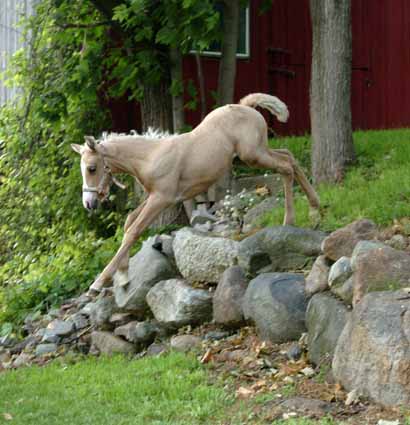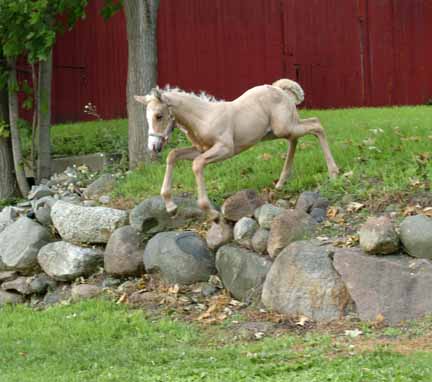 Fearless! Totally Fearless! 2 Weeks Old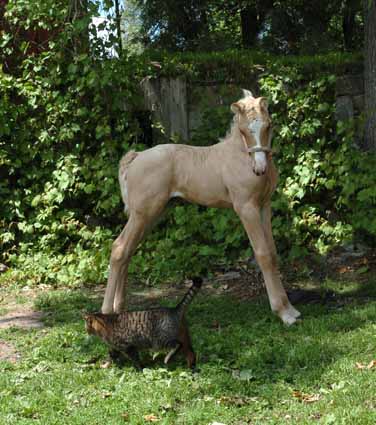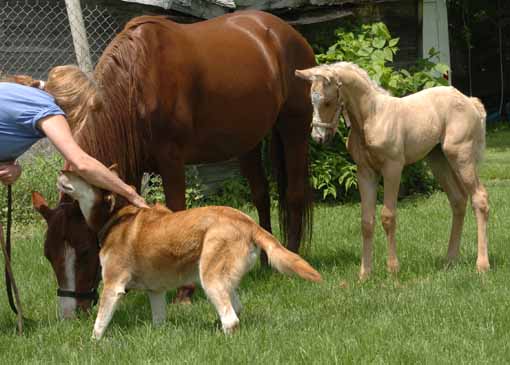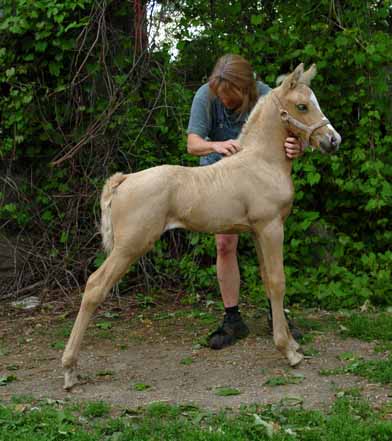 2 Weeks Old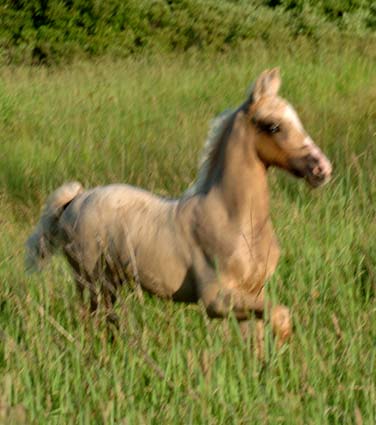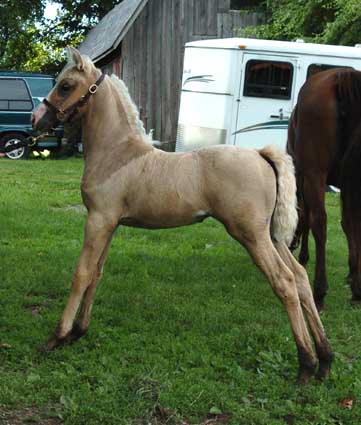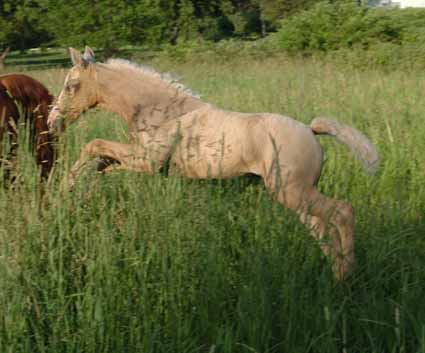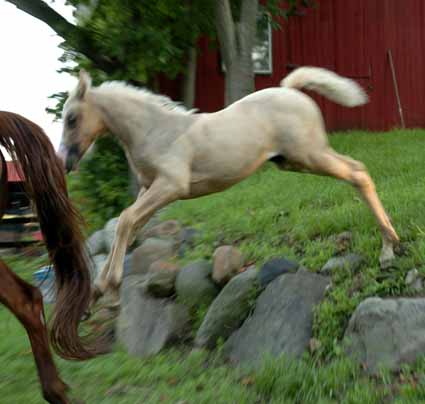 Still Sailing Through The Air At 1 Month Old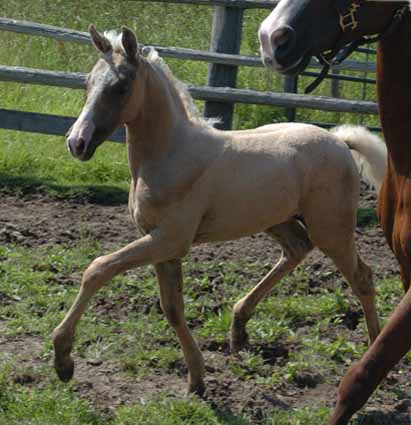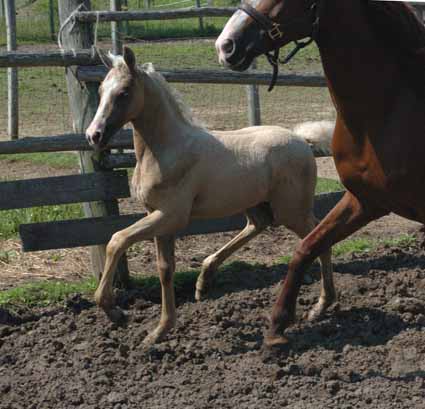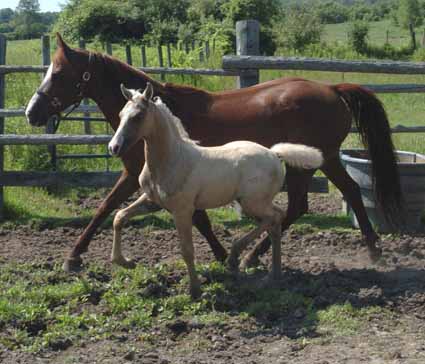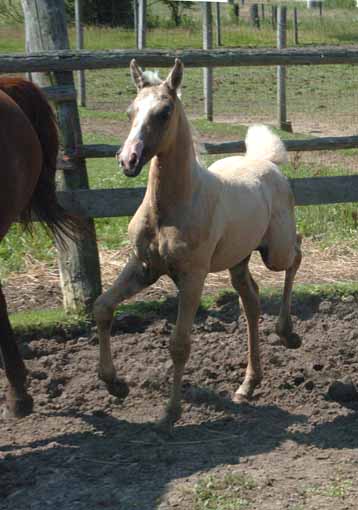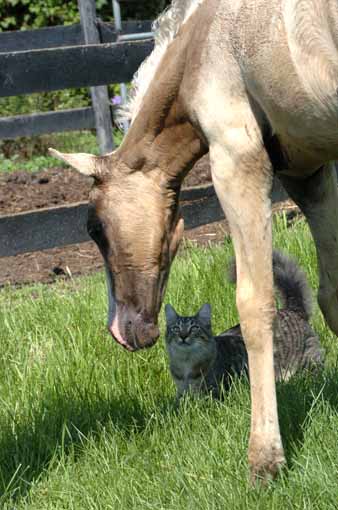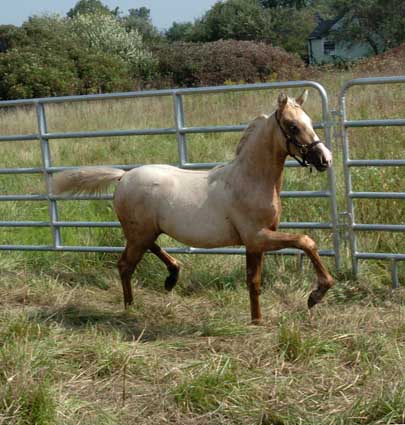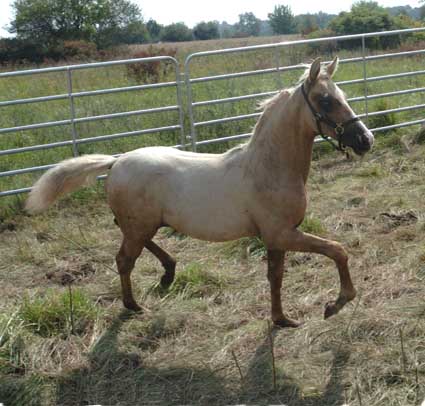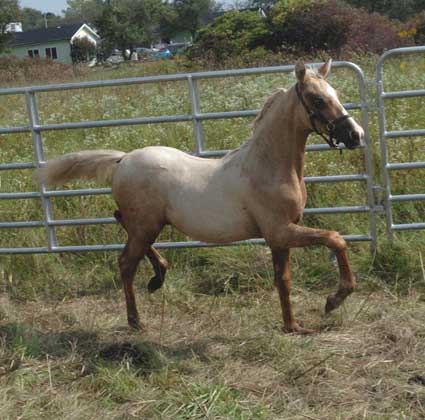 Shown above in the fall of her weanling year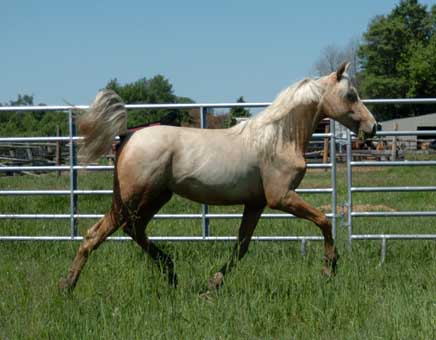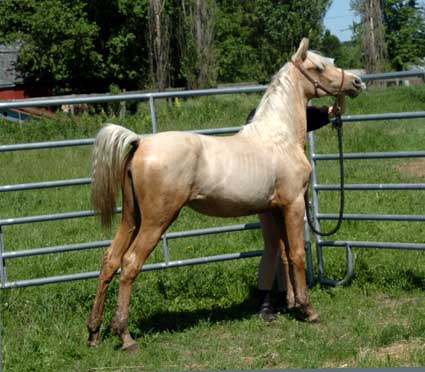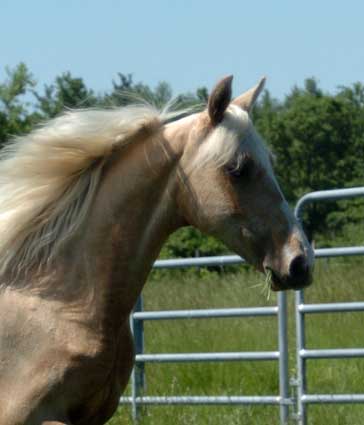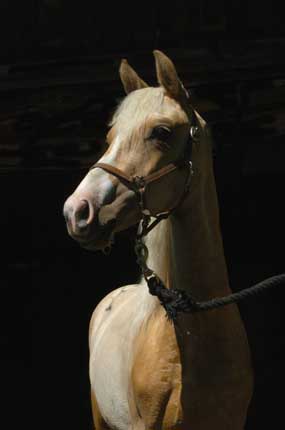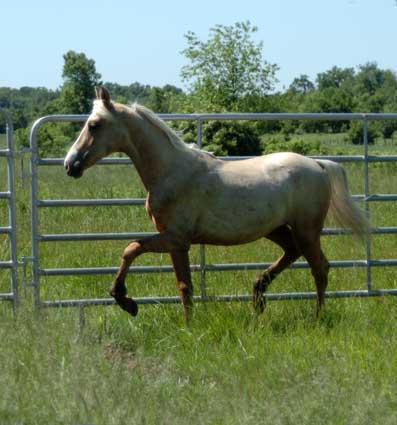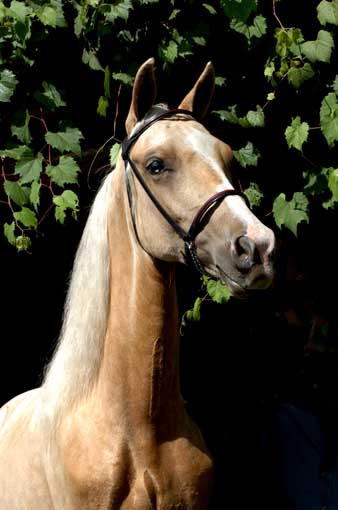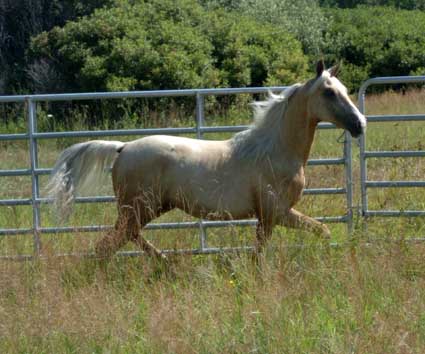 Shown in the spring/summer of her yearling year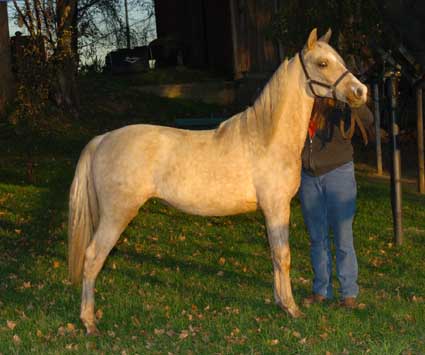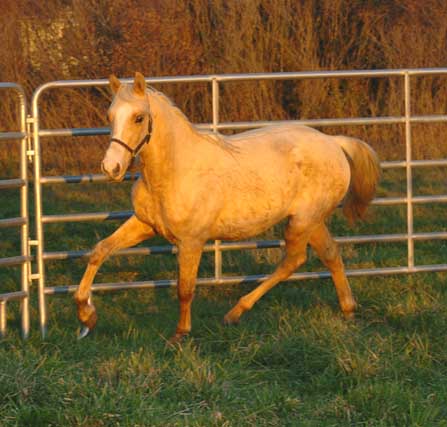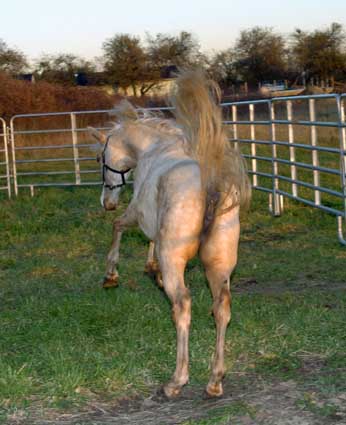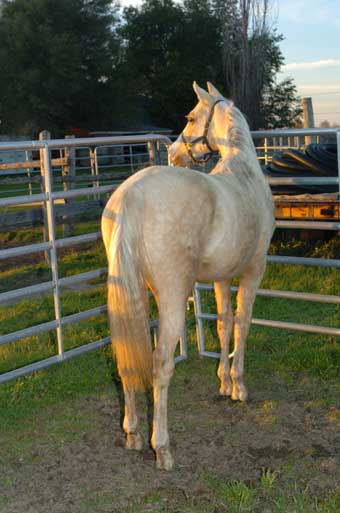 Shown above in the fall of her yearling year.
Below: Piper carries the "Splash" markings; a partial blue eye and odd snip.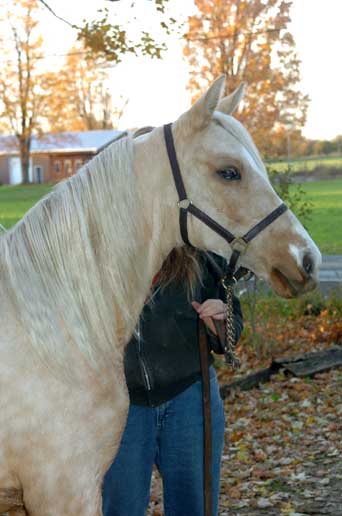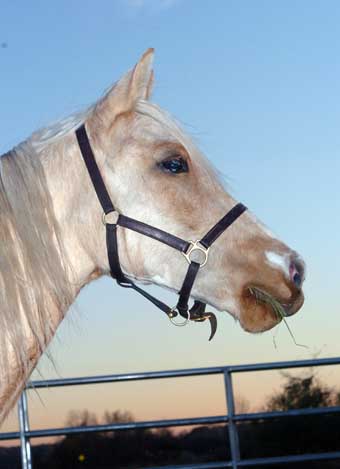 ---
Sire
Ancan True Colors

Sire
Fiddler's Blackriver

Sire
Waseeka's Vivo
Sire
Waseeka's Here Tiz
Dam
Waseeka's Theme Song
Dam
Fiddler's Dolly
Sire
Kingston
Dam
Orcland Youlenda

Dam
Aquila's Miss Bee Haven

Sire
Futurity Command
Sire
Waseeka's In Command
Dam
UVM Kris
Dam
Aquila's Queen Bee
Sire
Paramount Nominee
Dam
Foxy's Cotton Queen

Dam
Ancan Second Chance

Sire
Fiddler's Blackriver

Sire
Waseeka's Vivo
Sire
Waseeka's HereTiz
Dam
Waseeka's Theme Song
Dam
Fiddler's Dolly
Sire
Kingston
Dam
Orcland Youlenda

Dam
Magnums  Elite

Sire
Saddleback Sealect
Sire
Applevale Challenger
Dam
Windcrest Dona Lee
Dam
Whitmorr Mademoisell
Sire
Kane's High Society
Dam
Green Meads Annette

This pedigree page was built for free at the SitStay GoOut Store
---
Sire: Ancan True Colors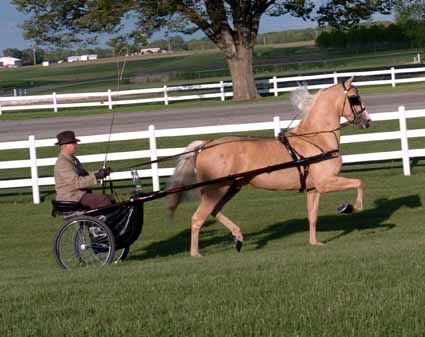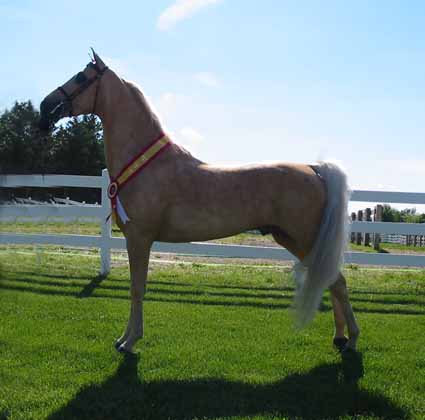 ~ ~ ~ ~ ~ ~ ~ ~ ~ ~ ~ ~ ~ ~ ~ ~ ~ ~ ~ ~ ~ ~ ~
Dam: Ancan Second Chance

---

Copyrighted 1999 by Anne Wyland ~ Web page designed by Anne Wyland ~