Introducing...

Ancan Riverdance
(Ancan True Colors x Con-Pelled To Dance)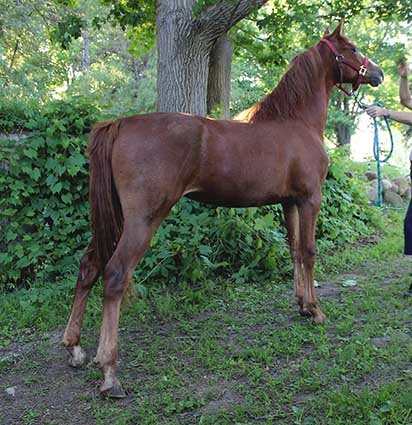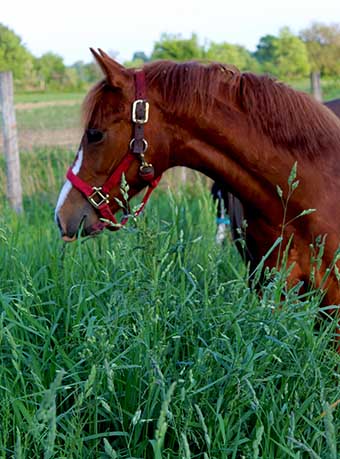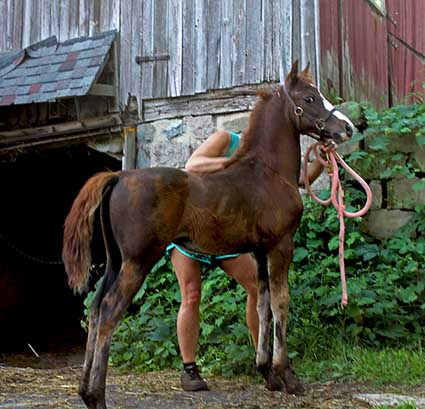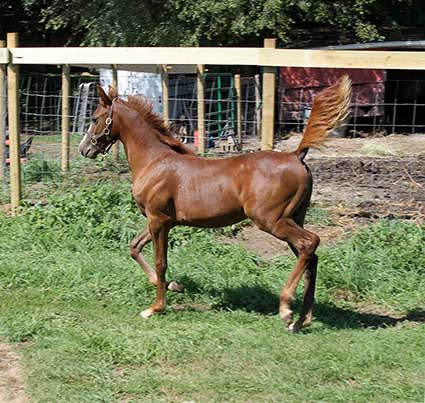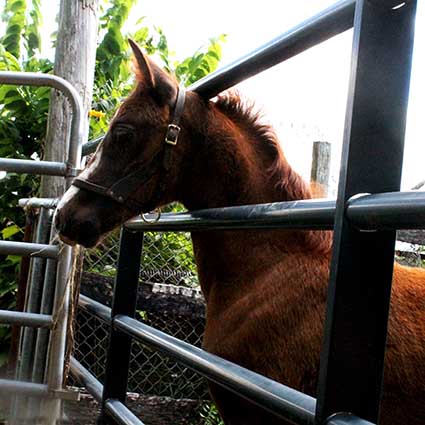 ~~~~~~~~~~~~~~~~~~~~~~~~~~~~~~~~~~
Gorgeous chestnut filly that exudes confidence and a love of life; she is always sunny and bright. In addition to her correct conformation and beautiful head, she is bold, curious, and friendly. I've found her to be smart, and quick/eager to learn. While I call her a "firecracker" she isn't hot at all. She will likely excel in western, hunt-seat, trail, carriage, or dressage.
Her personality has stolen my heart! She's my favorite of the from her year of foals. Of course, it helps that she is one of Blitz's last foals, too.
She does all the things a long yearling should do: Ties, poses, stands quietly for grooming, is excellent for the farrier and veterinarian, clips and stands for fly spraying.

I hate to part with this one! Not only is she beautiful she has a terrific personality as well.

Alas, inquiries are invited.

Foaled April 14, 2017, 2:30 AM

Snapshots....


Aptly named... River loves to dance.

Everyone came to visit, and River loved them all!

Posing comes naturally to this correct filly.

River plays and loves life!

From the moment she first met her sister, Lacy, they have been fast-friends; BFFs.

River also does the big girl things. She picks up her feet (farrier has trimmed her already!), stands tied, and stood tied to be body clipped.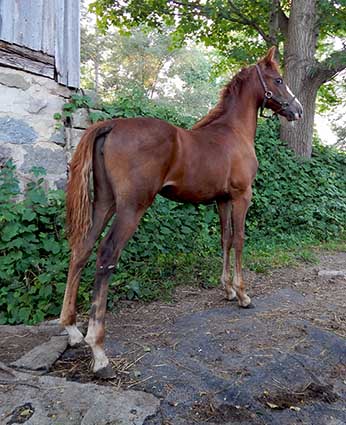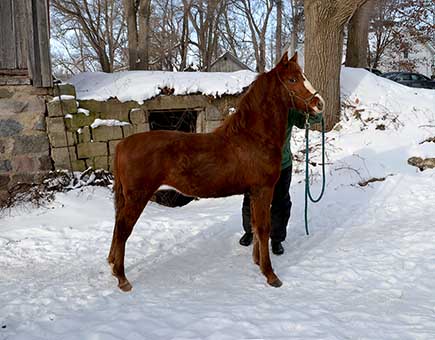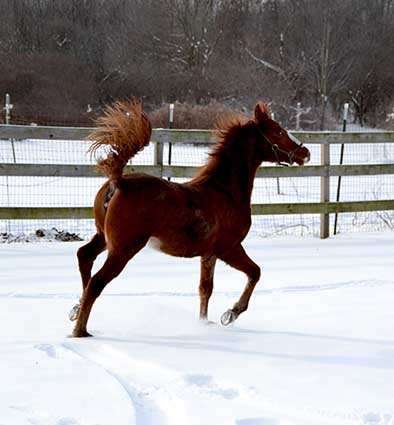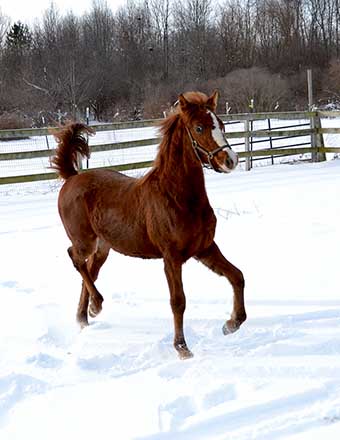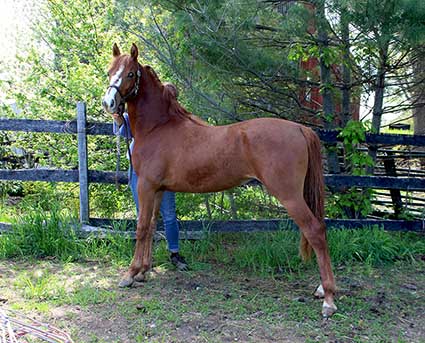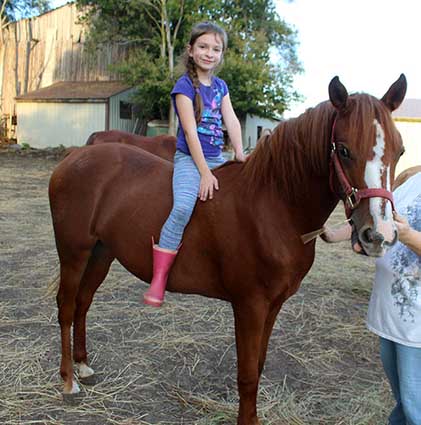 ---
Sire
Ancan True Colors

Sire
Fiddler's Blackriver

Sire
Waseeka's Thisizit
Dam
Waseeka's Theme Song
Dam
Fiddler's Dolly
Sire
Kingston
Dam
Orcland Youlenda

Dam
Aquila's Miss Bee Haven

Sire
Futurity Command
Sire
Waseeka's In Command
Dam
Wynakee Alvina
Dam
Aquila's Queen Bee
Sire
Paramount Nominee
Dam
Foxy's Cotton Queen

Dam
Con-Pelled To Dance 

Sire
Menomin Flash Dancer

Sire
DPR Notability
Sire
Nobility
Dam
Tedwin Tiara
Dam
WR Corianna
Sire
Cordovan
Dam
Berkhill Tiara

Dam
Wil O Creek Sabrina

Sire
Wynne Commotion
Sire
Waseeka's In Command
Dam
Deb's Little Bess
Dam
UVM Fabrina

Sire
UVM Trophy

Dam
UVM Tina
This pedigree page was built for free at the SitStay GoOut Store
---
Her Sire, Ancan True Colors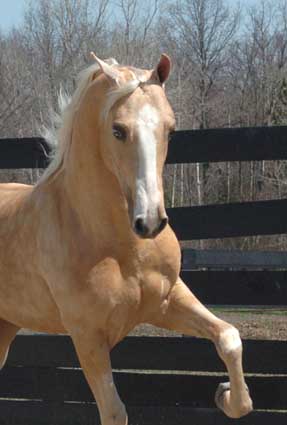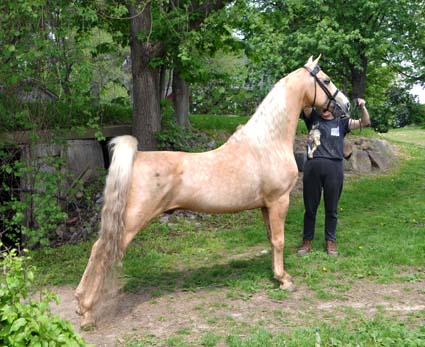 ---
Her Dam, Con-Pelled To Dance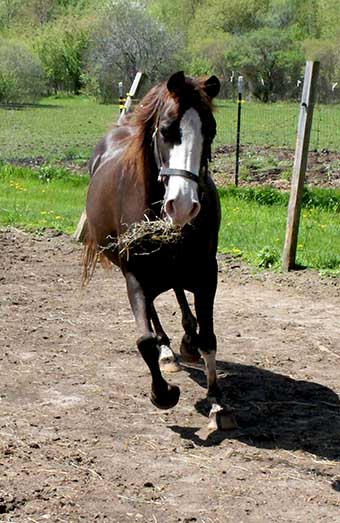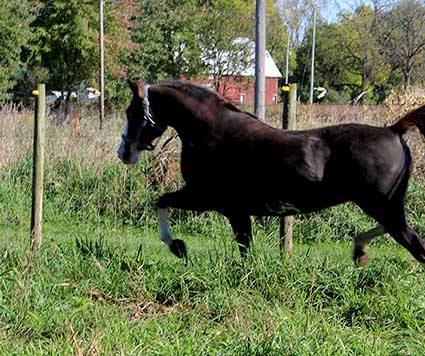 Lily's Sire, Menomin Flash Dancer

Lily's Dam, Wil O Creek Sabrina

Sabrina was not only a producer of winning show horses, she herself was a show ring star! She competed in the mid-late 1990s and never placed lower than top three in English Pleasure and In Hand.
I'm searching for a photo of her.

Menomin Flash Dancer's sire: DPR Notibility

Wil O Creek Sabrina's sire: Wynne Commotion
View more of Con-Pelled To Dance (Lily)
---

Copyrighted 1999 by Anne Wyland ~ Web page designed by Anne Wyland